Doctors secure national Tesco deal
Three doctors are celebrating securing a national deal to supply millions of face coverings to supermarket giant Tesco.
Brothers Aman, Michael and George Singh, of GHC Global Ltd, have clinched a contract to deliver over 500,000 face coverings each week to the UK's largest supermarket chain, which has almost 7,000 stores.
It is the latest major deal for the Birmingham-based business, which has supplied over ten million non-medical face coverings to well-known retailers in the past six weeks alone.
Dr Aman Singh, a local GP, said: "As a family we've worked extremely hard to establish our company as one of the leading suppliers of face coverings and PPE equipment. Our medical and ethical background helps to reassure customers that our products are of the highest quality possible.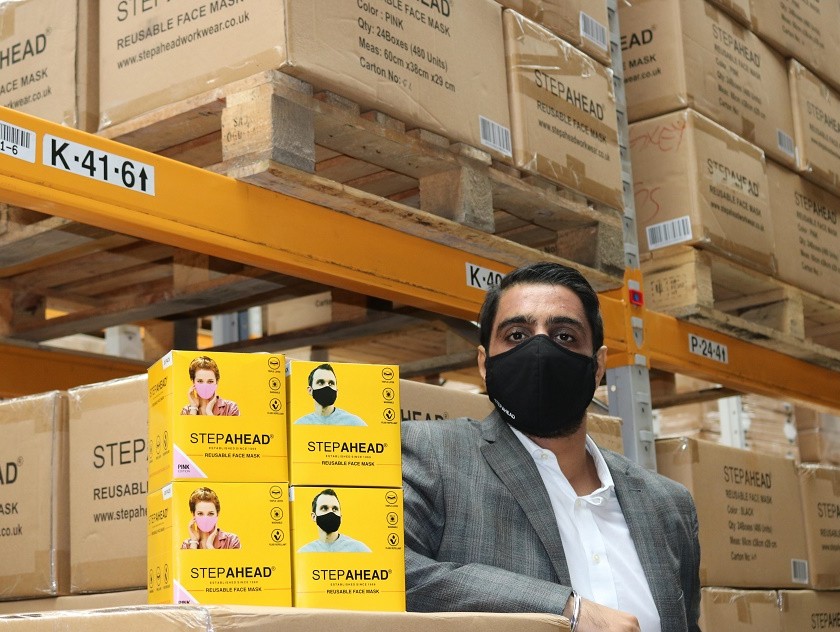 "We are therefore delighted that we have been able to secure this deal with Tesco, which will see our team supplying around half a million STEP AHEAD face coverings to Tesco stores right across the UK each and every week.
"Our STEP AHEAD brand has now been selected by many enormously successful and respected wholesalers and retailers. The quality speaks for itself. The rapid rate of sale and excellent customer feedback is testament to this.
"We have been able to respond to demand rapidly and effectively thanks to the contacts and distribution channels we have built up over the past 50 years' experience of operating in the PPE sector."
The long-established safety wear specialist is supplying its non-medical STEP AHEAD face coverings to chains including Iceland, Wilko, Spar Scotland, James Hall Spar, Savers, Parfetts, Semichem, CK Supermarkets, Filco, Savers and others. Orders include a single request for 4.5 million items.
The Birmingham-based PPE supplier has been inundated with orders after the Government announced that wearing face coverings would be mandatory in shops and other locations.
A major logistical strategy has been implemented in order to deliver the products to supermarkets, convenience stores and wholesalers as the Coronavirus crisis continues to impact on shops and other businesses. The company already supplies medical grade masks to the NHS, local authorities and nursing homes across the UK.
Dr Singh – a medical doctor in Birmingham – said the STEP AHEAD coverings are required to help people in the fight against Coronavirus. They differ from NHS requirements and are not taking supplies away from frontline workers.
"We fully support the Government's message on face coverings. It is something we have been vocal about for some time and we have been trying to spread the message that people need to manage their own safety. The more people that embrace face coverings, the more likely it is that we will reduce the rate of transmission."
STEP AHEAD coverings, made of cotton and polyester, with an inner layer of nanomesh, have three layers. Tests show they can be washed 30 times and still be effective.
GHC Global has operated in the healthcare industry for over 35 years, importing and distributing throughout the world from its Birmingham office. It specialises in the procurement of PPE and FMCG products and has branches across the world to ensure products meet the required specification for sale in the UK and EU.
Pictured: Dr Aman Singh with some of the STEP AHEAD face coverings at the GHC Global headquarters in Birmingham