Manufacturer increases PPE supply
One of the last cold-forging manufacturers of male threaded fasteners in the UK has imported and supplied five million units of personal protection equipment (PPE) to customers after securing a £2.4 million finance package from HSBC UK.
Forward Industrial, which is based in Birmingham, globally sources, manufactures and supplies fastener components and PPE to manufacturers in key sectors such as automotive, aerospace, telecommunications and healthcare. The business has used the funding to maintain supplier payments and support cashflow during the coronavirus crisis, as well as to help purchase higher volumes of PPE from its suppliers.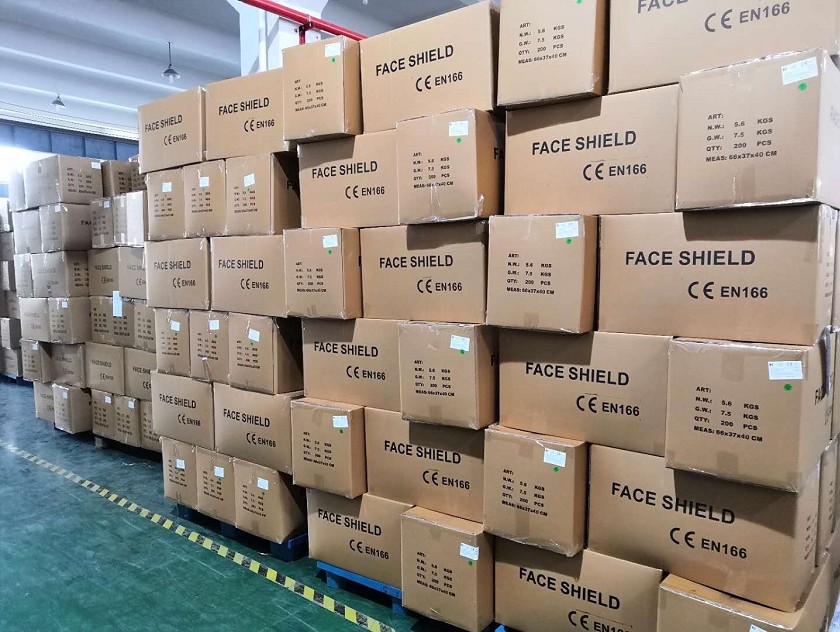 Since the start of the pandemic, Forward Industrial has seen an 80 percent increase in demand for its PPE supplies and has worked with its suppliers across China, India and Taiwan to supply four million civilian-use face masks to customers across the UK and Europe as they return to work.
As a supplier to hospital procurement sites across the UK, the business also completed an order to supply the NHS with one million face visors during the peak of the pandemic in the UK.
Almost £1 million of the £2.4 million funding package was allocated through the government-backed Coronavirus Business Interruption Loan Scheme (CBILS).
Martyn Cleaver, owner of Forward Industrial, said: "As a large importer and supplier to the UK and European manufacturing markets, we have developed excellent relationships with our suppliers across Asia. Thanks to our relationship director at HSBC UK, Dave Arthur, we were able to call on our suppliers at what was - and still is - an uncertain time to increase imports of critical PPE and provide our customers and the NHS with extra protection."
Suzy Verma, HSBC UK West Midlands area director, said: "We're committed to supporting our customers during this period of uncertainty. As a city, Birmingham has such great industrial heritage and is a leading centre of manufacturing trade. We're delighted to support Forward Industrial, one of the city's great manufacturers, as it looks to meet increased demand for its products."
HSBC UK is working closely with the Government and UK Finance to identify emerging issues and make sure customers and businesses have the advice and support they need. For tips and advice for businesses around planning for any possible disruption, visit www.business.hsbc.com/novel-coronavirus.
The new measures build upon the package of support that HSBC UK has already announced for business customers:
Launched BBLS, CBILS, CLBILS and CCFF
Allocated £5bn to help businesses that need support
Removed the £100 Small Business Loan fee to relieve the pressure faced by SMEs across the country
Removed informal overdraft fees – As of 1st April we will no longer apply any Informal Overdraft fees
Offering repayment holidays to free up cash within businesses
Stopped all unauthorised overdraft charges
Reviewing overdrafts or trade loans to allow stock to be held for longer
Offering companies involved in the supply and manufacture of ventilators preferential pricing, extended repayment terms on loans and fast track approval times to support the unprecedented demand on UK hospitals.
Extended that support to customers that can give immediate help to essential public services and vulnerable people, and contacting clients involved in the manufacture and supply of Personal Protective Equipment to offer preferential finance and, where possible, the direct purchase of supplies and equipment for essential public services.
Offering similar terms to clients involved in the wholesale of food.
Relationship managers have been proactively contacting customers to see what help their businesses need.
Launched a Coronavirus helpline to support any customer queries and a dedicated Coronavirus hub.
For businesses trading internationally:
£3bn to importers and exporters that need additional support
Pre-approved 60-day extensions on trade loans for customers with a sound trade loan/financing record
One-hour turnaround on the issuance of Shipping Guarantees, enabling customers to transfer or receive goods from their counterparty faster
Dedicated helpline that connects directly with trade finance specialists (0800 783 1300, open 9am – 5pm Monday to Friday), in addition to the support being offered by relationship managers