Claudia Cooney
Claudia Cooney is the Lead Director at RightTrack Learning Ltd, which provides bespoke training solutions for organisations looking to up-skill their people in a variety of areas, with topics including management and leadership, customer service, and diversity and inclusion.
HOW LONG HAVE YOU BEEN IN YOUR CURRENT JOB? My mum founded the business in 1988, so I suppose I've been associated with it since then, but I've only been on the payroll for 12 years.
HOW HAS YOUR COMPANY HAD TO RESPOND TO THE CORONAVIRUS CRISIS? Since the bread and butter of our work pivots around face-to-face training, the outbreak of COVID-19 meant that all paid work had to be paused; overnight we were thrown into a void wondering what we were going to do.
It quickly became clear that managers across a range of sectors were struggling to manage change, remote working, motivation and the wellbeing of staff. Without any budget, or enough time to go through lengthy procurement processes, employers weren't able to offer their people the formal support that was needed.
In response, six of us volunteered to write a comprehensive resource made up of 21 mini-training sessions, conversation starters and self-reflection tools, which are designed to give managers a structured way of navigating the evolving challenges that are being faced.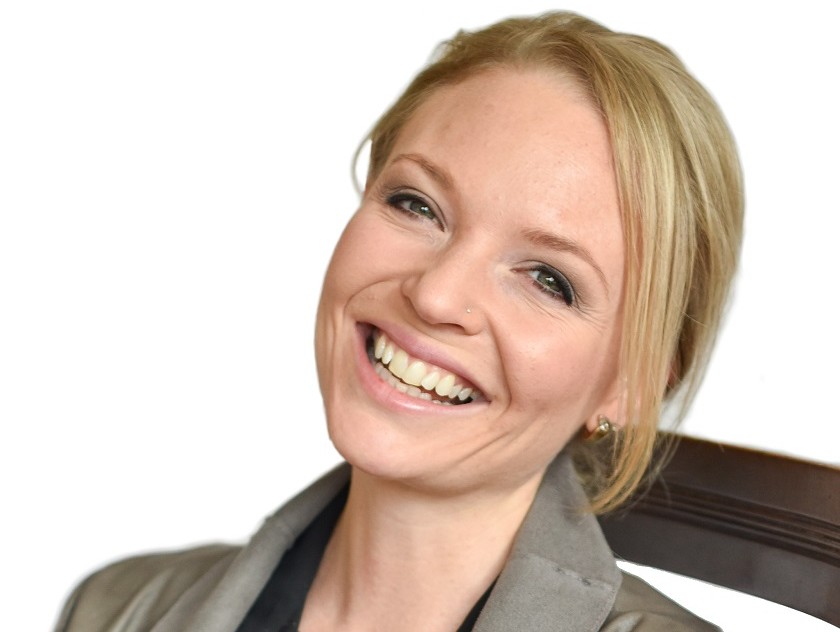 HAS THE LOCKDOWN PRESENTED ANY OPPORTUNITIES AS WELL AS CHALLENEGES? I believe that change and challenge create new opportunities; sometimes it just takes a little while until you can realise the silver lining.
WHAT DO THINK THE CURRENT CRISIS WILL MEAN FOR YOUR INDUSTRY IN THE MONTHS AND YEARS TO COME? It's difficult to comment on at the moment, but I hope that amongst all of the challenges we're experiencing, there is equal opportunity to grow. I have already seen evidence of an increased confidence in our ability to innovate and adapt; better use of technology to increase efficiency and reduce our environmental impact; an increase in cross-sector collaboration; improved attitudes to flexible and remote working, and streamlined decision-making processes.
HOW DO YOU GET THE BEST OUT OF YOUR STAFF? RightTrack Learning is a family business in body and spirit, and we're very much committed to up holding those values within the business. We operate with a flat structure and encourage colleagues at every level to get involved with business decisions, which helps us nurture that close-knit family vibe. I think it's incredibly important to ensure you find reward and happiness at work to ensure the same for the home aspect of life.
HOW MANY EMAILS DO YOU TEND TO GET IN A DAY, AND HOW MUCH TIME DO YOU HAVE TO READ THEM? I'm pretty ruthless with the 'unsubscribe' button so probably around 20 emails, which is pretty manageable.
HOW DO YOU HOPE YOUR COLLEAGUES WOULD DESCRIBE YOU? Opinionated and picky, but other than that, wonderful in every way.
HIGHLIGHTS OF YOUR CAREER SO FAR? All of the memorable, proud experiences that spring to mind have been achieved as a team, journeying together through the inevitable highs and lows. Having worked alongside my mum, dad and colleague Vicci (who has been with RightTrack since I was five years' old) will always be regarded as a close-to-my-heart highlight.
PET HATES? Litter droppers, and people not indicating on roundabouts.
IF YOU COULD GO BACK AND GIVE YOUR YOUNGER SELF SOME WISE ADVICE, WHAT WOULD IT BE? Listen to your heart.
HOW DO YOU RELAX AWAY FROM WORK? Yoga is my way of maintaining sanity amidst the pressures of life. I'm also partial to an audiobook on a long dog walk and getting stuck into a binge-worthy TV series.
WHAT DO YOU BELIEVE IS SPECIAL ABOUT THE BIRMINGHAM BUSINESS COMMUNITY? Birmingham is such a big city, yet the business community has got this wonderful close-knit vibe. Everyone's eager to constructively share new ideas and support each other for the greater good. It's a privilege to be a part of that.
TELL US SOMETHING ABOUT YOU THAT MOST PEOPLE PROBABLY WOULDN'T KNOW. I am studying for a yoga teaching qualification.
YOU CAN TAKE ONE BOOK, ONE FILM AND ONE CD ONTO A DESERT ISLAND – WHAT WOULD THEY BE? The Art of Happiness by Dalai Lama; Pulp Fiction; and Bon Iver's For Emma Forever Ago.
YOUR FIVE DREAM DINNER PARTY GUESTS, DEAD OR ALIVE? Marilyn Monroe, Jimi Hendrix, Albert Einstein, Ekhart Tolle, and my Auntie Dena.
WHAT WOULD YOU CHOOSE TO EAT FOR YOUR LAST SUPPER? Sushi all the way.