Science park plan receives investment boost
Plans to develop the Midlands' only science park dedicated to health and life sciences research – Birmingham Health Innovation Campus (BHIC) – have received another boost thanks to a significant investment of up to £14m from the Greater Birmingham and Solihull Local Enterprise Partnership (GBSLEP).
The campus is being delivered through a long-term collaboration between the University of Birmingham and the UK's leading property provider for the science and technology sector, Bruntwood SciTech.
Phase 1 of the ambitious 10-acre, £210m development includes a 133,000 sq ft, seven-storey building which will offer premium lab and office space to companies specialising in medtech, precision medicine and digital healthcare. The building will also be home to a new innovation centre – the Precision Health Technologies Accelerator (PHTA) – which is the focus of the investment by GBSLEP.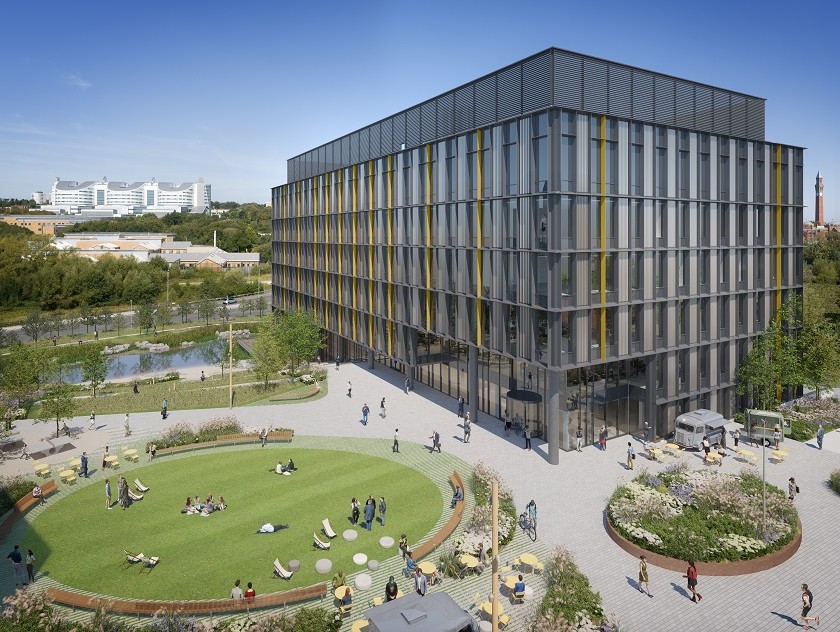 The PHTA builds on Birmingham's nationally-recognised strengths in health data informatics; genomics medicine and diagnostics; medical technologies evaluation; and clinical trials – providing the anchor innovation capability to attract and support businesses from start-ups and SMEs to established enterprises.
GBSLEP's investment will support the design and fit-out of the state-of-the-art facilities of the PHTA, which will include a range of incubation suites comprising: wet and dry lab facilities with offices; training, meeting and innovation spaces; and a prototyping and small-scale manufacturing suite supporting businesses in the development of their new medical technologies.
In addition, the PHTA will be home to Birmingham Precision Medicine Centre which brings together leading diagnostic and clinical trials capabilities to support the UK's biotech industry in the development of new diagnostics and therapeutics – as well as space for a future health data insights hub.
Professor Tim Jones, University of Birmingham provost and vice-principal, said: "Sitting at the heart of Birmingham Health Partners' ecosystem, BHIC is a catalyst for the region's health and life sciences industry and a growing, vibrant cluster. GBSLEP's support and investment will be instrumental in enabling us to develop the core PHTA infrastructure which will facilitate the two specialist centres of excellence within: Birmingham Precision Medicine Centre, and the Medical Technologies Innovation Hub.
"Together, these offerings will provide health and life science businesses with access to Birmingham's clinical and academic expertise in complex areas such as clinical trials design, regulatory science, multi-omics analysis and medical device evaluation.
"Construction is expected to begin in 2021, creating around 500 jobs, and when complete in 2023 we expect a further 500 life sciences and support jobs to be created. Overall, the development of BHIC will support up to 10,000 new jobs for the regional economy, contributing an additional £400m GVA by 2030, which wouldn't be possible without this valued support from GBSLEP and other partners."
Tim Pile, chair of GBSLEP, said: "The flagship Precision Health Technologies Accelerator (PHTA) has enormous potential to drive healthcare innovation and the development of new health technologies, which represent a huge growth opportunity for our region.
"This has obviously been brought into even sharper focus this year with the onset of the Covid-19 pandemic. Investment in sites like BHIC will be essential to achieving the economic growth needed for a sustainable recovery and fostering cross sectoral collaboration. The site will not only provide an immediate injection of jobs for our area, but will secure jobs of the future too.
"GBSLEP are proud to contribute to the development of this exciting campus. The innovative new solutions enabled by facilities like PHTA can help address prevalent health burdens not only in our region's population but the rest of the UK and potentially the wider world, helping to cement Greater Birmingham's reputation as a leader in innovative health technologies on a global stage."
David Hardman, managing director of Bruntwood SciTech- Birmingham, said: "We welcome this investment from GBSLEP and are pleased to be working with partners to support the thriving health and life sciences sector in the West Midlands. BHIC will provide valuable space, support and a focal point for the health sectors in the region; a place where innovative start-ups, SMEs and large corporates can cluster to collaborate with each other, the NHS Trusts and the Universities."
The masterplan for BHIC provides for more than 650,000 sq ft of state-of-the-art lab, office and incubation space to catalyse the growth of the Midlands' life sciences sector and provide additional clinical and incubation space for the University, co-located NHS Trusts, and local spinouts.
Critically, the campus will also provide grow-on space to support the successful retention of existing businesses and attract increased inward investment to the region. It sits at the heart of the existing Birmingham Health Partners ecosystem, formed through collaboration between the University and two co-located NHS trusts – University Hospitals Birmingham and Birmingham Women's and Children's – and is one of only six national Life Science Opportunity Zones created in February 2020 by the Department for Business, Energy and Industrial Strategy.