Lifetime achievement award presented
A leading professor from Birmingham has been recognised for improving the health of the South Asian community by picking up a prestigious award.
Professor Wasim Hanif was presented with the South Asian Health Foundation's (SAHF) Lifetime Achievement Award at the organisation's two-day annual conference.
The accolade was in recognition of Professor Hanif's outstanding contribution to South Asian health through cutting-edge research which has influenced frontline diabetes care across the world.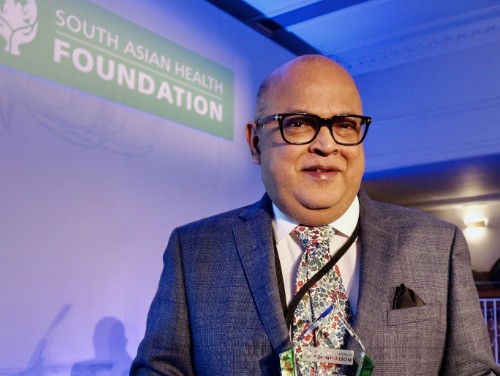 Professor Hanif is a Professor of Diabetes and Endocrinology, consultant physician and clinical service lead in diabetes at University Hospitals Birmingham NHS Foundation Trust.
In addition, he is an eminent authority on diabetes, obesity, and ethnic health having worked with several national bodies and professional groups across the UK, including at parliamentary level advising the government on issues relating to those key issues.
Professor Hanif, who is also a member of the Parliamentary and Stakeholder Diabetes Think Tank advising the All Party Parliamentary Group on Diabetes, said: "I am hugely honoured to have been recognised by the South Asian Health Foundation. However, I cannot take all the credit as I would not have been able to carry out all the work I've done over the years, without my dedicated and committed colleagues.
"Helping to drive down the rates of type 2 diabetes within the South Asian community is a huge passion of mine. We know that people of South Asian origin are at a higher risk of developing the condition than other ethnicities, which is why we've been working so hard at raising awareness of the issue and educating people from the community so they can begin to make healthier lifestyle choices."
His main research interests include; diabetic kidney disease, diabetes prevention, management of diabetes in Ramadan, obesity, ethnicity and tackling health inequalities and he was instrumental in setting up the United Kingdom Asian Diabetes Study (UKADS), which aimed to develop structured and tailored care for the needs of the Asian community.
Professor Kamlesh Khunti, who is a Professor in Primary Care Diabetes and Vascular Medicine at the University of Leicester and also co-founded the Leicester Diabetes Centre, was also given a Lifetime Achievement Award.
SAHF Chairman of Trustees, Professor Kiran Patel said: "As founding trustee for SAHF I would like to congratulate Professors Kamlesh Khunti and Wasim Hanif on receiving recognition for their unwavering and excellent contributions. They are worthy recipients of this prestigious SAHF Lifetime Achievement Award.
"Never before have we had two recipients and here it is impossible to not award them both. Their contributions to the field of ethnicity and health and their leadership of the SAHF diabetes group has been exemplary. It is a fantastic achievement which our patrons and trustees are proud to bestow."
Currently the SAHF Chair, Professor Hanif has worked extensively with National Institute for Health and Care Excellence (NICE) having sat on the advisory Health Technology Appraisal Committee between 2009 and 2015.
He is also on the Expert Advisory Committee of Commission of Human Medicine, advising the Medicines and Healthcare products Regulatory Agency (MHRA) on new medicinal agents and is on the board of governors as a trustee of Diabetes UK, helping in strategy, advocacy, patient empowerment and research to help improve outcomes in people with diabetes in the UK.
The SAHF is a charity founded in 1999 to promote good health in the UK's South Asian communities, becoming one of the UK's leading British Asian health charities. The organisation has been celebrating its 20th anniversary. Its mission is to assist people living in the UK, particularly those of South Asian origin, who are experiencing conditions of sickness, hardship or distress by supporting organisations and implementing and establishing developmental projects.
The award was presented at SAHF's 20th annual event, where Professor Hanif delivered a presentation called 'Demystifying Diabetes in South-Asians'.
Pictured: Professor Wasim Hanif