Asbestos company wins prestigious award
A Birmingham firm has received a top award for its commitment to making workplaces safer in a year when health and safety has been at the top of everyone's agenda.
Acorn Analytical Services has won the coveted Asbestos Consultancy Award at the Tomorrow's Health and Safety Awards 2021 which are known for attracting an exceptionally high standard of entries.
The awards are in their seventh year and are organised by Tomorrow's Health and Safety magazine to reward UK companies committed to raising occupational health, safety and well-being standards with their products and services.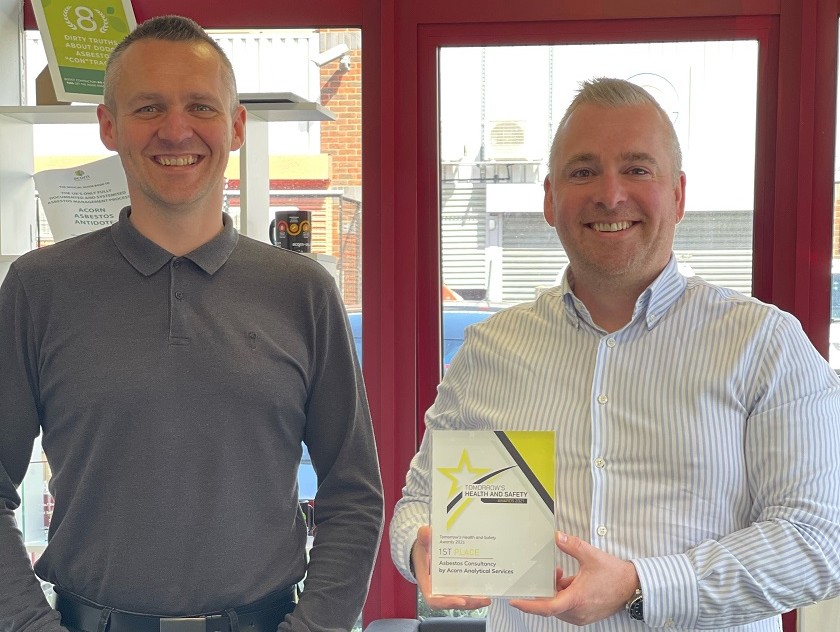 Acorn Analytical Services director Neil Munro said: "These awards celebrate the most innovative services and products in our industry so to have won the Asbestos Consultancy Award is an incredible achievement for our team.
"Sadly, thousands of people in the UK continue to die as a result of being exposed to asbestos every year. So, we are passionate about educating the public about the dangers of asbestos, protecting people from harm and ensuring companies don't fall foul of asbestos law and face crippling fines.
"We manage every asbestos project we work on efficiently and professionally and make sure they are delivered on time and on budget. We are dedicated to future-proofing businesses with innovative asbestos management which is compliant with the most extensive of regulations."
Acorn's innovative approach to asbestos has seen it achieve many industry firsts. Its award-winning team authored a best-selling book called Asbestos The Dark Arts and it broadcasts regular podcasts.
The firm has also created the UK's only fully-documented and systemised asbestos management process, known as The Acorn Asbestos Antidote. The antidote takes clients from non-compliance to full compliance with the Government's rules, regulations and laws relating to asbestos. The firm created the step-by-step process to reassure company bosses that all their asbestos issues are being taken care of so they can get on with the day-to-day running of their businesses.
Pictured: Acorn Analytical Services directors Neil Munro and Ian Stone with the Asbestos Consultancy Award