Four new recruits join thriving team
The QS team at multi-disciplinary design practice rg+p has welcomed four new team members following a sustained period of growth.
Najmul Ahmed and Russell Mumford join as quantity surveyors in the Leicester and Birmingham teams respectively while Haroon Maqsood and Alice Nash have commenced one year work placements as assistant quantity surveyors.
"Despite the challenges of the last year, the team's workload increased by 10%," said cost and project management director Mitch Dale.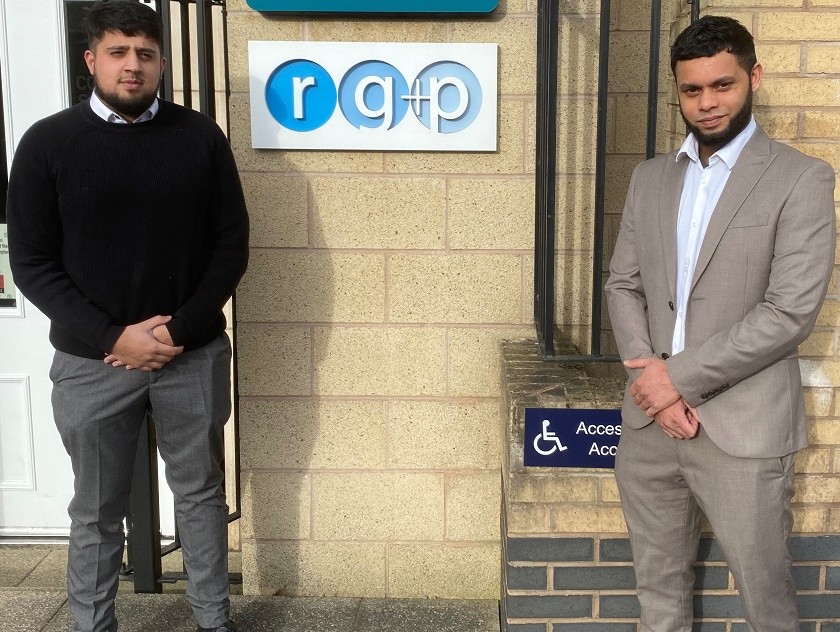 "This is attributed to our solid reputation within the affordable housing sector, appointment on to five major frameworks including the £10.4m EN:Procure Consultancy framework, and a series of significant projects wins including a residential development in Bulwell, Nottingham, for Godwin Developments; a commercial development at Kings Cross for Kier; a mixed use scheme in Clapham for MTVH as well as almost 600 new homes on sites in Rugby, Stowmarket and Upton.
"Considering all these factors, it was essential to commence a recruitment programme for both experienced and trainee professionals and we are now very pleased to welcome Najmul, Russell, Haroon and Alice to the team."
Adding further to rg+p's QS success is the news that the practice's Birmingham team leader, Arron Iliffe has completed his RICS qualification and is now fully-chartered. Arron has now been promoted to an associate at rg+p and also commenced a mentoring programme to assist aspiring RICS students from Nottingham Trent University.
Mitch said: "Like many businesses, the last 12 months have meant we've experienced huge changes to the way we work but what's encouraging is how many of these were positive. We're extremely proud of the team's collective and individual achievements and with these new recruits now in place, we can concentrate our efforts on consolidating our growth, and broadening our work in London and the South East as well as in other sectors, particularly the fast-growing build to rent market."
rg+p's QS experience encompasses project management, cost consultancy, principal designer, employer's agent, clerk of works and health and safety consultancy. The team works nationwide from its studios in Birmingham, London and Leicester and is currently undertaking projects from Blackpool to Suffolk.
Pictured: Haroon Maqsood (left) and Najmul Ahmed