Care initiatives recognised in patient safety awards
Birmingham symptom specific Obstetric Triage System and the SPACE (Safer Provision and Caring Excellence) programme have been shortlisted in this year's HSJ Patient Safety Awards, recognising their outstanding contribution to healthcare.
Thanks to the collaborative efforts between West Midlands Academic Health Science Network (WMAHSN) the NIHR ARC WM and Birmingham Women's and Children's NHS Foundation Trust, The Birmingham symptom specific Obstetric Triage System (BSOTS) has been shortlisted for both the maternity and midwifery services Initiative of the Year and Patient Safety Initiative of the Year.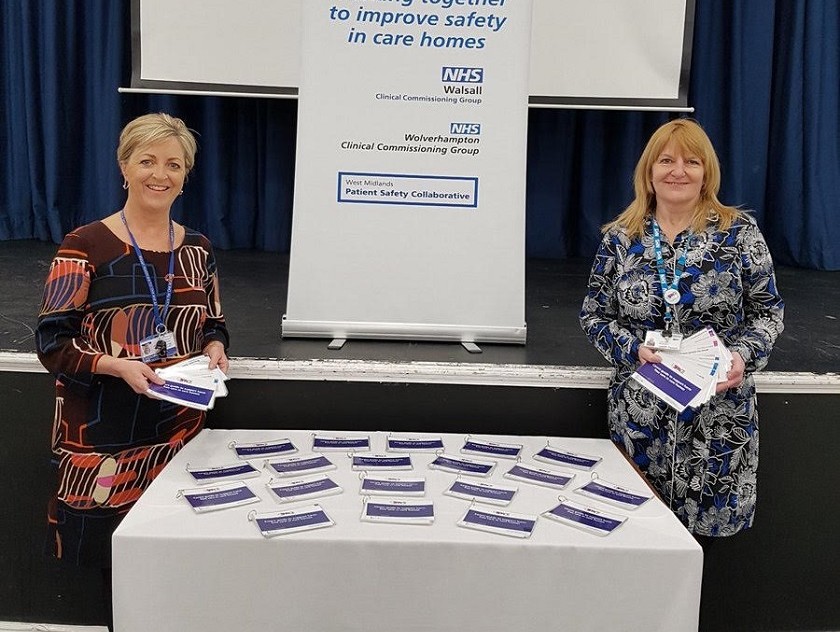 Currently there is no standardised process for assessing women when they attend maternity services with unexpected clinical concerns. The Birmingham symptom specific Obstetric Triage System (BSOTS) is a maternity triage system developed by clinicians and researchers from Birmingham Women's Hospital (Dr Nina Johns) and the University of Birmingham (Professor Sara Kenyon).
The process consists of a prompt and brief assessment (triage) of the women on presentation, followed by a standardised set of guidance developed to help midwives and clinicians determine the clinical urgency in which women need to be seen.
The guidance appears to have improved the safety of mothers and babies, as well as the management of the maternity departments providing the care. The standardised assessment and excellent staff understanding and interpretation means that variation in the clinical urgency of women between midwives is minimal.
The shared language between health care professionals supports clear communication. It has been adopted by 21 UK NHS Trusts so far, with another 30 trained and in the process of implementation.
Also recognised in this year's Patient Safety Awards is the SPACE programme, set up by the WMAHSN Patient Safety Collaborative, which made the shortlist for Improvement Initiative of the Year and Improving Care for Older People award categories.
The programme provided training for care home staff in basic quality improvement (QI) techniques and methodologies that will improve quality and safety of care, reduce avoidable harm and create a stronger safety culture within care homes.
In 2018 the number of people living within care homes was estimated at 433,000 and this is predicted to almost double by 2035. This forecast poses a major challenge and it is widely acknowledged that programmes like SPACE are needed to help health and social care providers meet this challenge now and in the future.
Since its implementation, the 35 participating care homes have seen a downward trend in fall rates, a reduction in the number of more severe pressure ulcers and significant improvement in safety culture and the uptake of QI methods and staff led initiatives.
Over 140 care homes plus quality teams from local authorities and clinical commissioning groups have now accessed SPACE Quality Improvement training and the resources are available for any additional care homes and Quality teams interested in undertaking a QI project. SPACE has also received national recognition from NHS Improvement and NHS England.
Despite tough competition from hundreds of applicants, the BSOTS team and SPACE programme have been selected based on their ambition, visionary spirit and the demonstrable positive impact and staff experience within their respective care sectors.
The judging panel is made up of a diverse range of highly influential and respected figures within the healthcare community including Rachel Power (chief executive, The Patients Association), Jean Knight (chief operating officer, Northamptonshire Healthcare FT) and Vincent Badu (deputy chief executive, Kent & Medway Partnership Trust).
Caroline Maries-Tillott, Quality Improvement lead for the Patient Safety Collaborative and SPACE programme at the WMAHSN said: "We are delighted to have been shortlisted for both the Quality Improvement Initiative of the Year and Improving Care for Older People Award at the National Patient Safety Awards 2020. It is a wonderful achievement to be recognised alongside some truly incredible nominees that are committed to improving how care is provided.
"This nomination has been a tremendous boost to all those involved, not least the care home staff using the improvement skills on a daily basis, but also commissioning teams and the WMAHSN who sponsored the initial programme. It will only strengthen our ambition to spread and sustain improvements to the safety and quality of care in the much-challenged care home sector."
Sara Kenyon, professor of Evidence-Based Maternity Care and leading the current ARC Maternity Theme, said: "We are delighted to have been shortlisted for both the Maternity and Midwifery Services Initiative of the Year and Patient Safety Initiative of the Year, recognising the collaborative efforts and dedication of the BSOTS team and the staff members in the sites who have successfully implement this maternity triage system. We are committed to delivering improved outcomes for our women and their families, and to be chosen among the other incredible nominees is a wonderful achievement."

Winners will be selected ahead of the ceremony, which will take place virtually as part of the Patient Safety Virtual Congress and Awards in November 2020.