Housing developer is re-accredited
Thirteen is the lucky number for partnership housing developer Lovell, which has received Tpas accreditation for its commitment to working in partnership with residents, clients and sub-contractors, for 13 consecutive years.
Lovell, which has its regional offices in Birmingham, was the first ever UK contractor to receive this accreditation back in 2009 and has been reaccredited through assessments every three years since.
The Midlands region of Lovell is currently working on refurbishment projects in Birmingham, Gloucester, Kettering, Nuneaton, Sandwell, Stourbridge, Walsall and Warwick.
The partnership homes developer has shown it has a full complement of policies in place. Not only do these ensure the delivery of community engagement and customer care, but also support the safety of residents and communities, whilst providing them with confidence that services will be provided in an efficient and effective way.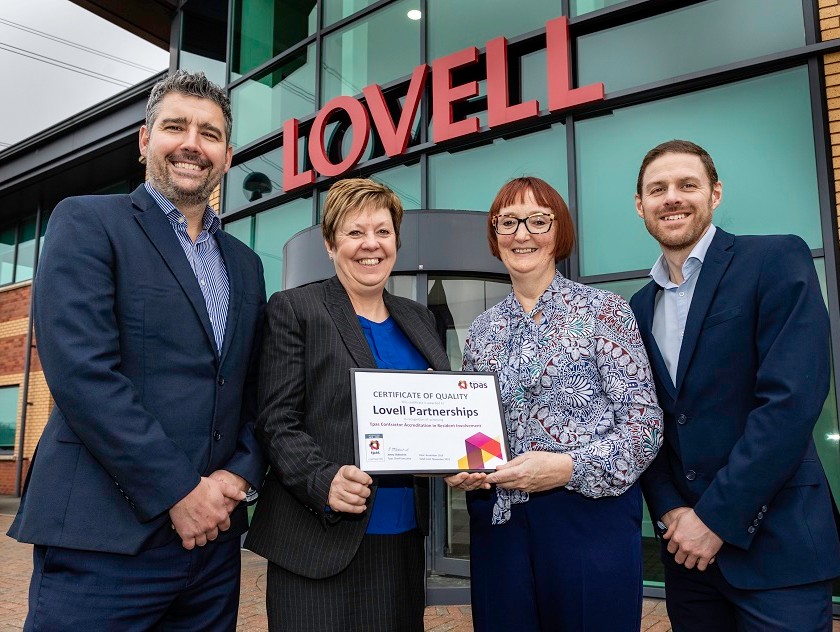 Marilyn Thornley, Tpas national consultancy manager and assessor of Lovell's contractor accreditation, said: "Lovell is exceptional at the delivery of customer care and communication with residents. What makes it stand out is that employees fully understand resident involvement. Lovell clearly values involving residents and respects their role. They see involved residents as part of the delivery team, consulting on the delivery of services to ensure residents are part of the decision-making process.
"Lovell has always looked to support its clients by encouraging residents to be recruited to working parties. Tpas accreditation and working with residents is a key element of improving performance.
"Tpas would like to thank Sandra Shiner, customer service manager at Lovell, for her dedicated approach in supporting this process. The self-assessment and evidencing stage was completed to an excellent standard resulting in an easy, successful process.
"The reality check site visits were well organised and run, and we would also like to pass on our thanks to the clients and residents, who took part, for giving up their time and providing a wealth of information."
Jenny Osbourne, Tpas chief executive, said: "We are delighted to award Lovell with the Tpas Contractor Accreditation for the fourth time. Lovell demonstrate to the sector a long-term commitment to resident engagement. I'm looking forward to see how they will continue to up their game when they renew their accreditation in 2022!"
Stuart Penn, regional managing director at Lovell, said: "We're thrilled to have been reaccredited by Tpas and I'd like to thank the Midlands team for all of their hard work that has helped us to achieve this. It really highlights how great our attitude, policies and procedures are towards our staff, clients and residents."
Pictured: From left, Carl Yale, Sandra Shiner, Marilyn Thornley and Stuart Penn