Emma Morgan
Emma Morgan is the recently appointed general manager at Malmaison Birmingham and brings over 15 years' hospitality experience to the role. She oversees the daily management of the hotel, which employs 180 team members, driving the overall strategy as well as day-to-day service delivery.
EXPLAIN A TYPICAL WEEK IN YOUR WORKING LIFE: A typical working week in hospitality is never the same. One day we could be hosting an intimate wedding, whilst the next could be a Christmas party of 200, all whilst both the bar and brasserie are busy. Ensuring that all our guests leave happy is the biggest part of my week, along with engaging and supporting the 180 team members here at Mal.
WHAT IS THE BIGGEST CHALLENGE FACING YOUR INDUSTRY RIGHT NOW? Recruitment remains one of the primary challenges we face in the hospitality industry as it is still not seen as a professional career. I strongly disagree with this view, particularly given the level of promotion both myself and other senior members of the team have experienced over their careers. Although this is the case, I do still believe that is an incredibly rewarding and enjoyable industry to work in.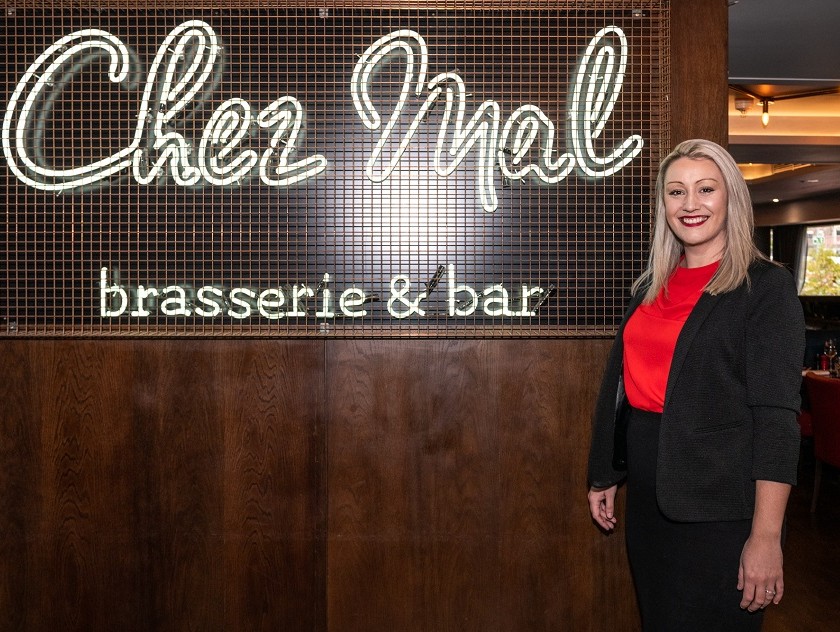 AND WHAT ARE THE BIG OPPORTUNITIES? Equality in the workplace is nationally a hot topic, but to be a female general manager at one of the most iconic and largest hotels in Birmingham exemplifies the opportunities across the city and this vibrant industry.
HOW DO YOU GET THE BEST OUT OF YOUR STAFF? I always remain positive. As a leader you should never panic, as everyone else will panic also. I am a firm believer that if the team are happy, the guests will be too.
WHAT WAS YOUR LAST MEETING ABOUT, HOW LONG DID IT LAST, AND WAS IT PRODUCTIVE? My last meeting was with the brilliant team at THSH, discussing some exciting cultural activity and how the hotel can support in delivering a great first impressions to VIPs.
HOW MANY EMAILS DO YOU GET IN A DAY, AND HOW MUCH TIME DO YOU HAVE TO READ THEM? I much prefer a face to face conversation so the culture at Mal is to communicate with the internal team on a one to one basis, but generally I receive around 100 a day and do tend to pick the odd few up at home with a nice cup of tea.
DO YOU ANSWER WORK CALLS OR EMAILS AT HOME? WHAT'S THE RIGHT WORK-LIFE BALANCE? Our industry is a 24-hour business so the team know that I am accessible day and night, however this rarely happens as I have a brilliant executive team who are all knowledgeable and can generally deal with any event presented to them.
HOW DO YOU HOPE YOUR COLLEAGUES WOULD DESCRIBE YOU? I think they'd say I was firm but fair, easy to talk to and readily available to discuss ideas. I would also like to hope I inspire them to love our industry as much as I do.
HIGHLIGHTS OF YOUR CAREER SO FAR? Being appointed as general manager here at Mal Birmingham, for sure!
ANY PARTICULAR FAUX PAS OR EMBARRASSING MOMENTS IN YOUR CAREER YOU WOULD PREFER TO FORGET? In the early days of my career, when I was a sales executive, I was taking a guest on a show around the hotel and took the lift. The guest hadn't told me she has a phobia of lifts and began to hyperventilate. I have never got into a lift with a guest since without asking if they are okay with lifts first.
PET HATES? Dirty mirrors and plug sockets that are in the 'on' position with nothing in them.
IF YOU COULD GO BACK AND GIVE YOUR YOUNGER SELF SOME WISE ADVICE, WHAT WOULD IT BE? I would tell myself to never doubt my own abilities. Your life will be what you make of it and worrying is an unnecessary and wasted emotion.
HOW DO YOU RELAX AWAY FROM WORK? I always become a big kid with my son, so running around soft play centres, jumping in muddy puddles and walking our spaniel are always my go to.
WHAT DO YOU BELIEVE IS SPECIAL ABOUT THE BIRMINGHAM BUSINESS COMMUNITY? Being from Birmingham, we have a community of people who have lived and worked in Birmingham their whole lives. It's great to see everyone achieve great things together.
TELL US SOMETHING ABOUT YOU THAT MOST PEOPLE PROBABLY WOULDN'T KNOW. I wanted to be in the 2012 Olympics but unfortunately, I shattered my knee in training.
YOU CAN TAKE ONE BOOK, ONE FILM AND ONE CD ONTO A DESERT ISLAND – WHAT WOULD THEY BE? Book – The art of Brilliance; film – Mrs and Mrs Smith; CD - something relaxing like Ibiza Chills.
YOUR FIVE DREAM DINNER PARTY GUESTS, DEAD OR ALIVE? Les Brown, Norman Hinsley (my Grandad), David Beckham and the Gallagher brothers.
WHAT WOULD YOU CHOOSE TO EAT FOR YOUR LAST SUPPER? Chicken liver parfait, steak medium rare with a peppercorn sauce, cauliflower cheese and Tiramisu with a side of cheese.