Gary Meads
Gary Meads is the co-founder of Gypsy Brew - an independent craft beer based in Weatheroak Hill, in Birmingham. Along with Al Smith, Gary founded the business in March 2020 and it is named after Al's great grandad who was a gypsy boxer in the 1920s. The team pride themselves on producing beer that strives for and achieves excellence across the board, all while sharing the heritage and story behind the brand's name.
EXPLAIN A TYPICAL WEEK IN YOUR WORKING LIFE: In the mornings, I take charge of the daily school run with my four boys, before heading off to my local bakery. I am a second-generation landlord, so next I'll head to my pub, The Coach & Horses, in Abbots Bromley, to catch up on paperwork or anything else that needs my sign-off. Then I'll meet with my onsite brewer Rob and his assistant, or I'll give Al a call to discuss anything Gypsy Brew-related. After picking up the boys from school, we'll sometimes go to the pub for an hour or two in the evening to check in with the team. Often, if it's busy, I'll be the one running out to pick up supplies to ensure we don't run out of key menu items!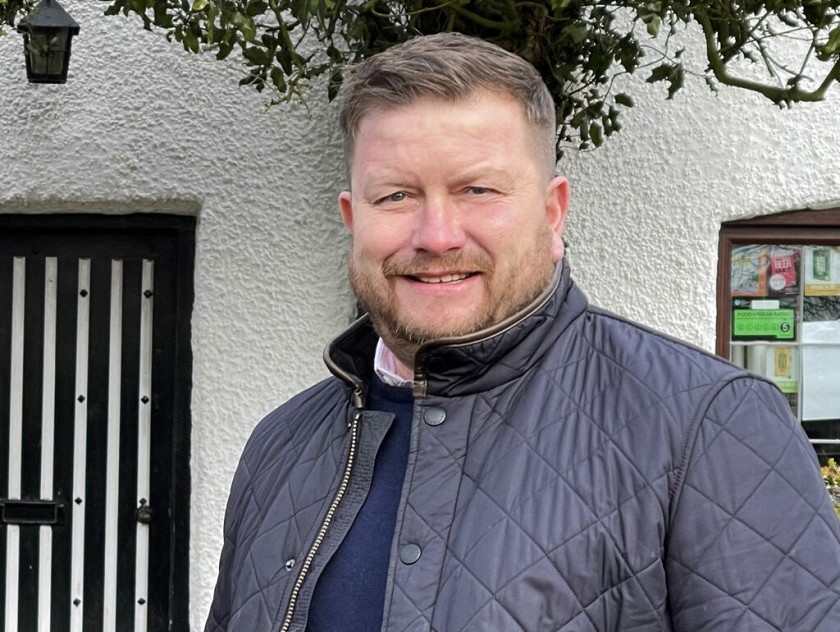 WHAT IS THE BIGGEST CHALLENGE FACING YOUR INDUSTRY RIGHT NOW? The hospitality sector has taken one of the biggest hits from the pandemic. Despite the future looking bright as we navigate the return of both indoor and outdoor dining, there is still a level of uncertainty around the next few months and how best to act and what to invest in as a business – especially as the prospect of another lockdown is not entirely ruled out, should cases spike again.
However, I think another issue that will hugely impact the hospitality industry is the return of business rates as there's quite a small window for pubs and restaurants to be able to recoup many months of losses due to COVID restrictions and could put further pressure on a number of business owners across the country.
AND WHAT ARE THE BIG OPPORTUNITIES? So many people have truly missed the freedom of being able to go out and meet up with work colleagues, friends and family over the past year and there is a huge public appetite for all kinds of hospitality and leisure ventures. In Birmingham and the West Midlands in particular, there's always been so much public love and support for independent venues and for thankfully, for the majority of venues, this has only been magnified during COVID restrictions with the introduction of gift cards, takeaways and more.
It's an extremely exciting time to be back in hospitality, and I think the key opportunity is to provide customers with positive experiences, simplicity and authentic value: make your offering the best it can be and true to your brand. Lockdown has given people a lot of unexpected time for reflection and if I've noticed anything from our customers, it's that people appreciate quality over anything superficial or excessive.
HOW DO YOU GET THE BEST OUT OF YOUR STAFF? I'm really lucky with all of my staff, pretty much everyone is a long-serving team member and colleague. I'm really trusting of them and they get a fair amount of autonomy to do things they want to. I'm always open to their suggestions too, no matter their position, and find keeping fair and clear lines of communications helps everyone to work together as an efficient team. Plus, I make it very clear that I'm available to help with any issues that may arise – I would hate for anyone I work with to find me unapproachable.

With my head brewer Rob, and my Gypsy Brew partner Al, we have proper catch ups once a week and then check in with each other as and when needed; this helps us to identify any key issues on a week-by-week basis and keep everything running as smoothly as possible.
WHAT WAS YOUR LAST MEETING ABOUT, HOW LONG DID IT LAST, AND WAS IT PRODUCTIVE? It was an hour-long meeting with the bank – that might not sound too exciting, but it was very productive and I'm feeling good about the future after going through our next cash flow forecast. Despite the ups and downs of the past year or so, we've had a great relationship with our bank, and I can't fault them: we've been offered lots of support and understanding, which has been so great to rely on.
HOW MANY EMAILS DO YOU GET IN A DAY, AND HOW MUCH TIME DO YOU HAVE TO READ THEM? On average, about 20 per day. Most of the time, I have my email alerts turned on so that they always come straight through via my phone's notification centre and that way, I can't ignore them. Reading them straight away and seeing them on my home screen forces me to be proactive; in the past, I've definitely been caught out by opening and discarding emails, so this keeps me accountable and ensures I stay on top of my priorities.
DO YOU ANSWER WORK CALLS OR EMAILS AT HOME? WHAT'S THE RIGHT WORK-LIFE BALANCE? I will always answer a call (or rarely, an email) from staff when at home, purely because they will only ring if there's a genuine, pressing issue. Technically, I am on call 24/7 with the pub as it's my main day-to-day priority but thankfully, it's rare that I'm dealing with major issues outside of my normal working hours.
With Gypsy Brew, however, I am stricter about keeping a clear work-life balance and try my very best to avoid working on the weekends – we all need time to switch off and recharge. I'm trying to make sure Al adopts this approach too, but he's so full of energy that he always wants to be firing on all cylinders. However, we both appreciate that boundaries and time off is really important for ourselves and the rest of the team. It's just about figuring out what works for you and supporting those around you to do the same.
HOW DO YOU HOPE YOUR COLLEAGUES WOULD DESCRIBE YOU? Ideally, I'd hope they see me as one of the team and always being there for them in both a work and personal capacity. We have a really diverse age range of workers, from teenagers to people further on with their life and careers, so I think that would definitely impact how the team describes me as I wear different hats with different people. Overall, I hope they'd describe me as laidback, trusting, caring and empathetic.
HIGHLIGHTS OF YOUR CAREER SO FAR? Following in my parents' footsteps by continuing the legacy of the pub – it's been in our family for 55 years and I hope that will long continue. Aside from that, I am incredibly proud of opening my onsite brewery in 2007, as that had always been a dream of mine and more recently, taking the plunge and co-founding Gypsy Brew with Al.
ANY PARTICULAR FAUX PAS OR EMBARRASSING MOMENTS IN YOUR CAREER YOU WOULD PREFER TO FORGET? I once tried to cut corners ahead of Mother's Day, 15 years ago, and foolishly ended up buying some lower quality meat than I would have usually. Fast forward to that fateful Sunday roast and a customer complained about the quality of the beef: I spoke with him and assured him that I'd bought the meat personally and to my knowledge, that nothing should be awry.
He then turned to the other tables of diners and asked anyone who agreed with him to stand up - to which the entire restaurant obliged. I was absolutely mortified and immediately issued refunds after realising my mistake: it was a hard but extremely important lesson to learn and has stuck with me ever since.
PET HATES? With my team, being on time is absolutely essential as I hate tardiness and lateness.
IF YOU COULD GO BACK AND GIVE YOUR YOUNGER SELF SOME WISE ADVICE, WHAT WOULD IT BE? As I discovered on that Mother's Day 15 years ago, don't try to cut corners or take the easy route in order to save a few quid: always go with the best product you can afford and keep things simple for yourself.
HOW DO YOU RELAX AWAY FROM WORK? The golf course is my absolute oasis on the weekends, as is spending time with my family. I love getting to watch my boys play football and any other sports that they are involved in. In my spare time, I also enjoy cooking and have a real passion for fine wine.
WHAT DO YOU BELIEVE IS SPECIAL ABOUT THE BIRMINGHAM BUSINESS COMMUNITY? Despite being extremely underrated as both a region and community, everyone is fiercely protective of Birmingham and always very supportive of new ventures, our heritage and proud to be a Brummie, which is great to see.
TELL US SOMETHING ABOUT YOU THAT MOST PEOPLE PROBABLY WOULDN'T KNOW. I once attended a very small party where George Michael was also a guest! Even more randomly, I once appeared on an episode of Tiswas in 1976.
YOU CAN TAKE ONE BOOK, ONE FILM AND ONE CD ONTO A DESERT ISLAND – WHAT WOULD THEY BE? Four Iron in the Soul by Lawrence Donegan; The Green Mile; and Brothers in Arms by Dire Straits (that was the first CD I ever bought!)
YOUR FIVE DREAM DINNER PARTY GUESTS, DEAD OR ALIVE? Tiger Woods, Frank Sinatra, Lee Bowyer, Princess Diana and Jeremy Clarkson.
WHAT WOULD YOU CHOOSE TO EAT FOR YOUR LAST SUPPER? An Indonesian chicken korma - I love South Asian food.