Business has home testing kits wrapped up
Minworth-based Southgate Packaging has become an integral part of the Government's plan for testing all NHS staff for Covid-19.
Southgate Packaging supplies packaging equipment and consumables, operating its distribution centre in partnership with Europa Warehouse at Prologis Park Midpoint, Minworth (Birmingham).
In addition to on-site testing facilities for NHS workers, the Government has established several ways for essential workers to get a Covid-19 test, including home testing.
Europa, on behalf of Southgate (as the sole packing contractor) has already packaged and despatched over 5 million test kit bags since the start of the Covid-19 pandemic and continues to issue approx. 100,000 tests a week. Southgate designed the self-seal bag for the testing kits so that once the test is complete the bag can be resealed to minimise excessive handling.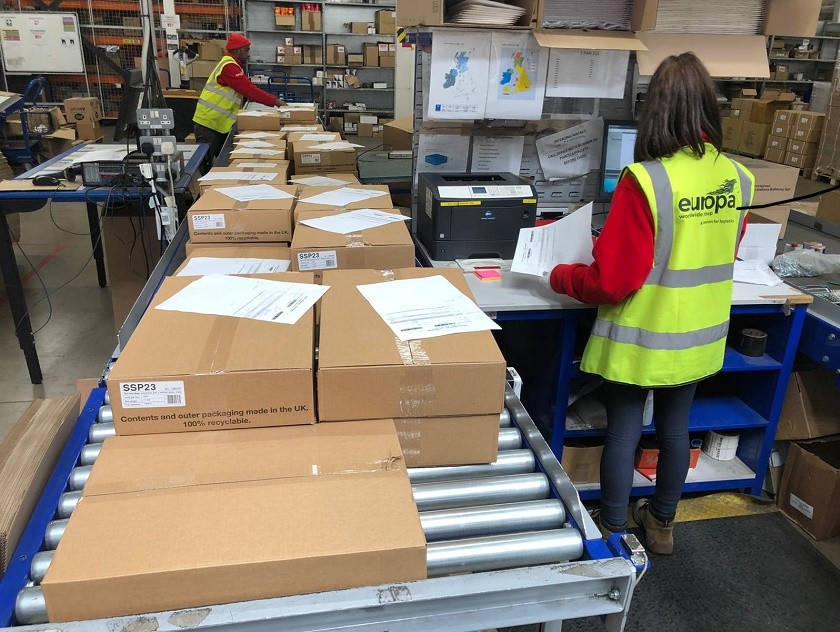 In 2015 Southgate relocated its whole distribution centre to operate from Europa's 16,540 m2 state-of-the-art facility in Minworth. The partnership facilitated a period of rapid growth for Southgate and has enabled the company to improve its customer service levels and despatch capabilities.
Europa Warehouse is a division of independent logistics operator, Europa Worldwide Group, and has worked with Southgate for the past five years. Europa's Birmingham site employs a team of 85 across its Air & Sea, Showfreight, Road, Warehouse and Forwarding divisions.
Craig Turner, managing director of Southgate Packaging, said: "It has been a great honour to support the NHS with supplying in excess of 100,000 self-seal bags for the Covid-19 test kits every week, that are having to be carried out via the postal system in the instances where persons are isolating or unable to travel to their regional testing sites.
"Southgate have been awarded many large PPE contracts through the early phase of this pandemic, and it has been very inspiring and fulfilling for our great team of people to know that their efforts and the hard work that they are putting in everyday throughout this difficult crisis is supporting and underpinning some of the greatest needs that the people and government of this county are facing right now.
"The plastic self-seal bags that we have developed for the Covid testing kits are very effective and mean that they can be totally sealed off and ready to travel via the domestic postal service once completed. Obviously measures around maintaining the efficacy of the tests whilst ensuring there is no opportunity for cross contamination is paramount in this operation. "
Europa Warehouse director Maria Torrent-March said: "Our essential work with Southgate shows how the logistics sector is vital, and we continue to do our bit to support the NHS at such a hugely challenging time."
At Europa Warehouse, Southgate has a dedicated, specialised space, tailored to fit its innovative and bespoke packaging machinery. Europa also employs approx. 25 staff dedicated to the Southgate work and for a short period added extra shifts to enable the team to supply the testing kits swiftly.
Southgate are not only supplying the majority of the Covid-19 self-seal kit bags, they are also supplying several market sectors with a wide range of PPE and Covid-secure products ranging from; infrared thermometers, sanitisation fogging units, welfare stations, welfare screening, sanitising stations, face masks, face visors and aprons.
This is one of a number of supply chain contracts Europa is involved with to support the fight against Covid-19. Europa has packed and despatched specialist medical beds for Accora UK from Dartford to fulfil an urgent order in time for opening of the first NHS Nightingale Hospital at ExCel in London; and Europa Road provided dedicated transport of vital components, as well as ensuring smooth customs clearance to assist with UK manufacture of 1.3 million Covid-19 tests for its customer Primerdesign.