Zeus Group has plans for international expansion
Birmingham-based manufacturer The Zeus Group has set its sights on national and international expansion, having welcomed managing director Tim Allinson to its team.
A leading retail supply chain expert, Tim joins entrepreneur, founder, and flavour-developer Paul Curtis to take The Zeus Group to new heights. Now stocked in over 550 vape stores across the country, The Zeus Group also keeps its customers supplied through its online store (zeusgroup.uk).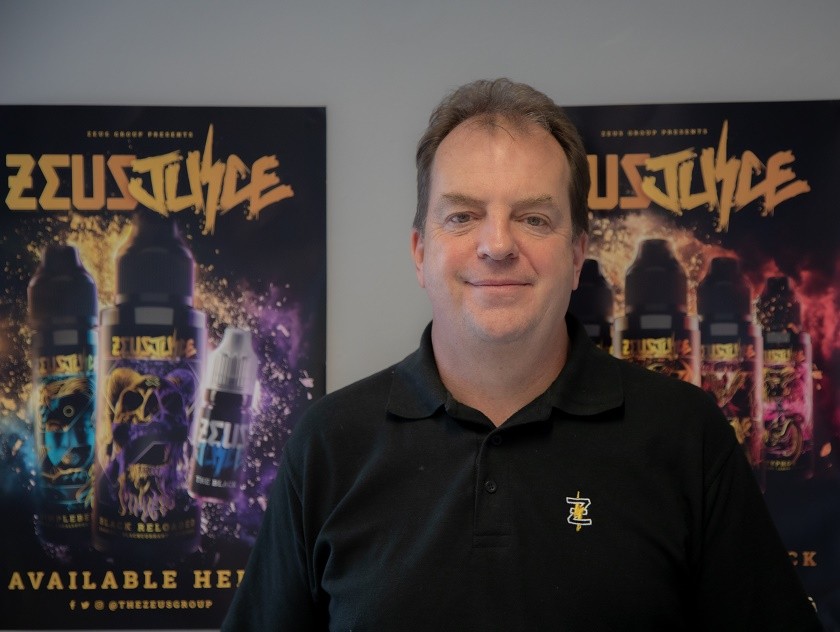 With over 30 years' experience in the retail sector, Tim is bringing his expanse of knowledge to the new role, having formerly held director-level roles in globally-recognised companies including Jack Wills, Tesco and Dixons. During his varied and extensive career, Tim has achieved several key accolades and achievements including establishing the non-food supply chain for Tesco in central Europe, and winning Retail Week's Supply Chain Team of the Year alongside his co-workers in Dixons.
Tim's appointment has helped keep The Zeus Group on the right track for 2020, which – despite a challenging market for all – has achieved many other successes this year - from the launch of 5 new flavours, to achieving the highest sales on record of its ever-popular Black Reloaded flavour and launching a new World Health Organisation-standard hand sanitiser.
Reflecting on his first six months with the company, Tim said: "Despite the unexpected impact and effects of COVID-19, I've thoroughly enjoyed overcoming the challenges that have been presented during my time so far at The Zeus Group - in particular overseeing the latest rebrand and flavour launches.
"With anti-smoking more topical than ever and studies revealing that a record number of smokers have given up the habit during the past six months, we're very excited to be bringing high quality, British manufactured e-liquids to the wider UK market as we continue to expand both our retail presence and production capacity. With our international launch also on the horizon, aided by a key partnership with Evolution Vaping, the remainder of 2020 is set to be just as encouraging as the first half."
Founded by Paul Curtis in 2011, The Zeus Group was built on the need to produce a healthier alternative to cigarettes for him and his wife. Starting from his kitchen, where Paul created the original recipe for his highly-acclaimed all day vape Zeus Juice, The Zeus Group now offers a wide selection of all day e-liquids, available in a range of strengths.
As well as continuing to innovate new flavours and product ranges, The Zeus Group has now grown to a close-knit team of 35 workers across two operational units, and its team of analytical chemists have over 30 years' experience from global laboratories such as Eurofins AgroSciences.
Pictured: Tim Allinson