Vitamins specialists celebrate first anniversary
A Birmingham 3D-printed vitamins start-up is celebrating its first anniversary and plans to use lessons learned during lockdown to grow even further.
Nourished, based in Digbeth, was just four months old when the global pandemic forced it to adapt its operations, including branching out into making hand sanitiser and 3D-printed PPE for local good causes.
Since starting its beta test in October 2019, the business managed to overcome the challenges posed by the national lockdown to record 300 percent revenue growth since January and staff expansion from four to 44. Their state-of-the-art 3D printers have created more than 500,000 personalised gummy vitamin stacks across 10,000 laboratory hours, while the company currently holds ten patented technologies.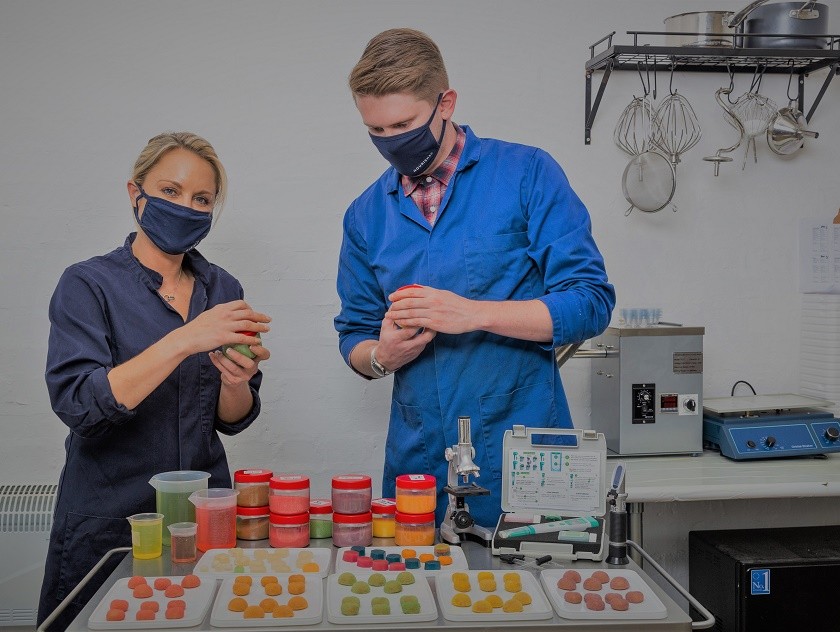 Founder Melissa Snover has lifted the lid on the company's learning curve that has prepared it for the uncertain months ahead:
"I sat down with my team two weeks before the press started to mention the word 'lockdown' and I said, 'Go and pack your stuff and prepare like you're not coming back into the office for a year'. Hand sanitiser started running out so we transformed the lab where we develop new products into a hand sanitiser factory pretty much overnight.
"I was online trying to source the raw materials and within two days we'd sourced small bottles and started making it. We gave it away to anyone who asked – care homes, the local authority, the chamber of commerce, different NHS departments throughout the Midlands area, and to all of our customers.
"We also have a facility where we make our 3D printers. The tech team developed a design to 3D print PPE and we donated that to all of the same places."
Nourished opened for business in October 2019 with its unique customised 3D printed vitamins aimed at giving customers greater control over their nutrition. The system allows customers to combine seven active ingredients in one edible gummy to suit their own health needs.
Despite the challenges, Nourished has been an overwhelming success as it approaches the end of its first year, with plans to increase staff numbers further in the coming months. Revenue growth since January has surged 300 percent, while subscriber growth has also grown 300 percent in the same period.
And on a personal note, Melissa was named Disruptor of the Year in the Midlands section of the Great British Entrepreneur Awards and will now compete at the national finals.
She said: "During the crisis, when people were locked down and not able to shop in the way they were used to, all e-commerce businesses experienced an upswing of some kind. But we also have a home delivery health product, certainly not developed for the Covid crisis but not badly suited to the situation.
"The main factor was that we stood by our community and our customers, we stopped selling outbound completely, we started giving lots of stuff away, we started talking more to people. I started holding webinars to talk about immunity and ingredients – those were the reasons we created a strong bond with the people who were interested in our product which helped the business grow.
"Having something like Covid coming at such a young stage in our business, it's very difficult to manage it and to pivot because you are already in a very vulnerable stage. But everyone in the business pulled together and showed their true colours. I could not be more proud of my team and I think they're all closer now because of what they did together and how they came together to overcome it."