Triple catering success for venue
Birmingham's largest residential events venue, Conference Aston, has proven its catering credentials after achieving a trio of new standards.
The venue has received its second Sustainable Restaurant Association star, the Food for the Brain Accreditation and also scooped Best Catering Service at the national Academic Venue Awards.
Conference Aston's catering success follows a period of significant investment after spending over £100k in the last year to upgrade its restaurant and food and beverage services. A number of key hires have also been made, with the venue welcoming a new head chef and executive head chef. Both have played a key role in reinventing Conference Aston's food and drinks menu to make it more balanced and creative.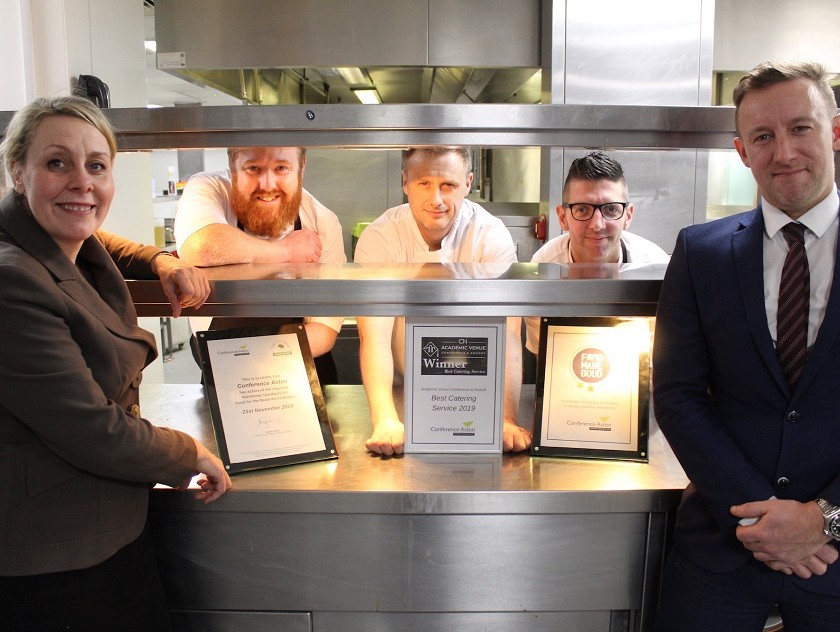 Samantha Brown, head of Conference Aston, said: "Academic venues are well established for providing high capacity versatile facilities, with limited recognition for other service areas such as catering. Conference Aston is helping to change this perception by raising the quality and breadth of its food and beverage offering."
While receiving its first Sustainable Restaurant Association star in 2018, Conference Aston has continued to improve its catering sustainability. The second star rating was measured using a range of factors, with the venue demonstrating responsible sourcing of ingredients and a focus on limiting single-use plastics and food waste which it reduced by 10 per cent between 2018 and 2019.
For the Food for the Brain Accreditation, Conference Aston was assessed on its ability to provide a nutritious catering service which promotes brain health, delegate productivity and overall wellbeing.
"By introducing new expertise, investing in our facilities and launching a range of initiatives, including joining the Too Good To Go scheme, we have made strong progress in raising our sustainability and catering standards to gain recognition from three national organisations," said Samantha.
"The steps we have taken have been important in allowing us to meet evolving delegate needs, with a growing demand for nutritious and healthy options. Our aim is to continue innovating, as we raise the bar for academic venue catering across the UK."
Pictured: From left, Samantha Brown (head of Conference Aston), David Ornellas (executive head chef), Andy Bates (head chef), Matthew Davis (chef), and Mark Ellison (general manager)