Praise for power station ash firm
Sutton Coldfield MP Andrew Mitchell has praised a company in the Royal Town for its 'pioneering' work as the UK switches from coal-fired power generation to sustainable energy.
Andrew Mitchell MP was visiting Power Minerals Ltd (PML) at their town centre offices and learned how the company finds new uses for the by-products of power stations.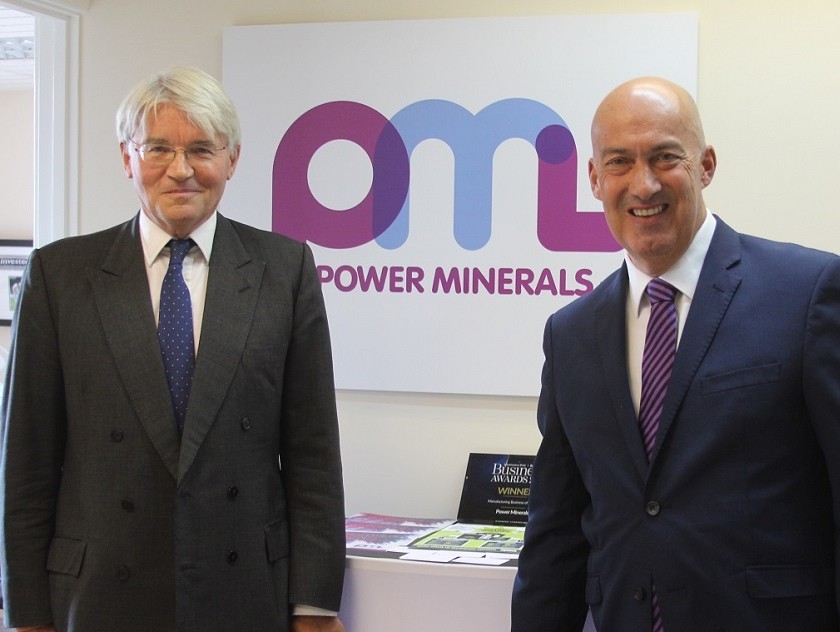 "Power Minerals is perhaps the best-kept secret of the Sutton Coldfield business community because few local people realise that we have a company here that is at the forefront of the UK's changing energy sector," said Mr Mitchell.
"The company takes the millions of tonnes of ash created by decades of coal-fired power generation and finds uses for it in the construction and infrastructure sectors. Thanks to their expertise, this power station ash is used in concrete and cement, block work on buildings, paving slabs – it's everywhere.
"This is important from an ecological point of view, because companies that use the ash provided by PML don't have to carve up the green belt to mine fresh aggregate for their cement products, which also use much less energy to manufacture. They are now working on ways to reuse the by-products of biomass power generation too.
"As the UK restarts the economy post COVID-19 there will be many, many major projects that will benefit from PML's dependable supply chain, not least the hundreds of thousands of homes that we need to build as a nation."
Recently, PML played an instrumental role in the early completion of the UK's biggest road project, the rebuilding of the A14 in Cambridgeshire. Working in partnership with Drax, the UK's biggest power station, the company supplied more than 10,000 tonnes of ash from the Yorkshire site to be used in the A14's construction.
PML (which is owned by German company STEAG) funds important research into the use of power station by-products, lobbies on behalf of the sector and is working to ensure legacy stockpiles of ash built up over decades of power generation across Britain can be accessed for future use.
PML managing director Nigel Waldron said: "We were delighted to welcome Mr Mitchell to our HQ - we are thankful to have an experienced businessman as our local MP and he has been very helpful when we needed advice during the COVID crisis. He was genuinely surprised by the scope of what we do in providing a link between the UK's evolving power sector and wider industry.
"The power generation sector is going through huge changes - coal-fired power is coming to an end. However, these changes bring significant opportunities to find sustainable and sensible uses for power generation by-products, whether that's ash created by decades of coal or products created by sustainable power."
Pictured: Sutton Coldfield MP Andrew Mitchell with Power Minerals managing director Nigel Waldron