Emergency fund boosts male grooming business
Birmingham student Joseph Poxon, (23), founder of the male grooming line Rugged Nature, has boosted his business after qualifying for an emergency fund set up to help struggling SMEs.
Joseph, who is studying at Aston University, manufactures natural hair and beard products from the kitchen of his home in Sutton Coldfield. His handmade products are stocked by 45 independent local shops, but many of those are closed during the current Covid-19 pandemic meaning wholesale orders have taken a hit.
To keep his business afloat and find new customers, Joseph applied to a £10million advertising fund set up by media owner Ocean Outdoor to help small businesses during the coronavirus outbreak. He saw an advert for the fund on Birmingham City Council's website.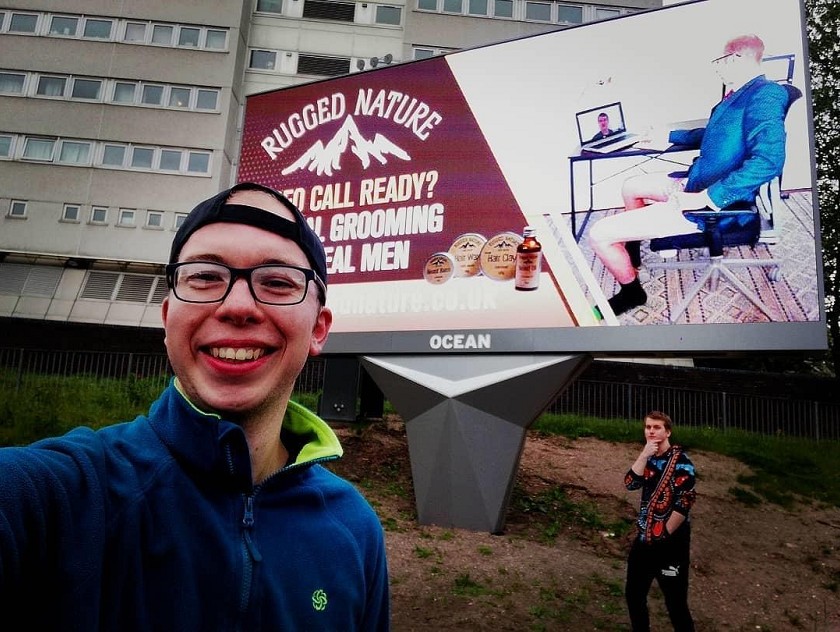 Outdoor adverts are now appearing for Rugged Nature across Ocean's digital screens in London, Glasgow and Manchester as well as across Birmingham. And this has led to a positive spike in Joseph's website traffic, generating new orders to help keep his business afloat.
Joseph, who has just completed his dissertation, said: "We applied for the Ocean SME fund after realising that we fell through the gaps in the Government's Covid-19 support for small businesses. The majority of our sales come from wholesale orders from small shops that have, for the most part, been forced to close and so our turnover has fallen off a cliff as a result of the virus.
"After speaking to Ocean, we were told we would be given £52,000 worth of free advertising space over 10 digital billboards across the UK's major cities, something that is really game changing for a young company like ours. The digital billboards look great in some really prime locations. They appeared the day after we launched our new website and we have seen a lot of hits since they started to appear."
To save on costs, one of Joseph's advert features himself as he takes a video call seated at a desk, perfectly groomed and dressed in a formal suit jacket, his boxers and socks - reflecting how important it is to keep up appearances even if you are having to work from home.
Ocean Outdoor specialist sales director Sarah O'Sullivan said: "We love the premise behind Joseph's business and were delighted to be able to help during this difficult period. Britain is built on the back of entrepreneurs like Joseph and we wish him every success in the future."
Joseph set up Rugged Nature with his brother, Jacob, because their mother, Sharon, is allergic to perfumed High Street hair products. The brothers produce between 200 and 300 units per batch about once a week. Once Joseph has graduated he plans to run his business full time, expanding into range of chemical free natural cosmetics which he hopes will be stocked by big High Street retailers.