US seeks gold standard trade deal
The UK and United States are working towards the "gold standard of trade deals" that will allow more small and medium-sized businesses to trade across the Atlantic, according to the American ambassador.
Robert 'Woody' Johnson, the US ambassador to the UK, claims businesses and customers in both countries are currently missing out as a result of bureaucracy and red tape that are restricting trade opportunities.
Speaking at Greater Birmingham Chambers of Commerce's (GBCC) online Global Trade Conference, Mr Johnson said he believes a post-Brexit Free Trade Agreement will allow more SMEs to prosper.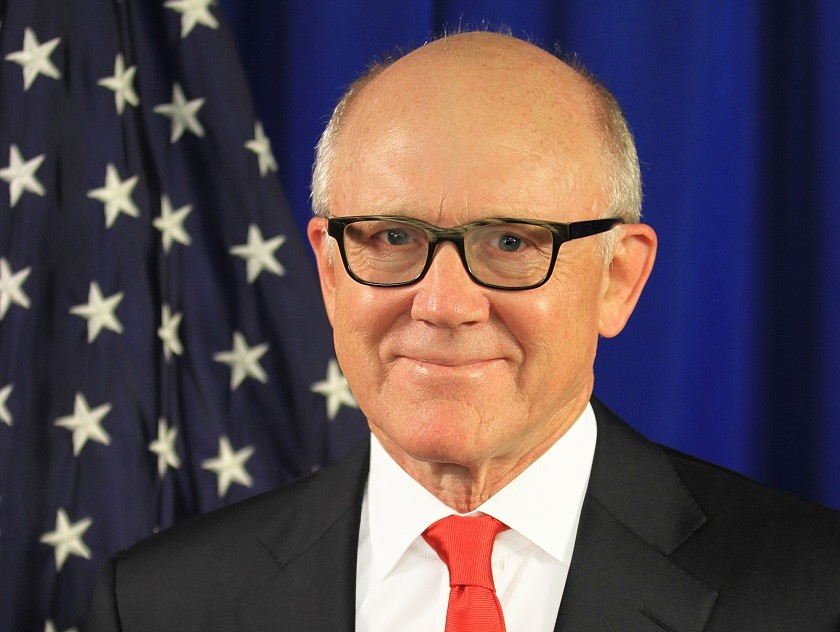 And his views were supported by the UK's secretary of state for international trade Liz Truss, who said the Government was pushing ahead to make sure British business is ready to trade with the rest of the world after Brexit.
As well as the UK, over 600 delegates tuned in from around the world to the Chamber's Global Trade Conference, which focussed on post-Covid-19 trade opportunities. Delegates included representatives from the US, Canada, Russia, Nigeria, Cambodia, Indonesia, India and South Africa to examine business in a post-Covid-19 environment.
The event, which was to have been hosted at the Royal Birmingham Conservatoire, took place online because of the restrictions imposed by the Government's Covid-19 lockdown.
Mr Johnson said: "Great businesses are losing out on customers and customers are losing out on great products," he said. "That's what we want to change. We already trade $270bn annually and have invested more than $1tn in each other's economies.
"We have a million Brits working in the US for American companies and we have a million Americans working in the US for British companies. Isn't that good enough? Well, the answer is a big 'no'. We are trading currently on WTO rules and we can do so much better. That's something that the US and UK Governments are working on right now.
"Although trade between the US and Britain is huge, there are barriers and tariffs currently in the way and holding up a lot of these companies. It's not just the tariffs – it's all the bureaucracy and red tape involved in doing business. I can't make any specific promises to specific companies about what the deal will cover. But I can tell you what they're aiming to do – and that is to remove tariffs and red tape that hold companies back."
Turning his attention to Birmingham, Mr Johnson described the city as a window into the future due to its forward-thinking businesses.
He said: "Birmingham is a great city. It helped shape the industrial revolution and it is going to shape the next one. I've met scientists at the university working on gravitational waves here, I've been to advanced manufacturing facilities like Jaguar Land Rover and HydraForce Your city in many ways is a window into the future. It is constantly changing and adapting so your coat of arms, 'Forward' is a great motto to live by."
Ms Truss pointed out that £8 billion of US trade is from the Midlands and said: "We want to get rid of trade tariffs and open up new markets around the world. We are in talks with the US, Australia, New Zealand and Japan plus the CTPTT."
The CTPTT is the Comprehensive and Progressive Agreement for Trans-Pacific Partnership (CPTPP), a free trade agreement between Canada and 10 other countries in the Asia-Pacific region: Australia, Brunei, Chile, Japan, Malaysia, Mexico, New Zealand, Peru, Singapore and Vietnam.
Ms Truss added: "We recognise that this is a difficult time for business as we recover from Covid-19. That is why we are going to be more competitive and make sure we are bringing in business for the UK and the Midlands. We will create new opportunities and help business land support for exporting, especially new business in Asia and in food and drink.
"To help with this we have 300 trade advisers in UK, including the Midlands, so if you want to export you should talk to them for the basics. Also talk to businesses who are exporting already. Companies who export are known to be more productive and pay higher wages."
The minister was asked by Paul Faulkner, the chief executive of the GBCC, about the speed of free trade agreements, with Japan already looking to do deals this week.
She said: "We will not compromise a good deal for Britain for the sake of speed. And we will fight very toughly for our interests."
Responding to the idea that some companies feel the rest of the world does not want to trade with the UK, Ms Truss said: "We are very trusted partners, standing for high quality and free trade. The US has never agreed a trade deal with a country as large as the UK. Korea is their biggest so far and if they can do a deal with Australia and New Zealand, so can we."
Asked about the challenges brought by Covid, the minister said: "There has been no better time to export. Our job is to make it easy for businesses to export and we will make sure our businesses are ready for the transformation at the end of the year. It's a great opportunity to open up to a wider market."
She added that the Birmingham 2022 Commonwealth Games will bring huge opportunities Birmingham, WM and UK to project a global mission. "I hope we can work together for Birmingham's International profile and expand international trade, especially in India, the Caribbean, the CPTPP, Australia, NZ Canada, capturing the spirit of the Commonwealth," she said.
Over 600 delegates tuned in from around the world to the Chamber's first online global conference, including the US, Canada, Russia, Nigeria, Cambodia, Indonesia, India and South Africa to examine business in a post-Covid-19 environment.
Speakers, linked digitally, ranged from UK secretary for international trade Liz Truss, the US ambassador to London Robert "Woody" Johnson and senior representatives from Curium Solutions, RSM, Gymshark and HaloTop to MPs Preet Gill and Saqib Bhatti. There was a myriad of speakers from Chicago, Toronto, India, the Caribbean, the US, Canada, Turkey, Spain, Argentina, Brazil, Russia, Australia and many more.
Full coverage of the conference can be seen at: https://www.greaterbirminghamchambers.com/networking-events/global-trade-conference-live-broadcast/
Pictured: US Ambassador to the UK, Robert "Woody" Johnson