Five promotions for attorneys
Intellectual property firm Forresters has made five promotions across its team of patent and trade mark attorneys.
Dan Rusby-Gale and Emma Johnson have both been made equity partners, Jack Gunning and James Cornford are now partners at the firm while Greg Smith has been promoted to senior associate.
Emma Johnson works at the Birmingham office and joined Forresters as a trainee 16 years ago. She said: "It's exciting to receive this promotion to equity partner, which will see me taking on the position of liaising with the company's equality and diversity group.
"This is something that is close to my heart as, even though the profession has plenty of female trainee patent attorneys, few of them become partners. I'm looking forward to ensuring that women's voices are heard, and identifying and removing barriers which may prevent others from reaching their full potential."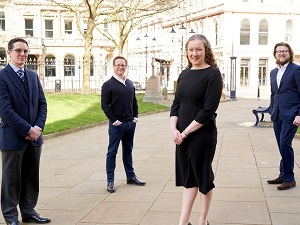 Emma has trained as a patent and trade mark attorney, meaning that she can provide a complete service for all her clients. "At the Birmingham office we work with a lot of local businesses, and so being fully qualified in both patents and trade marks is useful for our clients. I've enjoyed working at Forresters and another thing I will be more involved in is recruitment, making sure we hire the right people to ensure continued success for the firm."
Forresters, which has offices in Birmingham, Liverpool, London, Munich and Southampton, was recognised as one of Europe's Leading Patent Law Firms for 2020, in the prestigious Financial Times listing. The firm works with a wide variety of clients include businesses and individuals in engineering, pharmaceuticals, software, electronics, food and drink, sport and entertainment.
Matt Shaw, who recently took over as managing partner at Forresters, said the promotions recognise the significant performance and contribution each person has made to the continuous growth of the firm.
"After the challenges businesses have faced in the last year, we are pleased to announce this positive news. At Forresters we support and encourage every member of staff, helping each one develop and find their individual strengths through excellent training and opportunities. "