Construction firm completes multi-million pound project
A Midlands based construction company is celebrating the completion of a multi-million-pound building project in Birmingham's Jewellery Quarter.
PJ Installations has been working on a contract at the St. George's Urban Village project on Carver Street for the past 17 months, which was made possible thanks to funding from the Staffordshire Business Loan Fund.
The vast building project, which is said to be the Jewellery Quarter's largest residential scheme in a decade, saw PJ Installations fit over 3,000m² of windows, doors, curtain walls and flashing to the blocks comprising of 600 residential homes.
The company took on the contract after securing £50,000 from the former Staffordshire Business Loan Fund – run by BCRS Business Loans in conjunction with Staffordshire County Council.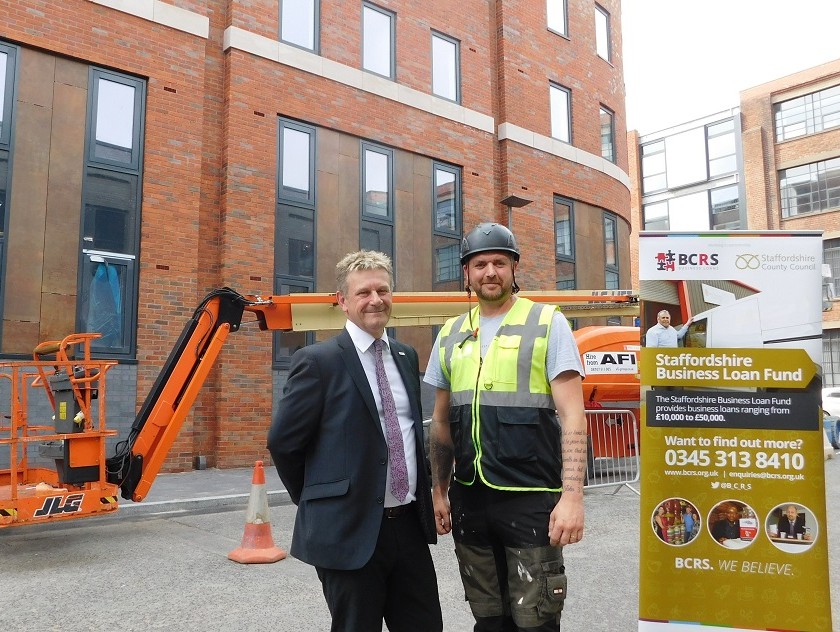 Overseeing the company are directors Paul Stacey and James Barber.
Paul Stacey said: "We are delighted to have been involved with such a big project. We have over 25 years' experience in the sector and, after initially being asked by Granada Architectural to fit the windows and curtain walls, we were also asked to cut and fit the flashing.
"Securing funding from the Staffordshire Business Loan Fund meant we could take on this contract by employing more staff and easing cashflow. Our workforce has now grown from 4 people to 36 people. We complete similar projects right across the country and are due to start working on The Metalworks project in Slough."
Tony Wood, head of credit at BCRS Business Loans, said: "It is excellent to see how funding from the Staffordshire Business Loan Fund has supported the growth of PJ Installations. With a raft of experience in the industry and a strong vision for the future, we were delighted to provide PJ Installations with the funding they required to take on this contract.
"This is testament to how successful the Staffordshire Business Loan Fund was and how it has supported the growth of hundreds of businesses across the county. Although this fund finished in November, BCRS Business Loans continue to support SMEs across Staffordshire and the surrounding West Midlands with other funds. Ultimately, we believe that no viable business should go unsupported."
BCRS Business Loans offer loans from £10,000 to £150,000 to support the growth of West Midlands based businesses that are unable to secure finance from traditional lenders.
Pictured: Tony Wood (BCRS Business Loans) and Paul Stacey (PJ Installations)