Live streaming service is a real success
E-There, a Birmingham-based Covid-19 success story, has seen bookings quadruple in the last three months, with enquiries from all over the world.
The live streaming service, which allows guests to attend a physical wedding virtually, has had 57k viewers from over 124 countries in six months.
The UK wedding industry normally hosts 20 million wedding guests and 252,000 weddings every year, worth over £10 billion to Britain's economy. The pandemic has curtailed couples' dream weddings and put thousands of wedding venues at risk of closure.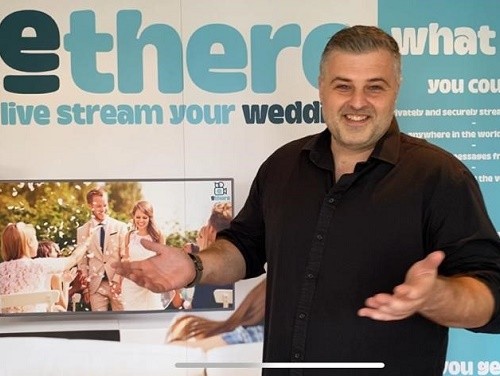 The low-cost high-quality E-There HD streaming allows wedding parties to access a bespoke viewing page, where guests can also interact and leave private video messages for the couple.
The concept was developed in 2019 - before Coronavirus hit - by entrepreneur Mark West, the former European sales manager for global leadership coach Tony Robbins.
Mark was initially sceptical about the American business and lifestyle guru: "I couldn't understand why people were paying such silly money for this big American, but Tony Robbins really did change my life, dramatically. At the time I was about 24 stone. Within nine months I'd lost ten stone, trebled my income, and it just set me on this path."
Mark moved to the role of sales director of a restaurant tech start-up, Quandoo. It went from a handful of restaurant clients to 6,000 in the UK, selling for £200 million after three years. He then set up E-There, after a close friend complained he couldn't afford a big wedding.
"The pandemic has speeded up innovation. We spent 18-months developing this affordable and high-quality tech, and automating it so it can be easily rolled out to wedding venues and couples, who just need to download an app."
Venues, including hotels and register offices, are installing E-There as an affordable hassle-free solution to the pandemic. It's used at wedding venues such as Bamburgh Castle in Northumberland, Blackpool Register Office, Broadoaks Country House, and Gwel an Mor in Cornwall.
Dawn Titherington, superintendent registrar at Blackpool Council, said: "E-There has really helped us out financially and logistically during the pandemic. It has allowed our wedding business to continue in this terribly difficult year. Couples are able to engage with even more guests, bringing joy and connection, and the small friendly team are a pleasure to work with."
Venues don't need any technical skills as the couples' virtual journeys are handled by the E-There team, and couples can also access E-There directly via the app.