Qatar Airways celebrates Birmingham anniversary
Qatar Airways, the multiple-award-winning airline, has celebrated its third anniversary from Birmingham Airport. Over the last three years, the airline has carried almost 400,000 passengers from Birmingham to Doha.
In celebration of its birthday, the airline showcased its new A350 on the lunchtime service from Birmingham to Doha which holds the new Qsuite. This business class product has fully lie-flat double beds, and a new quad configuration; a private space fully adaptable to allow passengers to transform the area in to a social or business space to work or socialise at 40,000 feet.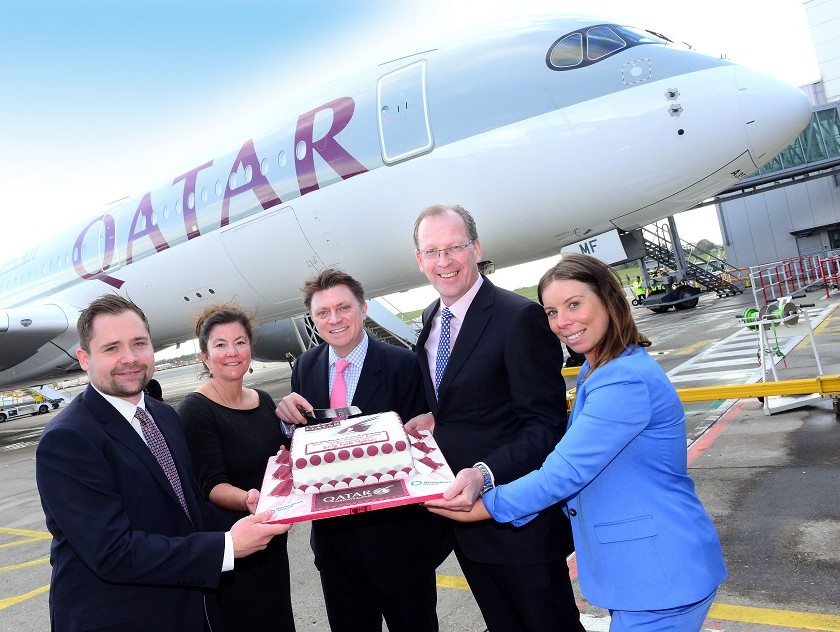 Nick Barton, CEO of Birmingham Airport said: "Birmingham Airport is delighted to join Qatar Airways in celebrating its third anniversary. Bringing the A350 to Birmingham Airport today gave passengers the opportunity to sample all that this new aircraft has to offer.
"Having carried almost 400,000 passengers during its three years, Qatar Airways is a key partner airline of Birmingham Airport. The service gives passengers access direct to Doha and onwards to over 160 destinations around the world. We look forward to continuing to work together with Qatar Airways in the future."
Gary Kershaw, country manager (UK & Ireland) at Qatar Airways, said: "It is a hugely exciting time for Qatar Airways. The demand from our UK destinations, including Birmingham, has never been stronger. That's why this summer we're providing our highest ever number of connections between the UK and Ireland and Doha.
"Bringing the A350 to Birmingham Airport is a great way to celebrate our third anniversary, and we look forward to showcasing our ever-growing fleet and the award-winning Qsuite offer on board the A350."
The A350 is usually used on routes from Doha onwards, while passengers who fly on Qatar Airways from Birmingham Airport usually fly on a Dreamliner 787 aircraft in a two-cabin configuration, comprising 22 seats in Business Class and 232 Economy Class seats.
Pictured: From left, Dean Sherrif (leisure account manager at Qatar Airways), Jo Lloyd (business development director Birmingham Airport), Gary Kershaw (country manager (UK & Ireland) at Qatar Airways), Nick Barton (CEO Birmingham Airport) and Stefanie Bowes (travel trade and corporate relationship manager Birmingham Airport).