Pitch perfect
By Henry Carpenter
Simon Topman tells a story which goes some way to explaining the enduring popularity of ACME whistles.
As the owner of the company, he had been invited by the Royal Navy to a demonstration aboard one of its warships.
Huddled in a control room deep inside the vessel, he watched in fascination as the crew went through the procedure as if a torpedo had been fired on the ship.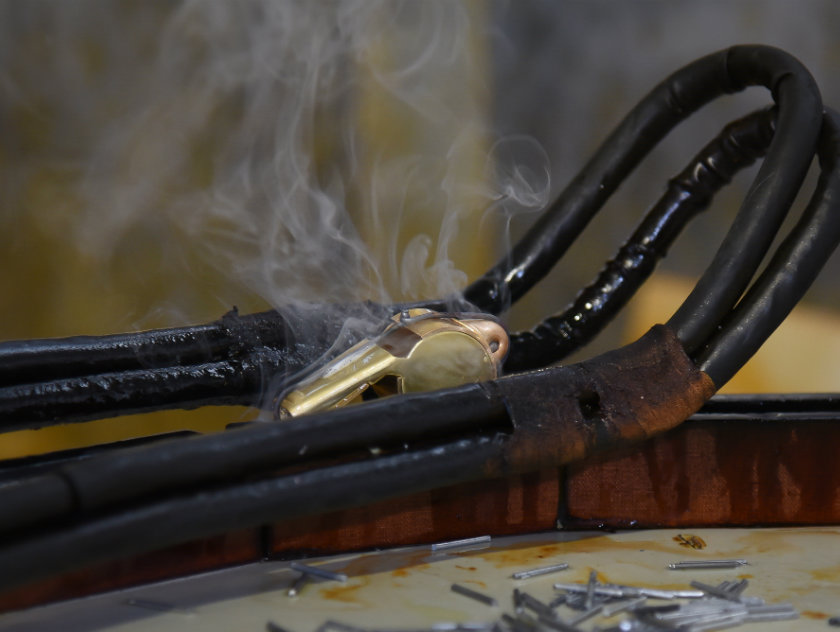 "Everyone was running around in an obviously highly organised and well-rehearsed manner after the radar had locked onto the 'missile' 100 miles out," recalls Topman.
"The thing is, the missile is only armed for the last 90 seconds which is when the all-important decision of what to do is made.
"At the point of the demonstration, someone blew one of our whistles and there was utter silence and complete order.
"I turned to the 1st Seal Lord who I was sitting next to, and he explained that for years they had been trying all sorts of mechanical noises and flashing light systems but nothing could rival one of our Metropolitan whistles for cutting through the pandemonium and demanding complete and immediate attention."
It would be reassuring to many that despite the hundreds of millions of pounds and deep pit of technology at the Navy's disposal, a humble whistle made at ACME's factory in Hockley is the item chosen to perform this most critical of functions.
And this is the story of this family-owned stalwart of Birmingham's manufacturing landscape. Ever since it was founded by Joseph Hudson nigh on 150 years ago, Acme whistles have been recognised as the go-to items for policemen, sports referees, dog handlers, musicians, the armed forces, lifeguards and simply punters who want to have the best whistle at the end of their key ring or in their pocket for whatever use they might find.
This time-honoured Birmingham manufacturer has become a byword for quality in the same way that Rolex is for watches and Stradivarius for violins, except that they are rather more affordable.
We are sitting in a meeting room surrounded by display cases exhibiting whistles, horns and other products from the factory, and we are joined by Ben McFarlane, Topman's son-in-law who looks after the sales and marketing side of the business.
You might think that in a world governed by technology and electrical items, the traditional, nickel plated whistle has had its day. Not a bit of it.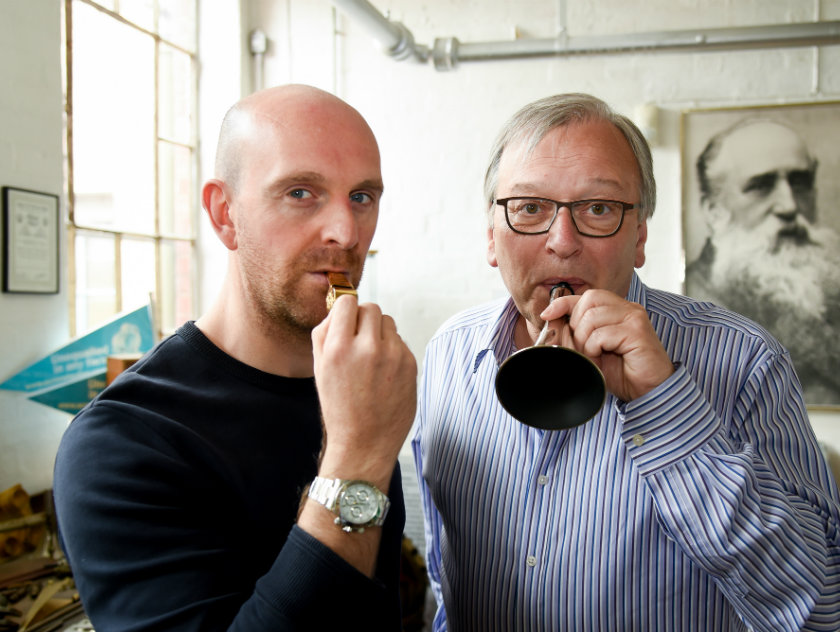 "Our heyday is now!" says Topman. "Last year was a record year for us, with more products and more revenue than ever before. And this year is set to top it."
So, what are we talking in terms of numbers? Last year's turnover was approximately £10 million and more than 6 million items were sold worldwide. And it really is a worldwide market – ACME exports its products to 119 different countries, sold through distributors. Some 500 variations of 85 products are made in Hockley, and in its 150-year-old history it has sold some 500 million whistles.
The ACME timeline is a fascinating one. It was founded in 1870 by Joseph Hudson, who was originally from Matlock in Derbyshire.
"He just enjoyed playing around and making things, snuff boxes and smaller items like that," says McFarlane.
"Then he started making whistles and his first major client was the Metropolitan Police Force. Back then, the Met used rattles to raise attention; he thought he might be able to help matters so he designed the first ever police whistle."
It wasn't long before he broke into his second major market.
"In 1884 Hudson thought that football referees could do with a whistle," says Topman. "Before that, they had been relying on a handkerchief and a loud voice to stop play!
"So he took the idea to Aston Villa, one of the first big clubs in the country which of course was just down the road. At first it was derided as a silly idea and Nottingham Forest were the first club to go through the testing process.
"But then the idea started to catch on and before long every referee used a whistle. What's interesting is that back in the 19th century, even major grounds like Villa Park were open, with perhaps a small stand at one end.
"As time has gone on, the grounds have grown into massive stadia, often designed as bowls and some are covered.
"As the grounds have changed beyond all recognition, so the sound made by the crowd has obviously changed enormously; we have had to adapt the whistle hugely to create a frequency which can cut through the roar of the crowd. We have worked with Birmingham University, using their sound chambers and research to help achieve this."
The display cabinets bear testament to Topman's assertion that "every whistle tells a story". There's a section devoted to air raid precaution whistles, one for the Titanic, sirens for clearing the roads . . . and then there are 'clickers' which were originally used as band counters in the 1920s but served a very different purpose at the end of the Second World War.
They were used by the 101st Airborne Division on the D-Day landings to recognise each other in the dark.
The search for an original ACME clicker hit the news recently. Topman takes up the story: "The campaign to find an original clicker went around the world. Eventually someone came forward with one – they had inherited it from a father.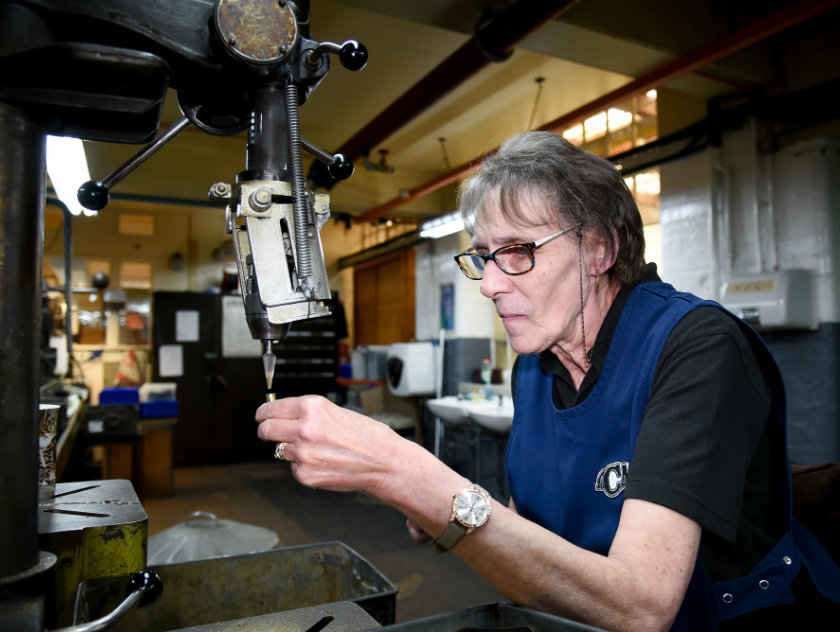 "Now, you would expect this person to come from Normandy, or perhaps somewhere in the US as they were predominantly used by American forces.
"In the end, it was someone in Harborne! Anyway, clicker web sales quadrupled as a result of the story, and it also led to several enquiries, including one from a firm in Canary Wharf who bought 400 whistles. It just shows how one thing can lead to another."
The factory itself has remained in its current site in Barr Street since 1909, having moved a few hundred yards from its previous site. In many ways, the processes are very similar to those used by the founder all those years ago, and some of the presses and stations have stood steadfast for several decades. Some of Hudson's original tools are on display, including his violin which helped him create the original whistle sound.
The factory itself and the processes have evolved over the years to meet market demands. It's interesting to hear what is currently 'on trend'.
"Dog whistles have exploded," says McFarlane. "Dog trainers want something to add to their uniform and thankfully they often come to us.
"It's often about small tweaks, such as in the colour range. Rose gold, for instance, is currently incredibly popular – so we respond to that demand.
"In this autumn's Rugby World Cup in Japan, every single one of the officials will be using our whistles. I would say that approximately half of them will be matt black, as opposed to the traditional silver coloured whistles."
Perhaps what is most surprising is the popularity of ACME in China. "They don't want cheap and cheerful," continues McFarlane. "They seem to like the heritage items, those with a story behind them. They like quality, not counterfeit or knock-off.
"The driver is always quality. Take the Thunderer whistle, for instance. There are 32 processes involved in making one of these. You can't take short cuts. And I think that's why we have had no real competition in a pretty niche market."
ACME Whistles is posting record figures and is showing no sign of slowing down. It is one of the last, great independent manufacturers in the city which has moved with the times and seen off world wars, recessions and challenges on an annual basis. Brexit? Not a concern, says Topman.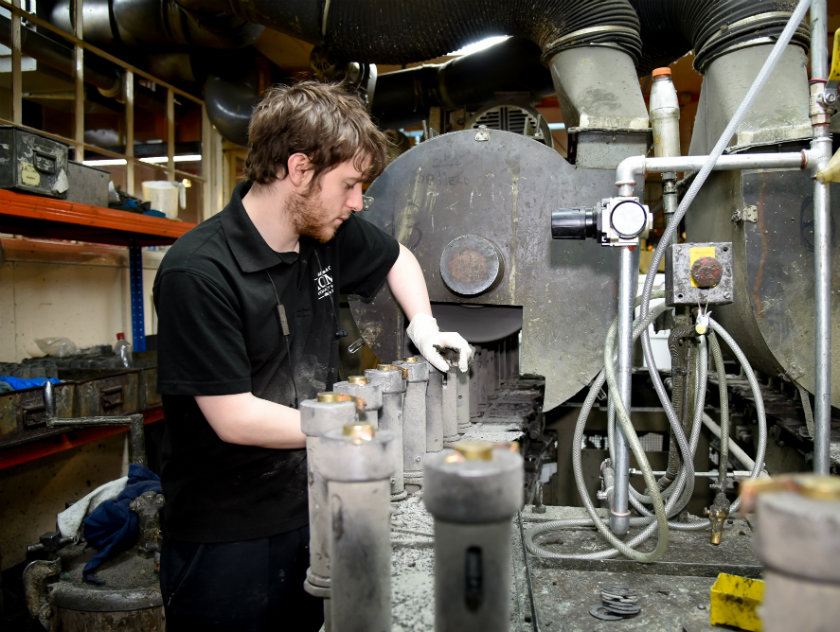 The company's success lies in its marriage between adaptability and commitment to not compromising on quality. And, very simply, people still like to blow into a whistle.
"A century ago, the market was very much B2B and it was all rather insular," says Topman, who joined the company in 1982 when it was still owned by the third generation of the Hudson family and the annual turnover was a little over £400,000. He finally took full ownership of the company in 1991.
"Now we are much more about the product and brand and the end user. It is all about the consumer. The end users have all the knowledge, and we must never forget it."
What hasn't changed though is the culture which was set out by Joseph Hudson all those years ago.
Philanthropic by nature, he set up an orphanage and a working men's club in an area which is still one of the more deprived in the city.
"He always sought to be a good corporate citizen, and his ethos is one we make every effort to continue," says Topman. "We support a nearby school and arrange to give tours for children.
"This is a local company supporting local people. We only employ local people. That culture is very important to us."
With a bulging order book, an established culture, new products on the way and a management succession plan evidently in place, ACME Whistles looks well set for the next 150 years.