Keeping local residents in the 'loop'
Birmingham's newest open space, the one-acre park at Port Loop, has been officially unveiled with a celebratory community event.
The new canalside park at Port Loop has been delivered by Port Loop developers Urban Splash and Places for People, alongside the charity, Canal & River Trust, and Birmingham City Council; they worked in collaboration with Birmingham-based Impact Hub, whose team organised the 'Play Out 'til Tea' day.
Project director Adam Willetts said: "We are absolutely thrilled with how the event went and everyone who came along to celebrate this addition to the neighbourhood here in Birmingham.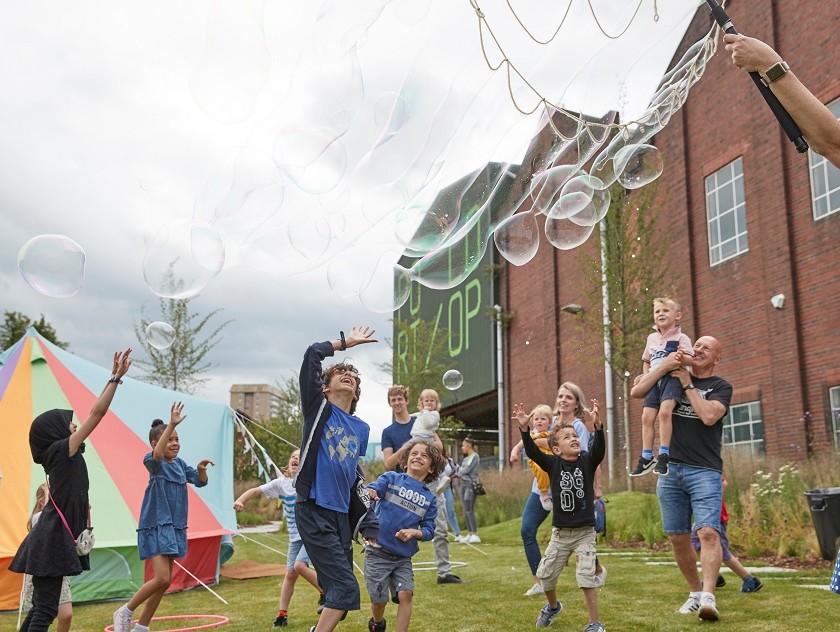 "Play Out 'til Tea is one of our core principles at Port Loop; the site has been designed to encourage residents and locals to spend time playing outside and yesterday's event delivered on that vision, welcoming a mix of people to engage in free and unbridled play. It's incredibly exciting to see the neighbourhood starting to take shape."
Councillor John O'Shea, Cabinet Member for Street Scene and Parks was in attendance and said: "It is wonderful to see more green space being created in Birmingham, not to mention a new neighbourhood which is bringing new life to this heritage-filled site."
Fellow Councillor Albert Bore also came along on the day, adding: "I have had a long involvement in Port Loop and am delighted to see the makings of an exciting new community emerge. The event this weekend was the perfect celebration of what's ahead."
The developers are now gearing up to launch the second phase of homes at Port Loop; designed by Birmingham architect Glenn Howells they will launch for sale early in September. Additionally, plans are being put in place to launch a new social and cultural hub in 100,000 sq ft of former industrial space this autumn.
Anyone interested in visiting the new neighbourhood at Port Loop can travel on foot, by scooter or bike, or even take a water taxi from Brindleyplace.