Hospital charity gets funding support
A Birmingham hospital charity looking to create an art installation was selected as the first regional group to benefit from a new funding scheme targeting youth projects.
Birmingham Children's Hospital Charity was the first of four charities to receive £1,000 from the Persimmon Homes Building Futures initiative, launched in partnership with Team GB, the British Olympic Association.
As well as Birmingham Children's Hospital Charity, Persimmon Homes Central has made regional donations of £1,000 to Stratford Literary Festival and Sport 4 Life UK.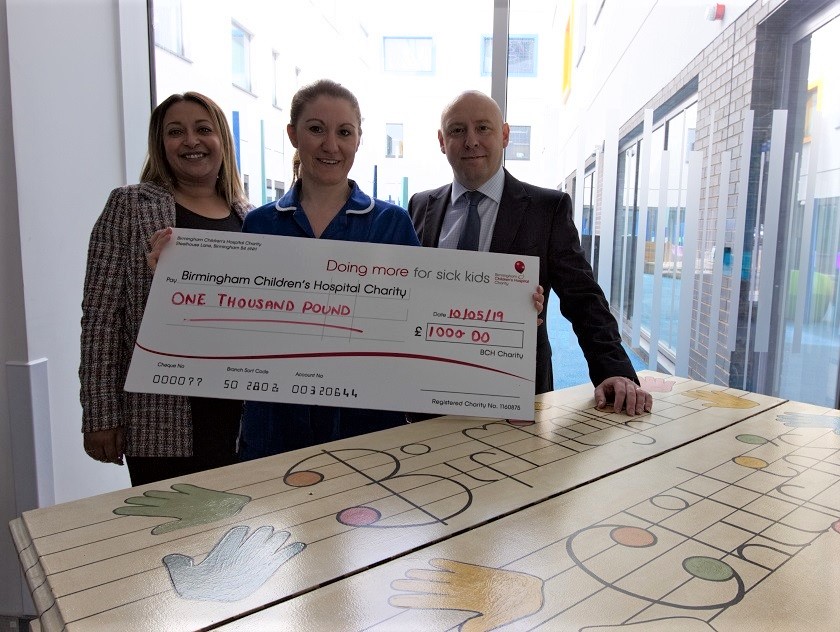 Neil Williams, managing director of Persimmon Homes Central, said: "This new funding scheme aims to support community groups across three categories: sports, education & arts, and health. We are delighted that the first organisation to win is a charity working so hard to create a modern, welcoming environment for children and their families at the city's renowned children's hospital."
The hospital is one of the UK's leading specialist paediatric centres, and while the main hospital building is 150 years old, one of the charity's aims is to fund the development of bright, friendly wards, waiting rooms and play areas. Waterfall House opened earlier this year and is home to the hospital's world-class Children's Cancer Centre and the UK's first paediatric Rare Diseases Centre, with many of the children spending long periods of time in the hospital.
Persimmon's £1,000 donation will help to fund the installation of an interactive art trail, light sculptures, an electronic waterfall feature, wall art and sensory pieces designed to engage and involve patients of all ages.
Mandy Smith, philanthropy manager at Birmingham Children's Hospital Charity, said: "We want to say a massive thank you to Persimmon Homes for their generous support. Charitable donations from our local community and organisations like Persimmon are truly invaluable, as they allow us to make a huge difference to the lives of our brave children and their families by improving their hospital experience."
Building Futures is being delivered through the Persimmon Charitable Foundation and is aimed at community projects for people aged under 18, targeting grassroots sports groups, charities dealing with physical and mental health issues or awareness, as well as community arts and education projects.
Monthly grants of £1,000 have been awarded across Persimmon's 32 regional businesses to improve facilities and the delivery of vital grassroots community projects. In addition to the £1,000 monthly awards, three initiatives will go on to win £100,000 each through a national award scheme voted on by the public. The overall winners will be named at a gala dinner for finalists in October.
In each sector – sport, education & arts, and health – as well as the £100,000 first prize, there will be a £50,000 second prize and a £20,000 third prize, while a further 87 shortlisted projects will each receive £5,000.