Construction firm donates laptops
Pupils at Birmingham's City Academy will be provided with new laptops and tablets to help with home schooling following a donation from local contractor Colmore Tang Construction.
With schools still closed due to the Coronavirus pandemic, the high-spec laptops and mobile tablets will support disadvantaged pupils who have not had access to suitable IT equipment for remote learning during lockdown.
Following a recent system upgrade, Colmore Tang identified a number of high-end laptops and tablet devices that could be repurposed to support home learning. The contractor worked with its IT partner, Moremicro, to ensure the devices were student-ready ahead of a socially-distanced handover to City Academy assistant headteacher, Philippa Lewis.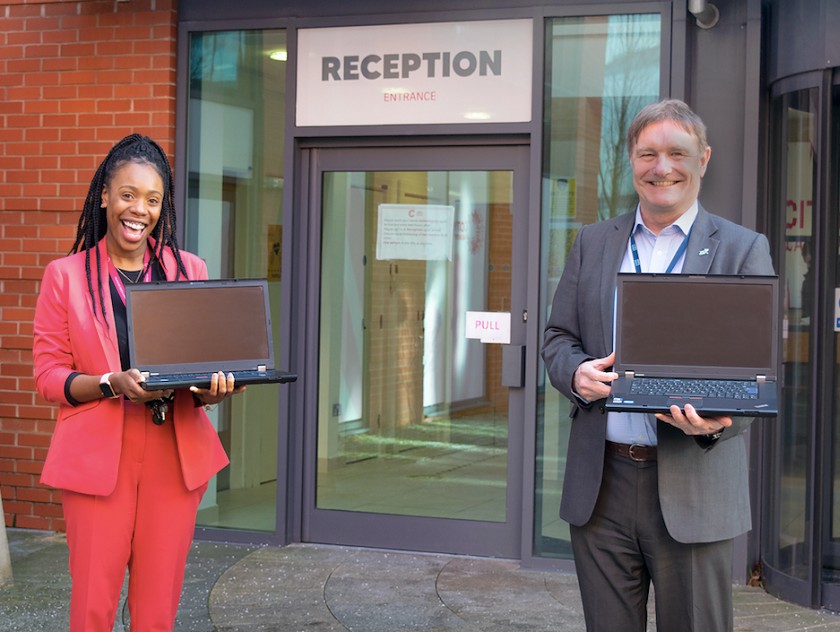 "This is a phenomenal donation that will go a long way for our students. We'll be able to use these devices with our most vulnerable learners, targeting our Year 11 GCSE students to aid them in their remote learning. Almost all of our learners are currently at home and we do have students without devices - so these will be distributed to them first.
"When students return to blended learning, in and out of the classroom, the laptops and tablets will be used to facilitate our GCSE content and support our creative arts department for photography, art and media studies students," said Philippa.
Steve Underwood, chief operating officer at Colmore Tang Construction, said: "We are proud to be playing a small part in supporting pupils who are struggling with home schooling. These young people have battled an incredibly tough year of isolation and distance learning, something that would be a challenge for any young person, let alone those who haven't had access to the right equipment.
"With construction projects across the city, it's important to us that we support our local communities. City Academy is a fantastic school, less than a mile from our office, I know that this donation will make a major impact on its young learners."
Established in 2013, Colmore Tang has experienced rapid growth through its delivery of large, and often complicated, city centre high-rise projects spanning commercial, retail and residential. To date, the business has delivered over 3,500 residential units, a 253-bedroom four-star hotel, 180,000 sq ft of retail space, as well as 120,000 sq ft of distribution warehousing.