Accountants saddle up for charity challenge
More than 50 volunteers from Prime Accountants will be jumping on their bikes for an epic charity challenge, which will see them ride the distance of the Tour de France in just 24 hours.
The intrepid team from Prime, which has offices in Solihull, Birmingham and Coventry, will be taking to exercise bikes in Solihull's Touchwood Shopping Centre on Saturday, February 29, with the aim of raising £10,000 for Birmingham Children's Hospital Charity.
Starting at 1pm, 'Le Tour in 24' will see 51 volunteers from Prime cycle continuously at 22kph on exercise bikes for 24 hours, to reach the 3,365.8km target. The challenge marks Prime's latest fundraising effort for Birmingham Children's Hospital Charity, its nominated charity.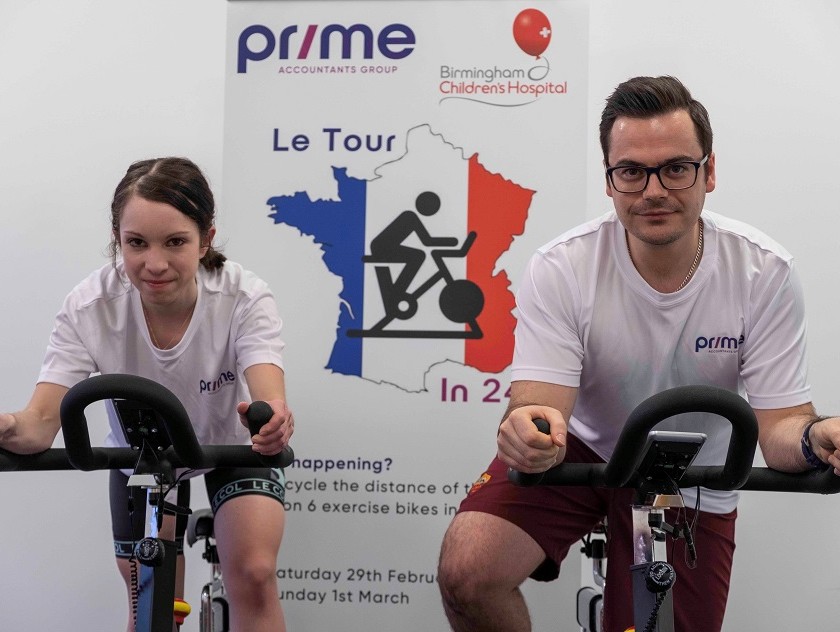 Kevin Johns, managing director at Prime Accountants, said: "We're really fortunate to have a fantastic team at Prime who all really embrace this kind of challenge, as well as a supportive client base who donate generously to the good causes we support. We hope this event will capture people's attention and help to raise £10,000 for Birmingham Children's Hospital Charity and highlight the fantastic work they do."
Helen Rawnsley, corporate partnerships officer at Birmingham Children's Hospital Charity, said: "We're thrilled to be working with the team at Prime Accountants again on the Le Tour in 24 challenge. Their support helps enormously and the money raised will go towards helping us deliver expert care to the 90,000 children and young people from across the country who need us every year."
Prime Accountants Group is one of the largest independent accountancy firms in the West Midlands, and has been involved in a number of fundraising and charity projects over recent years, including the 3PS challenge (a gruelling combination of pedals, paddles and peaks which raised £25,000 for Birmingham Children's Hospital Charity).
Le Tour in 24 has already received fantastic support from Prime's clients and professional contacts including, but not limited to, BRI, Ashbourne Membership Management, Fit Club, Autoparts & Diagnostics Ltd, Arden Fine Foods, ITT Hub 2020, Legal Clarity, Quattro Pensions, Handelsbanken, Standley and Co Solihull College, Rolltek International, Entec International and QualitySolicitors Davisons.
Pictured: Gabriella Nordin and Jonathan Stobart, from Prime Accountants, in training for the company's mammoth Tour de France-inspired fundraising cycle for the Birmingham Children's Hospital Charity