Marina Strotz
Marina Strotz is the president of the Birmingham Architectural Association and project architect at Intervention Architecture. Intervention Architecture is a young, boutique award-winning architecture practice, and in 2019, was awarded Architect's Practice of the Year by the Insider West Midlands Property Awards.
EXPLAIN A TYPICAL WEEK IN YOUR WORKING LIFE: One of the best things about my job is that no two weeks are the same as we see our projects through from inception to completion.
Some days I will be out of the office meeting prospective clients, attending meetings with the design team and clients, and visiting our projects during construction. The other days, I will be in the office dreaming up and drawing new ideas for projects with my colleagues, picking the right tones of timber or concrete for an interior, and on the other scale doing 1:5 construction details and specifications for a tender package.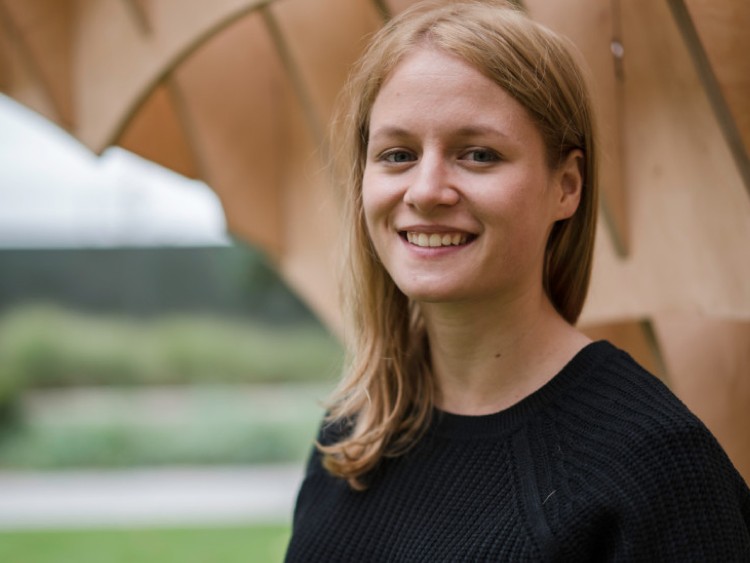 There is also time spent setting up contracts, the tender process, health and safety risk assessments, submitting planning applications, liaising with consultants and clients, and issuing certificates as contract administrator for some of our projects on site. Typically, I will also have a Birmingham Architecture Association committee meeting every two weeks, which I prepare the agenda for and chair the meetings and we tend to offer about three evening or morning events a month.
WHAT IS THE BIGGEST CHALLENGE FACING YOUR INDUSTRY RIGHT NOW? There are three trends that are shaping the current architecture business environment: restrictive or closed public procurement routes; skills shortages in the construction industry; and the climate emergency.
All come with their own opportunities, but equally with risks and challenges. For example, public procurement in the UK for new projects tends to be restrictive, and through selective tendering processes that often are biased against small to medium practices who may not have the PI, turnover or the resources to bid.
AND WHAT ARE THE BIG OPPORTUNITIES? Clients are seeing the value of incorporating wellbeing, sustainability and great design thanks to the internet, Pinterest and even TV programmes. This creates a more fluid dialogue between our clients and us and results in far better projects where these priorities are set out at the beginning.
HOW DO YOU GET THE BEST OUT OF YOUR COLLEAGUES? Giving them responsibility and ownership… by not giving them the answers but aiding their development to find the answers themselves.
WHAT WAS YOUR LAST MEETING ABOUT, HOW LONG DID IT LAST, AND WAS IT PRODUCTIVE? I visited a prospective contractor's construction sites that we were looking to work with for a complete house refurbishment and extension in Harborne. The sites were in Kenilworth and Leamington Spa and the visit lasted about an hour. Overall it was very productive!
HOW MANY EMAILS DO YOU GET IN A DAY, AND HOW MUCH TIME DO YOU HAVE TO READ THEM? It can vary wildly depending how busy we are and the nature of the projects. I generally programme in time during the day to respond to emails.
DO YOU ANSWER WORK CALLS OR EMAILS AT HOME? WHAT'S THE RIGHT WORK-LIFE BALANCE? This is something I try to avoid for a healthy work-life balance, however this is sometimes unavoidable.
HOW DO YOU HOPE YOUR COLLEAGUES WOULD DESCRIBE YOU? Creative, conscientious and a highly-committed professional.
HIGHLIGHTS OF YOUR CAREER SO FAR? Seeing our designs come to fruition and standing in that space with a happy client always gives you a buzz, no matter how many times it happens. I'm also super proud of being elected as the president of the BAA and making it a successful platform for architects and architectural designers in the city.
ANY PARTICULAR FAUX PAS OR EMBARRASSING MOMENTS IN YOUR CAREER YOU WOULD PREFER TO FORGET? Back when I was an architectural assistant, I was asked to get lunch for an important meeting – amongst the order, the client asked for a couple of egg sandwiches and someone else a ham salad. I got two egg sandwiches and as there was no ready made ham salad, I sliced some ham into a salad. Turns out they just wanted a ham salad sandwich and one egg sandwich which came with two sandwiches… not the end of the world, but definitely not my finest moment!
PET HATES? When people view their reality through their phone rather than in the moment.
IF YOU COULD GO BACK AND GIVE YOUR YOUNGER SELF SOME WISE ADVICE, WHAT WOULD IT BE? Don't be so hard on yourself or other people: the future is long – have some fun and care a little bit less.
HOW DO YOU RELAX AWAY FROM WORK? I love bouldering. At lunchtimes, I cycle to a bouldering centre five minutes away and that really helps me to be focussed in the afternoon. When I am not at work, nothing beats being surrounded by friends and family being outside on our next adventure.
WHAT DO YOU BELIEVE IS SPECIAL ABOUT THE BIRMINGHAM BUSINESS COMMUNITY? The Birmingham business community is an exceptionally warm and friendly community. Time after time, I've been surprised just how welcoming everyone is at networking events. I often used to think that unless you're the director no-one will want to talk to you – it's quite the opposite: people approach you and are genuinely interested in your passions and drive for what you do. I've had many fantastic conversations at these events. This is the same on a day to day basis – the Birmingham business community gives each other time and shares my passion for collaboration too.
TELL US SOMETHING ABOUT YOU THAT MOST PEOPLE PROBABLY WOULDN'T KNOW. I live in two cultures – Switzerland and England – and feel at home in both.
YOU CAN TAKE ONE BOOK, ONE FILM AND ONE CD ONTO A DESERT ISLAND – WHAT WOULD THEY BE? Book – Lewis Mumford – The city in history; film – Brazil!; CD – Modest Mouse – Missed the boat.
YOUR FIVE DREAM DINNER PARTY GUESTS, DEAD OR ALIVE? Marina Abramovic, Nikolaus Pevsner, David Bowie, Mary Kate and Ashley Olsen (is that cheating…?), and Salvador Dali.
WHAT WOULD YOU CHOOSE TO EAT FOR YOUR LAST SUPPER? Milchriis – this is a Swiss dish known more commonly in the UK as creamy rice-pudding with cinnamon on top. Always reminds me of growing up and my mother.