New offices for a new generation of workers
ADVERTISEMENT FEATURE
With figures showing that 85% of working adults wish to take a hybrid approach to home and office working[1], the onus is now on workplace experts to create spaces which offer teams a new generation of professional environment to attract them back to the office.
Though spending a portion of the business week working from home offers some benefits, analysts say too much remote working can have a major impact on our social tendencies. Employees who formerly thrived on being engaged with their colleagues have found home working dampens their creativity, while business-wide relationships have been hindered through lack of face-to-face interaction, instead becoming reliant on digital platforms alone.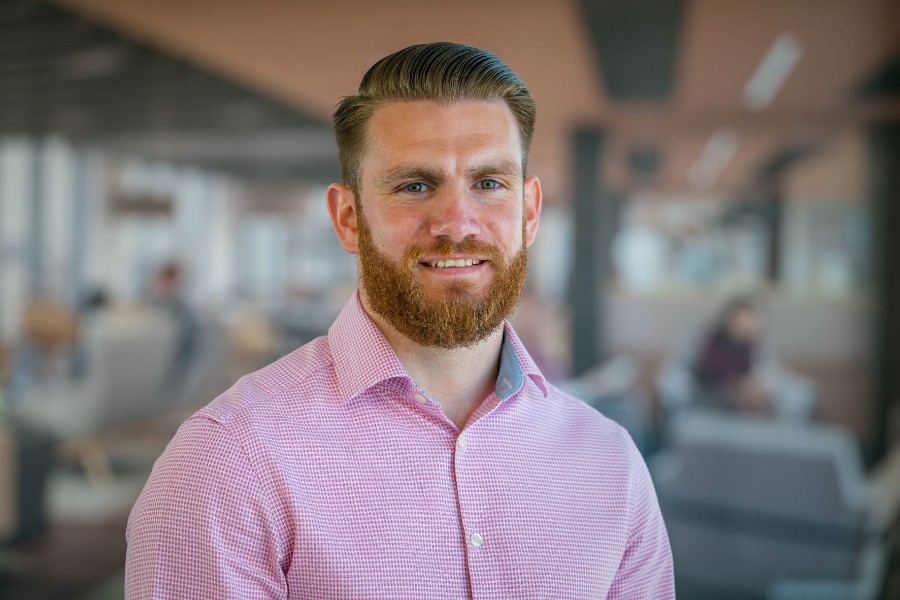 In response, workplace providers are overhauling their spaces to create a new and improved post-pandemic landscape. The key is creating a setting which offers the same levels of comfort and familiarity as workers have experienced at home, balanced with services which make the workplace a productive, engaging and supportive place to be.
According to Matt Wright, Head of Commercial for Bruntwood Works in Birmingham (pictured left), the company is assessing the things its customers say they want and need from their office space after working from home during the pandemic, and is adapting its spaces to suit.
He said: "All feedback suggests customers want something very different from their office spaces once they return to work. We must be able to offer so much more; it's no longer as simple as offering a desk, meeting space and tea and coffee facilities.
"We've long-since recognised the need for workspaces to operate with people in mind; our £50m Pioneer programme was created to transform existing spaces into the workspaces of the future, today, building on our six key pillars of wellbeing, amenity, biophilia, technology, art and sustainability.
"However, people now also want an environment that reflects the benefits of working from home, and which facilitates the personal, social and leisure elements of their life, too. So, we might see a rise in live music, yoga classes and our four-legged friends in the office, for example."
Wright added that while there may be a 'hangover' period as people slowly emerge from 18 months of home working to refamiliarise themselves with the office, workplace providers who invest in their spaces to encourage greater collaboration, interactivity and wellbeing will become key to pandemic recovery.
He said: "It's basic human nature to seek out companionship and home working has hampered that for so many. We want to ensure all our spaces encourage all the great things that come with working in an office, such as team building, the opportunity to bounce off other people to create new ideas, and to immerse yourself in a company's culture.
"We recently completed a major refurbishment of the Cornwall Buildings, to transform what was a historically traditional space into a more relaxed offering. It also perfectly embraces the new ways of working we've become used to, providing everyone from freelancers, start-ups and mobile workers to large business owners the opportunity to experience something different when they come to work – a space to come home to which is equally welcoming and familiar, and specifically designed for collaboration and productivity. All of this is essential to creating a workplace community - something our team actively curates, and ensures is tailored to our customers' needs.
"Since the transformation, we've welcomed a wealth of new customers through the door, from businesses wanting to offer their teams a new space to work from post-Pandemic, to workers using our Pay As You Go service to give them a break from being at home, and we expect to see plenty more of both as office working becomes commonplace again. Moving forward, we'll be looking to reimagine other buildings within our Birmingham portfolio, including Centre City, Mclaren and Cornerblock, using our learnings and feedback from the Cornwall Buildings customers.
"Lockdown may have changed how we work forever, but the workplace is still key in helping businesses achieve everything they can't do from home, and we're confident our spaces will prove the office is still the place to be for people and businesses to thrive."
For more information please contact Matt Wright - T: 07904 818346
E: matthew.wright@bruntwood.co.uk
[1] https://www.ons.gov.uk/employmentandlabourmarket/peopleinwork/employmentandemployeetypes/articles/businessandindividualattitudestowardsthefutureofhomeworkinguk/apriltomay2021
This commercially backed article appeared in the September/October 2021 edition of Birmingham Business magazine.