Reflections of a career in IP
Even the biggest companies aren't immune to having their intellectual property brazenly stolen.
Take technology colossus Apple. About a decade ago, counterfeiters set up a shop space in the Chinese city of Kunming which to all intents and purposes looked exactly like an Apple store.
It was almost flawless: it had the Apple logo, the familiar wooden tables and the staff in the branded uniform. It was so authentic in almost every way that the staff themselves thought they were working in a bona fide Apple store.
It took an American blogger living in the city to spot that the words 'Apple Store' were written on the front of the shop, when genuine stores just have the logo with no other characters.
Of course, Apple's IP is protected and it's not as though the company didn't have the funds to sort out the mess. Nevertheless, while a good public interest story, Apple wouldn't have found it amusing.
The story is related by Matt Shaw over a coffee in a bar across from the firm's offices on Edmund Street.
Shaw is the managing partner of Forresters, a 138-year-old firm of patent, design and trade mark attorneys, whose work falls under the umbrella of IP law. The fake Apple store anecdote is a particularly consumer-friendly example of a brazen IP infringement.
"Counterfeits are interesting," says Shaw. "We all see counterfeit clothing on the streets and the beach, but people don't worry about it too much and tend to turn a blind eye.
"But the stuff you're seeing on sale there isn't really the biggest problem – it's what it feeds higher up the chain with the trafficking of humans and drugs. Money from counterfeiting is paying for something pretty terrible, and every time you buy a knock-off T-shirt or hat you are, in a tiny way, contributing to organised crime further up the ladder.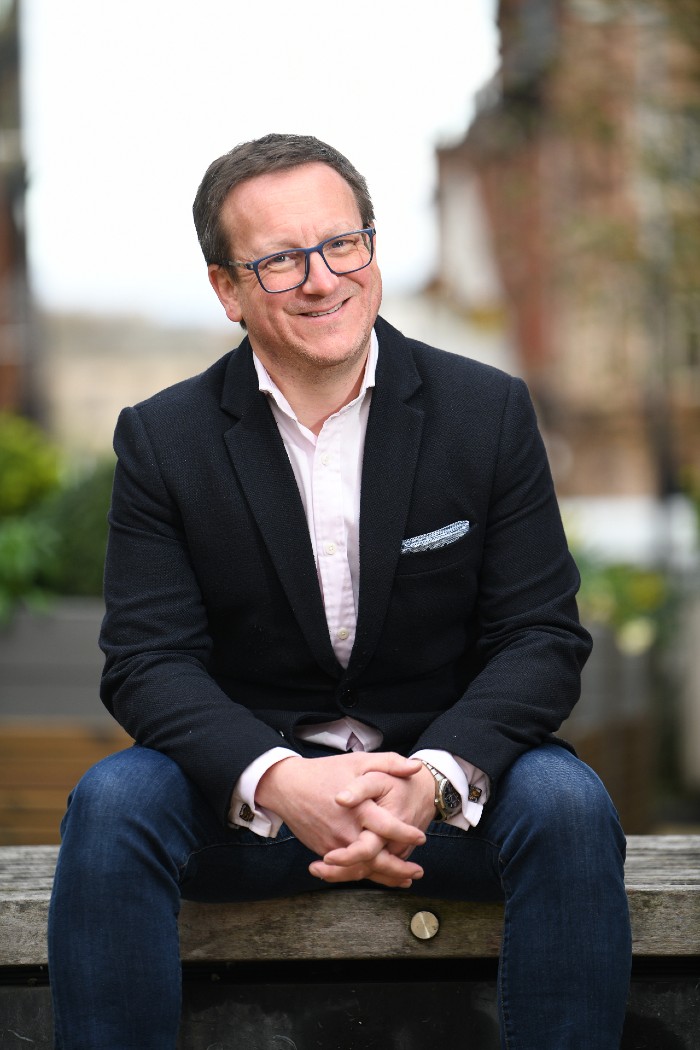 "There's no end to what can be counterfeited. Take cancer drugs for instance. – you are in a murky world here with people wrongly thinking they're buying life-saving items.
"We even heard of a case of fake eggs. Quite astonishing."
This is a criminal area which isn't Forresters' field; the attorneys' main involvement is getting the protection in place which allows the law enforcement authorities to take action.
But counterfeiting is just one small element of IP, and when Shaw touches on the complexities involved, it's easy to understand why a professional's expertise is needed.
Shaw explains that there are three main types of IP: patents, which are for inventions and technical matters; designs, which protect the shapes of things; and trade marks, which are the distinctive signs which tell where something is from, such as names and logos.
There are numerous wrong turns which someone trying to protect themselves, unadvised, can take.
"People often don't check the position on third-party IP," says Shaw by way of an example. "They think that a quick search for domain names and a peek at Companies House will be enough. But it just isn't. They haven't checked the trade marks register. It's quite common for us to have to bail people out who haven't done the correct clearance and have received a stroppy letter from a solicitor a few days later.
"They just didn't realise they had to do it. The cost of clearing a new name isn't huge – but the cost of sorting out a legal problem can be.
"The awareness of IP is increasing but it's still quite low. You patent an invention, or you register a trade mark or design. There are some things which are quite hard to protect – those which don't fit into any of the IP categories – such as abstract concepts of how to make money, or a way of running a business.
"There are techniques and strategies which can be adopted to protect IP which buy crucial time for a client to protect themselves.
"Not applying for the right type of protection is a huge risk – anyone can file a trade mark or patent application but with respect, the applications are unlikely to be any good. Patents are a complex combination of language, law and science. The right words have to be used."
Get Shaw on the subject of inventions and patents, and there's no stopping him. All patent attorneys must have a scientific or engineering background, and he fits into the former category having studied chemistry at the University of Nottingham. Inventions fascinate him.
"Take cat's eyes," he says. "This is a really interesting invention by a Yorkshireman called Percy Shaw in the 1930s who had been using tramlines to help navigate at night. He passed a cat which gave the inspiration for the invention.
"Now, what's clever is not just the two pieces of glass which reflect vehicles' lights, it's the way the unit around them was designed.
"When a car goes over it the rubber bit gets pushed down and the two bits of glass are pushed down over a flange and they get cleaned. In an improved version he allowed rain to get into the box underneath the lenses.
"Every time a vehicle pushes the lenses down, the water sprays up and cleans them again. That was a very simple and clever thing to do and has huge implications for road safety."
The name 'CATSEYE' was registered as a trade mark in 1938, and the registration is still in force today. (Incidentally, in 2006 the Catseye was voted one of Britain's top 10 design icons in the Great British Design Quest).
However, a patent can not be kept beyond 20 years, so competitors could produce similar products, if they wished – they just couldn't call them 'CATSEYES'.
Most patents aren't maintained for much more than 10 years, according to Shaw, but there are occasions when competitors circle, waiting to swoop on a product with their own version.
"Pharmaceutical drug patents often go the distance, but there are companies waiting in the wings and you can often see a share price drop on the day a patent runs out – it can have a huge effect on the value of a company. People do monitor what competitors' patents are doing."
Trade marks are another key area which IP firms such as Forresters focus on, and Shaw and his colleagues often find themselves working with branding agencies or marketing consultancies on behalf of a company.
However, individuals of a certain profile are sometimes every bit as keen to prevent others profiteering off their names.
Shaw cites household names such as athlete Dame Kelly Holmes and Olympic champion cyclist Victoria Pendleton as examples of individuals who have protected their names with the firm. And then he mentions Formula 1 driver George Russell, the Brabham family, and IndyCar racer Max Chilton.
"Kelly Holmes, for example, was coming out of her Olympic career and entering the realms of motivational speaking, coaching and fitness equipment. She didn't want anyone else to use her name for products or spin-off merchandising, as that would be damaging for her brand.
"Ditto Victoria Pendleton, but for bikes. It's not common but it happens. We saw lots of unauthorized trade marks filed for Emma Raducanu, just after her US Open victory, for example."
Motor racing is a personal passion of Shaw's, so working with prominent individuals within the sport and getting to know their industry through them is "a real privilege and a really interesting part of the job".
Matt Shaw is one of Birmingham's more visible professionals, and is frequently seen at corporate events, celebrations and launches.
It is part of what he considers to be his brief as managing partner. Establishing relationships and furthering bonds is a vital part of his business development remit.
Client-facing interaction is what he enjoys most, allowing him to understand his clients' businesses better. And he expects the same from his colleagues.
"We try to be an affable bunch – that might sound fairly obvious but sometimes it isn't.
"If you've been to a factory and met the R&D team, you can really understand what that particular business is about."
He mentions this as a possible point of difference between Forresters and their competitors who Shaw admits are "no less smart or qualified than us".
He adds: "We are very strong on biotech, particularly in our London office, and we also have a very good reputation in trade marks and branding.
"'Clear Direction' is our company strapline. We chose it because we try very hard to give clear and focused advice to clients on what they need to do. They want a proper commercial steer, not legal options."
The structure of Forresters has helped the firm at least partly overcome Brexit.
While it started life in 1884 in Colmore Row, Forresters went on to open a London office for its international clients which is now based in the Gherkin. Other UK offices followed.
It is also a truly European firm, having opened an office in Munich – where the European Patent Office is based – in 1978. This meant that although Shaw and co didn't welcome Brexit, it affected them far less than other firms and they could still run European work through the office in Germany.
"I was brought up in Brussels, went to the European School and my dad worked for the European Commission, so I was never going to vote for Brexit," says Shaw.
"We worked very hard on Brexit and have liaised with all our European associate firms, particularly in eastern Europe, and by doing so took on over 12,000 new trademarks on the back of that.
"We realised the way to do it was to adopt a personal approach. We targeted partners and built a link, and that has worked well because we are now the UK firm in their minds."
Brexit is one thing – but what about the pandemic?
"Amazingly, our last financial year was an all-time record with a turnover of £25 million.
"We were scratching our heads over how we achieved it. I think it was partly because Covid provided clients with the opportunity to concentrate on R&D and innovating, and that of course played into our hands.
"While the top line went up, there was an improvement with the bottom line as well – after all, we weren't travelling around the world so we were saving money."
Shaw somehow looks too young to be the managing partner of a multi-office IP firm – and his position extends across the group. Indeed he is not even 50, so it has been a pretty rapid rise through the ranks since he sent the firm a speculative letter back in 1994 after a brief spell working as a management trainee for a pizza chain.
He remembers: "I thought it wasn't what I went to university for, so I went to a careers service where a computer programme asked a string of questions before working out a potential career fit.
"It came up with patenting. I went to the library to find out more, thought it sounded interesting, sent 40 letters to various firms and I got one interview – here at this firm. That was it.
"I joined that year as a trainee, was made a partner in 2001 [at the time, the youngest ever at Forresters] and became managing partner last April.
"While the work has by and large remained unaltered, what's changed immeasurably is the speed of everything. In the olden days a Jiffy bag would arrive in the post and a fortnight later we would talk about it. 'Urgent' then meant next week . . . it is now in three hours' time."
We are offered another coffee by the manager – "on the house, Matt" (he is clearly a well-known figure in the neighbourhood) – but time has flown.
If the success of an organisation tallies with the enthusiasm and energy of its figurehead, then Forresters is in for a bright and productive future.