Agency welcomes first apprentice
Marketing and design agency, Digital Glue, has taken on its first-ever apprentice in conjunction with specialist creative, digital and marketing apprenticeship provider, Creative Alliance.
Maryan Mohammed has been recruited as a junior content producer and will be working towards a Level 3 qualification over the next 12 to 18 months. She will be mentored and trained by Digital Glue's website developer, Ben Goodman.
This apprenticeship will provide Maryan with skills and knowledge in coding, designing and the building of websites. She will be completing training throughout her apprenticeship as well as working on live projects for clients to build on her skills.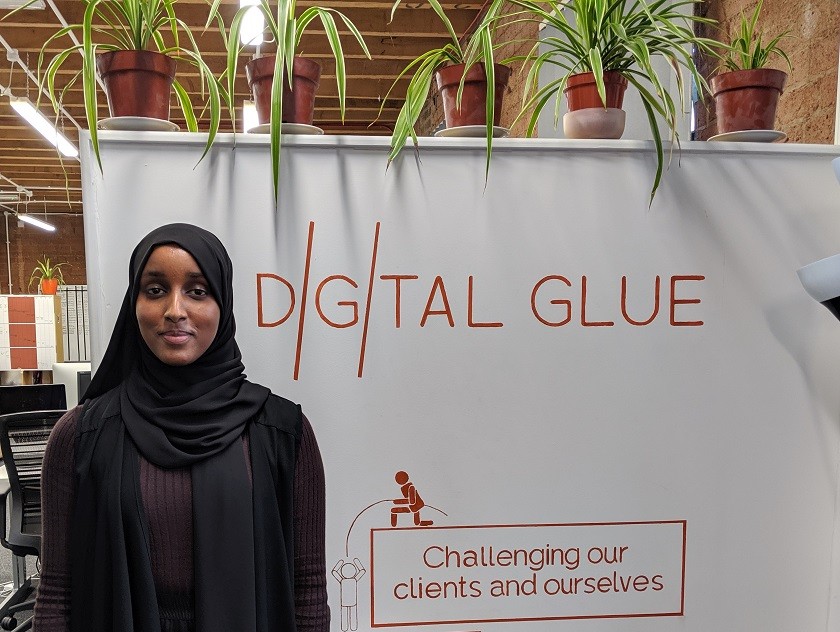 Founded in 2013, Digital Glue was initially a one-man operation with Javan Bramhall delivering marketing strategies and solutions to clients from his home.
In six years, the business has grown significantly - it now has 14 staff and has increased its revenue ten times over. Over the past two years the company has been on a recruitment drive, adding six new members to the team and it is are currently recruiting for two new full-time roles.
Javan Bramhall, managing director at Digital Glue, said: "We are delighted to have taken on Maryan as our first apprentice. We've very passionate about creating opportunities for young people across the city where they get a chance to not only learn, but get real hands-on experience working in an agency environment. I am certain Maryan will be a great addition to our team."
Every year, the company offers internships to students at the University of Birmingham and Birmingham City University, and offers work experience placements for Birmingham-based schools.