Creative agency signs property deal
A creative agency that wanted to move into Birmingham has signed a deal with property agents Siddall Jones to move into The Million Pen Building in Birmingham's Jewellery Quarter.
Colour Cubed Creative Communications has moved from Earls Way, Halesowen, into 1,000 sq ft offices in the historic Million Pen Building in Legge Lane.
Colour Cubed company director Simon Greenfield said: "In the 19th century, more than half the world's pens were made in Birmingham's Jewellery Quarter. We are very proud to be moving into what was St Paul's Pen Works where the world's finest quality pen nibs were manufactured, including the £1,000,000 nib."
Ed Siddall-Jones, managing director of Siddall Jones, said: "When George W. Hughes launched his business in 1852 in St. Paul's Square, and in 1893 moved to the purpose-built St. Paul's Penworks in Legge Lane, he could little have imagined the digital world we live and work in today.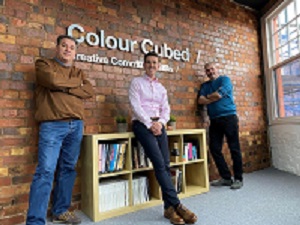 "It's fitting that a business like Colour Cubed Creative Communications is now resident and growing in his former headquarters."
Colour Cubed co-director Steve Moszynski said: "Inside the renovated factory there are no cables or phones – we are now a completely wireless and paperless business.
"The wall graphics and signage have been installed celebrating the history of the building and the link between the mighty pens that were manufactured here and the design work we create today. We took inspiration from George W. Hughes' personal guarantee which appeared on the reverse of every box of pen nibs."
Colour Cubed Creative Communications is a design agency that has been supplying design, print, websites and marketing services to a range of clients in the UK and Europe across several sectors for over 30 years. Local clients include The REP, The Library of Birmingham, Millennium Point, Park Regis and The Grand Hotel.
Simon Greenfield said: "We have already begun to work on Commonwealth Games-related projects and have moved to the Jewellery Quarter in order to be right in the thick of things for this exciting period of our city's history."