HSBC building is now fully occupied
HSBC UK's new headquarters in Birmingham is now officially occupied, with around 2,500 employees working from the new building.
The new Birmingham head office for HSBC UK represents part of a £200 million investment that HSBC is placing within the West Midlands, £70 million of which was spent on supplies from within 40 miles of site and signals a return to the bank's Midlands roots.
The 11 story building is the first in Birmingham to be constructed to LEED (Leadership in Environmental and Energy Design) Gold accreditation, with sustainability at the heart of its design. The building's green credentials are clear:
A reduction in energy consumption of almost 24% compared to typical new build offices;
30% of material used in the construction were from recycled sources, including one quarter of the steel used for the main structure;
Expected reduced water usage of 34%;
Over 30% of the materials used in construction are sourced and manufactured locally; and
Over 5,500 plants creating a living green wall from the ground floor atrium to the 10th floor lift lobby.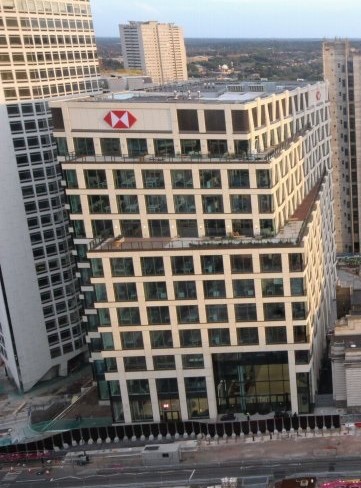 The 210,000 sq.ft building has around 2,500 HSBC UK employees from its retail and commercial banks and support staff who help run the bank's day-to-day operations. The total number of employees in the Birmingham area will be around 3,500 across its different office sites and branches.
The facilities within HSBC UK's new headquarters include a new HSBC UK branch using technology for secure remote appointments for mortgage applicants and financial reviews, giving customers much more flexibility, and two floors dedicated to the HSBC UK University, being the bank's centre in the UK for learning and development, with conference facilities, a 110 seat lecture auditorium and break-out and team-building areas;
There are also industry-leading facilities to encourage an active workforce including a gym with virtual classes, and for those cycling to work, storage for 140 bikes and dedicated changing areas and drying rooms.
Located at 1 Centenary Square, the building forms part of the Arena Central development, occupying a prominent position overlooking Broad Street and Centenary Square. The site was previously home to the famous ATV Television Studios where a number of iconic television programmes were filmed, the Masonic Hall as well as a Registry Office.
Ian Stuart, CEO of HSBC UK, said: "We have been planning for this moment for a long time, and I am very proud to be at the helm and witness this new chapter in HSBC's history. The Midlands was home to this bank for many years, the first branch was opened here in 1836, and our 250 year lease shows our commitment to the region.
"We chose to locate our new head office in Birmingham because it's a dynamic and entrepreneurial city, offering an attractive home for businesses and people at the heart of the UK. In talking with colleagues who have relocated to Birmingham from different parts of the country, it was certainly a good choice.
"I am proud that this new building has been designed to the highest environmental standards and has been built by local contractors, with 90% of the teams coming from within a 40 mile radius of the city, helping us support the local economy."
The entrance to 1 Centenary Square is guarded by two bronze lions nicknamed Stephen and Stitt after two HSBC senior managers in the 1920s, have a proud heritage in the bank, standing guard at HSBC head offices around the globe, including Hong Kong and London.
HSBC head offices around the world are designed with feng shui principles in mind and a traditional feng shui ceremony to formally introduce HSBC's iconic lions into Birmingham took place before the new headquarters was occupied.