Budget 2020 - warm response from city businesses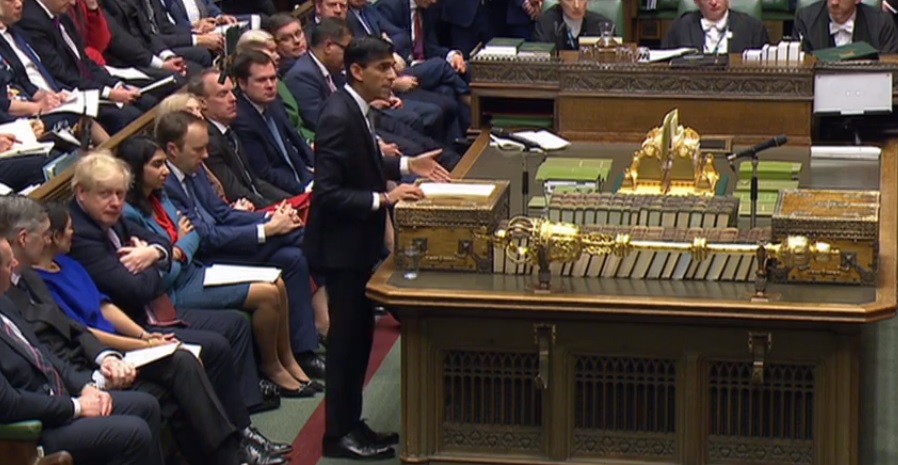 The age of austerity seems to be well and truly over, after Chancellor Rishi Sunak delivered one of the biggest cash giveaway budgets in a generation.
Responding to fears over the impact which coronavirus could have on our economy in the coming weeks, the Chancellor announced a one year extension to the retail discount to leisure and hospitality sectors, as well as abolishing business rates for firms with rateable value below £51,000 for 12 months. This has been described as a positive measure for many small firms in the UK, by the FSB.
Other headlines - many designed to help companies through an economic slowdown caused by coronavirus - included:
A £3,000 cash grant to 700,000 smallest businesses, paid by local authorities, worth £2bn.
A new Coronavirus Business Interruption Loan Scheme that will see banks offer loans of up to £1.2m to support SMEs.
Time To Pay service, allowing businesses and the self-employed to defer tax payments over an agreed period of time.
Statutory Sick Pay costs for businesses with fewer than 250 employees will be met by the government in full for up to 14 days per employee.
Over the next twelve months, nearly half of all business properties in England will not pay a penny of business rates.
Statutory Sick Pay will be available for all those who are advised to self-isolate – even if they haven't yet presented with symptoms.
Business rate discount for pubs will be £5,000 for this year, and planned rise in beer duty cancelled.
Fuel duty to remain frozen for another year
Living wage to rise to £10.50 by 2024
National Insurance threshold to rise to £9,500 by April
Entrepreneurs' Relief to be scaled back, but not abolished
R&D investment to rise to £22bn a year
Doubling investment in flood defences to £5.2bn
A new £2.5bn pothole fund to fill 50 million potholes over the current parliament
Greater Birmingham Chambers of Commerce chief executive Paul Faulkner said: "The measures announced today to support businesses impacted by COVID-19 are very welcome - but we would remind the Chancellor that the job isn't 'done' just yet. Too many businesses are still waiting for grant support announced in the wake of the November floods to reach them.
"Many businesses are feeling the impact of Coronavirus now. These announcements have to turn into action immediately.
"Our research shows that 28 per cent of local businesses have already been impacted by Coronavirus or expect to be in the near future. Among those impacted, the primary issues related to supplier disruption (23 per cent) and cancelled appointments, events and trade shows (21 per cent) leading to a loss of future pipeline of work. We are hearing particular concerns from the hospitality sector about cancelled and depressed bookings.
"We will continue to encourage readers to follow the official Government advice and keep their responses in proportion. We are also continuing to support businesses through guides, advice and guidance and lobbying on their behalf for measures to support them as the situation continues to develop."
Meanwhile, £21.3m has been allocated to the Birmingham 2022 Commonwealth Games' Trade, Tourism and Investment Programme to ensure the region takes full advantage of the sporting event's economic impact.
Mr Faulkner added: "The Birmingham 2022 Commonwealth Games represents a once in a generation platform for the city and region. The funding announced today will allow the region to capitalise on this opportunity and turn 11 days of sport into a lasting trade, investment and economic legacy."
The Chancellor's Budget also promised new London-style transport funding settlements for the West Midlands mayor, investment in the Midlands Rail Hub and a dedicated trade envoy for the Midlands.
Nationally, more money for Growth Hubs has been pledged, as well as £5bn towards new export loans for business, an increase in R&D investment to a record £22bn per year and an overhaul of entrepreneurs' relief which reduces the lifetime limit to £1m.
Mr Sunak announced extra resource for HMRC to crack down on tax avoidance, evasion and non-payment and an increase in the National Insurance threshold to £9,500 from April.
A £10m donation is also being made to the Armed Forces Covenant (of which Greater Birmingham Chambers of Commerce is a signatory) and national insurance relief for businesses who employ veterans.
Dave Hillan, head of Grant Thornton in Birmingham, said: "The emergency cut in interest rates this morning illustrates that the Budget was delivered against a context of global concern and uncertainty over the impact of coronavirus on the UK and global economy.
"We welcome this intervention and the increased support announced by the Chancellor today for small businesses and individuals likely to be impacted.
"A budget with a heavy focus on infrastructure investment, science, research and development and the low carbon economy, Rishi Sunak has laid out sensible plans for the future.
"There will be disappointment that Entrepreneurs' Relief – a popular tax incentive among business owners – has been reformed with the lifetime limit cut from £10m to £1m, but many will be pleased that it's not been abolished completely."
Midlands Connect's flagship Midlands Rail Hub plans have been awarded £20 million in the Chancellor's Budget, taking the £2 billion package of improvements to rail services to the next stage of development, and closer to delivery.
The proposals include 24 extra train services every hour on commuter and inter-regional services services between towns and cities including Coventry, Birmingham, Leicester, Nottingham, Derby, Lincoln, Worcester, Hereford and beyond. Six million more passenger journeys every year will be made possible, with an estimated annual economic boost of £649 million.
Karl Edge, Midlands regional chair and Birmingham office senior partner at KPMG, said: "A real boon for the region is the much needed and long awaited announcement of a £20 million investment to develop the Midlands Rail Hub. Improving transport services across the Midlands will boost the region's already growing attractiveness to businesses, visitors and residents, so I'm pleased to see that the Government is supporting the region's ambition to move forward.
"With housing being a real pinch point both locally and nationally, it's great to see the West Midlands mentioned as an area for consideration for the new £400million brownfield housing fund. The demand for housing is evident, especially with more people moving to the region to work and live, so having a greater supply of homes and making the most of unused land will be a step in the right direction.
"And finally, the news of £120 million being committed for flood defence and repairs was really encouraging, especially as some areas in the Midlands have been badly affected in recent weeks. By giving immediate access to this kind of support our communities can start to rebuild and repair."
Johnathan Dudley, head of manufacturing at Crowe, said that while the measures to support SMEs were welcome, they failed to provide support for larger companies.
"Companies with more than 250 employees, are the ones that many SMEs rely on – they are their customers. If large companies are hit by Coronavirus, losing up to 20% of their staff, they may have to shut down production systems, not least for health and safety reasons as for pure numbers required to undertake the work.
"If a major plant had to shut down for two weeks, the impact would ripple down the SME supply chain very quickly. The Chancellor may have to review his support for business in the light of further developments and this is one area we would urge him to consider."
David Yewdall, international employment tax partner at Smith & Williamson in Birmingham, said: "The Chancellor's Budget offered a series of generous measures to safeguard grassroots businesses that have been adversely affected by the coronavirus, flooding and other issues creating uncertainty in the UK.
"However, there was no postponement on the IR35 implementation, which will create a burden for UK businesses, at an already challenging time. We learned that the government has recently concluded the review of changes to the off-payroll working rules, which has confirmed the reform will be legislated and take effect from 6 April 2020. This requirement could prove to be a major issue for sectors that are reliant on contractors such as construction, engineering, IT services and recruitment agencies."
The Midlands team of Baldwins Corporate Finance revealed it completed six deals in the space of just one week in the push to get transactions completed ahead of the Budget.
The team advised the vendors of Coventry-based waste management business, Tom White Waste on their sale to Coventry City Council, for £14.75m.
The multi-million-pound MBO of Stanmore-based branded merchandising firm, Initial Incentives, one of the largest providers of branded promotional and retail merchandise to a growing number of well-known brands, was also advised upon by the Baldwins' Midlands team.
Baldwins Corporate Finance advised the owners of Burton-on-Trent based home brew wholesaler, Ritchie Products Limited, on their sale to Bevie Partners Limited, for an undisclosed sum, and completed the sale of a leading independent insurance broking business based in the West Midlands.
It advised the Lovell family on the buy-out of their business, Commercial Truck Repairs (Wolverhampton) Ltd, passing on the company to the next generation of the family - and completed the sale of Telford Motors Ltd, a Peugeot motor dealership, to Budgen Motors Group.