Solutions to housing shortage on display
West Midlands Mayor Andy Street has visited a Cradley Heath firm that has created a range of factory-built homes that could help the region's housing shortage and homeless issue.
He was taken on a guided tour of the West Midlands-based modular housing company, Totally Modular, which is hoping to contribute to the region's ambitions to increase housing output.
Managing director John Connolly and operations director Mick Pettitt guided the Mayor around the company's HQ, where he was able to see a range of house types suitable for single occupants or families and met some of the skilled staff who design, construct and install them on sites around the country. Click here to see more of the visit: https://vimeo.com/340910839
The company's volumetric building method allows 97 per cent of its homes to be completed off-site, before being transported to their permanent locations. It can then take as little as 48 hours from arriving on site, being put in place, and connected to utilities before welcoming its new residents.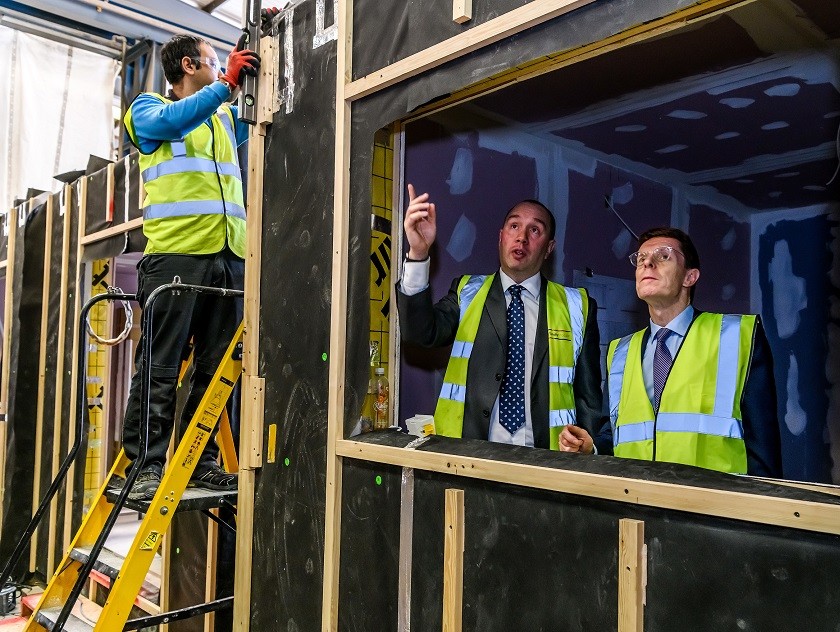 Andy Street said: "It was great to visit Totally Modular and see first-hand their innovative house-building methods. The West Midlands Combined Authority is committed to tackling homelessness and increasing the number of homes being built in the region and it has been really helpful to talk with Totally Modular about new ways we can do this."
The Mayor was accompanied on the visit by David Warburton, head of land and development at the West Midlands Combined Authority, who said: "It was of great interest to see how the company can create much-needed quality housing, suitable for a range of people, in such a short time. I think modular homes could really speed up the entire process, and should be seriously considered by all housing providers.
"The WMCA is committed to embracing the benefits of modular construction leading to an enhanced delivery in terms of speed, quality and cost with a view to making the West Midlands the epicentre of the UK's offsite construction sector."
Totally Modular is looking to expand its operations throughout the West Midlands, and hopes to create up to 450 jobs in each of its regional facilities, through direct employment and with local supply chain partners.
Mick Pettitt, operations director, said: "It was good to see exactly how interested and impressed our guests were. They are so obviously determined to take practical measures to address homelessness and the housing shortage, and I believe Totally Modular is in an ideal position to help.
"Because our units are built under controlled conditions, workmanship is of the highest standard, minimising the need for site inspection and virtually making redundant the dreaded 'snagging lists' synonymous with new housing. The speed at which we can create these homes will allow for an increase in productivity when it comes to housebuilding in the West Midlands and across the UK.
"Our link with Dudley College and local universities is also a great way of attracting young people into the industry and helping to bridge the skills gap. By teaching them advanced modular building techniques, we can provide the foundations for a multi-skilled career within the industry at a time when this is hugely lacking. "
In support of today's social crisis with rough sleeping, the business has also designed a practical solution to the region's homelessness issue and has specifically manufactured a one-bedroom house type which can be used as temporary accommodation for vulnerable people. The homes come fully fitted and supplied with all the necessities that individuals need to obtain self-respect, enabling them to re-enter society with the confidence to be self-sufficient.