HR tech business relocates
Birmingham's thriving tech community has received a boost as Natural HR, provider of all-in-one HR and payroll software, has relocated to larger offices in the Jewellery Quarter to support its current and future growth plans.
Founded by husband and wife team, Sarah and Jason Dowzell, the HR tech business has gone from two to 26 employees in just three years. In 2019 alone, they have already secured £250,000 of investment and employed a further ten people.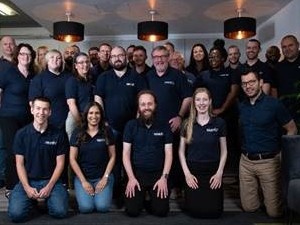 Sarah Dowzell, co-founder and chief operating officer at Natural HR, said: "As Natural HR continues to grow, so too does our need for more office space. Our new home in Birmingham's vibrant Jewellery Quarter is a state-of-the-art facility that can comfortably accommodate our ambitious growth plans.
"We hope to create even more employment in the city in the very near future, and feel confident that our new modern working environment will help us both attract the best talent, as well as give our existing team an inspiring space in which to innovate further. We're proud to be part of Birmingham's growing tech community and look forward to welcoming customers, prospects and partners to our new facility."
With a mixture of traditional desk spaces, more informal hot desking areas, welcoming meeting rooms and break out spaces, Natural HR's new office is a reflection of the company's modern, forward-thinking culture.