Luxury metalworks company backs NHS
Luxury metalworks company Vaughtons in Birmingham has created a new, unique pin badge to help raise funds for NHS Charities Together.
The rainbow shaped badges will be handmade in their Midlands-based workshops and sold to the general public with profits going towards the cause.
Nick Hobbis, managing director, said: "The country has pulled together throughout this awful time with unanimous support and thanks for the NHS and the workers who have put their lives on the line for us. This is Vaughtons' way of saying thank-you to them.
"The rainbow has become a symbol of hope and gratitude, and is set to become the 21st Century's 'poppy' - a reminder of what people were willing to do for each other when they were called upon."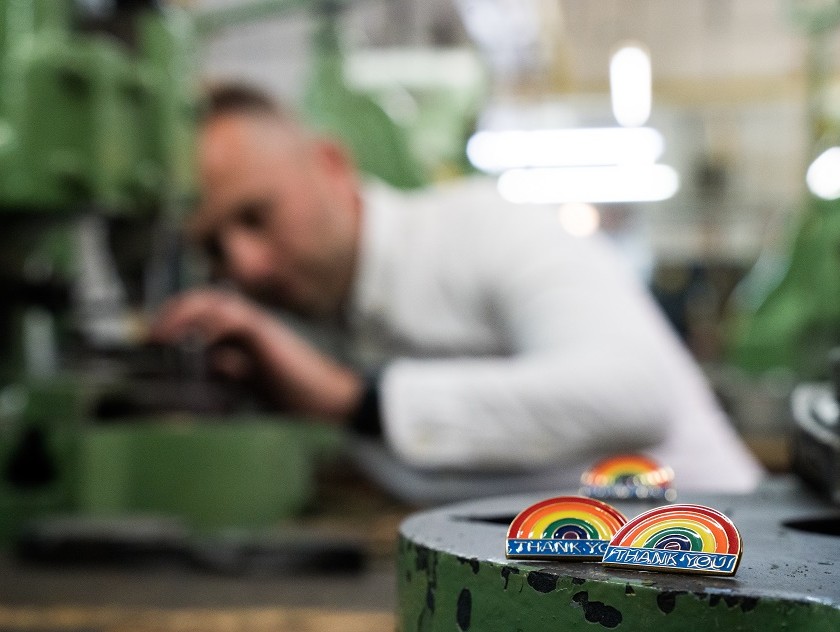 Ellie Orton, chief executive of NHS Charities Together, said: "Thank you Vaughtons for donating the profits from this pin badge to NHS Charities Together. These funds will help us continue to support NHS workers, volunteers and patients impacted by COVID-19. What a lovely way to say 'thank you' to those who deserve it most."
The pin badges will be available long after the country returns to normality, both as a keepsake and a reminder that the NHS is a much-cherished British institution.
Stamped using manually-operated machines and with enamel laid by hand, there is no automation in the manufacturing process, making each badge a true work of art and a testament to the traditional processes that have seen Vaughtons become one of the most respected metalworks producers in the world.
Their factory in the city's Jewellery Quarter produces the hand-punched insignia that adorn the bonnets of all Aston Martin and McLaren vehicles.
Launched in 1819, before the motor car was even invented, by the Vaughton brothers, the company initially called itself a 'buttonmaker, medalist and mint'. But it was Howard Vaughton, a grandson of the founders, whose connections helped shape the company's future.
Howard Vaughton was a football star who played for Aston Villa and helped bring his family business to the role of producing the coveted FA Cup and London Olympics medals in 1908. Their sporting links continue to this day, with the company having made medals for the Premier League, Football League and Six Nations champions.
Their varied work also includes the mayoral chains of office and even jewellery for Middle Eastern Royalty.