Campaign launched by M6toll
A campaign designed to support Midlands people and businesses as they emerge from the pandemic has been launched by M6toll with the support of a coalition of regional partners.

As partner of the campaign - called Let's Get The Midlands Moving - the M6toll will help Midlands workers and businesses hroughout the rest of July and August by halving the cost of many local journeys for all vehicle types exiting at local plaza junctions.

In a further boost to business, the M6toll will assist in getting more goods and materials moving around the UK by halving the cost for new HGV customers using the road end-to-end for a three-month period.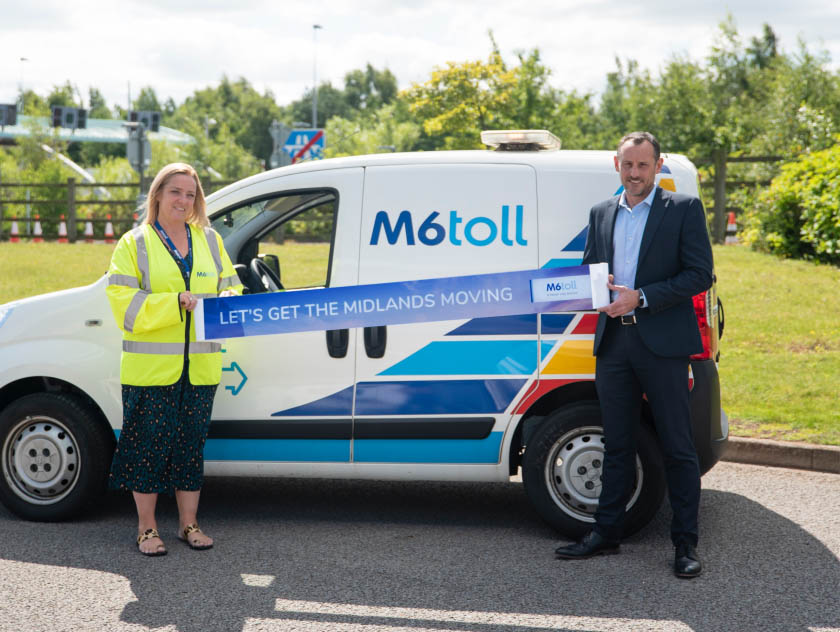 With the West Midlands and its economy hit hard by the coronavirus pandemic, the Let's Get The Midlands Moving campaign is designed to restore business confidence and get people back into their established work routines.

From the regions' manufacturers and construction sites to its hauliers and transport operators, the campaign is dedicated to supporting Midlands people in getting back to work. This will be achieved by enabling businesses to reopen and goods to start flowing again, key requirements to rebuilding both the national and regional economy.

Trade and business organisations including the Freight Transport Association, the Chartered Institute of Logistics and Transport and the Greater Birmingham and Black Country Chambers of Commerce have all pledged support for the campaign. Various local authorities including Staffordshire County Council, the council most local to the M6toll, are also backing the initiative.

Andy Cliffe, M6toll chief executive, said: "Midlands' businesses and their workers are the lifeforce of the region, never standing still as they drive our economy forward.

"And neither have we, with the M6toll built to keep the Midlands moving by saving drivers and businesses time spent in congestion, as well as removing traffic that would also be causing further build ups on local roads.

"As we emerge from the pandemic, the M6toll is wholly committed to playing a very active part in getting Midlands' businesses and workers moving again.

"The 50% discount is a pivotal element of the Let's Get the Midlands Moving campaign.
It will enable businesses and workers to quickly and reliably cut through the increasing congestion returning to the Midlands' roads and in doing so help drive the region's recovery."

The Let's Get The Midlands Moving campaign is also being backed by a wide range of Midlands businesses including those from the construction, haulage, transport and retail sectors.

Neil Cottam, general manager for the Ocado Group, said: "While we have not been directly impacted, it's not good for businesses generally to have large chunks of the economy closed down and we need to get everyone up and running again. The Let's Get The Midlands Moving campaign will help to do that and we are fully behind it.

"We have continued to use the M6toll during the lockdown as it offers us the reliability and efficiency so vital to our business. I can see the M6toll having a big part to play for ours and other businesses as traffic levels begin to rise again."
Picture: Cath Griffith, senior accounts coordinator, and James Hodson, director of motorway operations and facilities