New business magazine launched today
A brand new bi-monthly business magazine is launching in Birmingham today.
Birmingham Business is an editorially-led title which "aims to shine a spotlight on the businesses of Birmingham and the people behind them".
The launch issue follows an entrepreneurial theme, asking if the city is adequately geared up for start-up businesses with several case studies and opinions from some of the city's most respected and influential decision makers.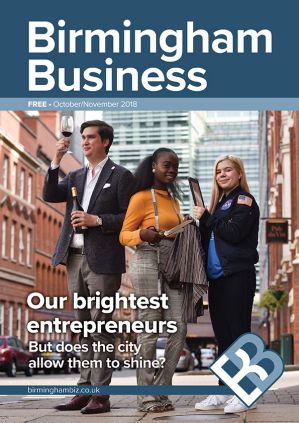 There are interviews with the boss of Coleshill aerial and drones company Geospatial Insight, 'secret millionaire' leisure tycoon Mo Chaudry and property entrepreneur Nicola Fleet-Milne. There are also commentary pieces, social events and several pages of news and appointments.
Birmingham Business is published by Midlands Magazines, which is run by the same team behind the Shropshire Business and Cheshire Business titles.
Editor Carl Jones said today: "The prospects for Birmimgham as a business centre of national importance are hugely exciting, and we are correspondingly excited about being part of the ongoing success of a city with such an remarkable industrial heritage.
"Birmingham has some truly inspirational businesses and individuals in operation in the city, and we want to shine a spotlght on the great things they are doing.
"We believe there is an appetite for a B2B publication such as this and the feedback we have received from the city's business community has been overwhelmingly positive.
"Our initial print run is 3,500, delivered to a carefully selected list of hundreds of destinations, largely comprising individual businesses, business centres, conference centres, hubs, hotels and seats of education."
Digital copies of the magazine can be downladed from the homepage of its accompanying website, birminghambiz.co.uk