New investment company will boost enterprise
A new investment and advisory company that will act as a transformative catalyst for the growth of the region's tech sector has been announced as part of the launch of the inaugural Birmingham Tech Week.
The Ark will bring a unique platform to the West Midlands that converges the region's high growth enterprises with angel investors, access to expertise and a wider community of innovative companies looking to grow and scale.
The new company seeks to address the major constraint to growing tech clusters outside of London and capitalises on Birmingham's entrepreneurial ecosystem - with the city ranked as the UK's leading regional location for start-up creation for five consecutive years.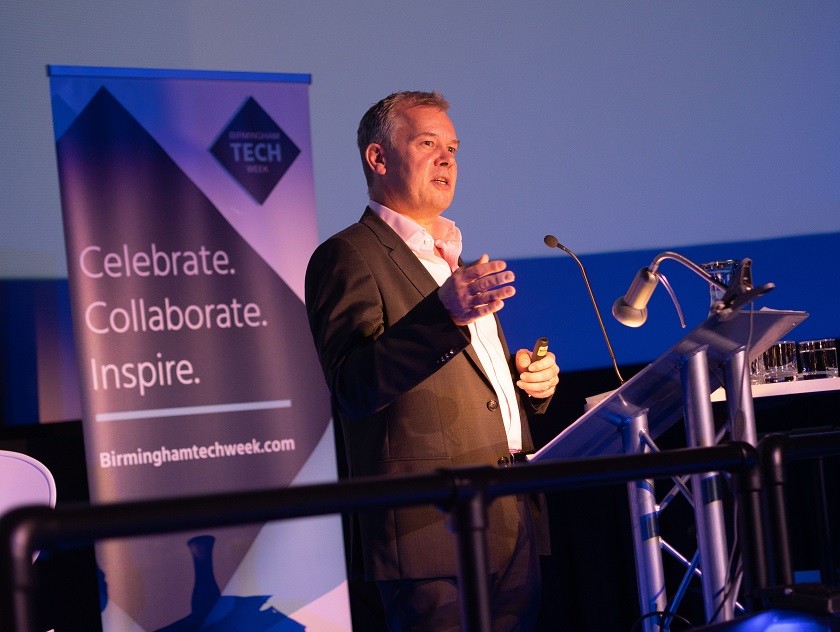 Co-founder of The Ark, Rupert Lyle, said: "No organisation in the Midlands or even the UK has ever truly harnessed the potential economic value-add of a network of individuals in this way. The Ark seeks to harness expert advice, access to networks and investment potential, and use it in a way that helps Midlands' entrepreneurial talent convert drive, vision and energy into successful high growth businesses or even life changing social enterprises.
"Central to The Ark is a holistic support service to help businesses reach their potential from partners that will include universities, incubators, venture capital firms and angel organisations. The West Midlands' represents the largest tech cluster outside of London – it is a region built on innovation and community spirit, so what better location to launch this unique and ambitious platform and put regional talent on the map.
"We are looking for both successful business people and owners of high growth businesses to come on the journey with us".
Hosted by Birmingham Tech Week in partnership with the West Midlands Growth Company - the organisation responsible for attracting businesses and investment into the West Midlands - the launch event for Birmingham Tech Week 2019 featured a range of speakers at the Millennium Point venue.
Delegates heard from Andy Street, mayor of the West Midlands; Mike Jackson, entrepreneur success director at Tech Nation; Robert Franks, managing director at WM5G; Tim Kay, tech lead at KPMG in the Midlands; Jill Palmer, CEO at Click Travel; Liam McGrath, group COO at Advanced and Judy Groves, director at SCC (part of Rigby Group).
During the event, Mr Street announced the 10 organisations from across the region that will be offering a combined 2,000 training places as part of the £5million Beat the Bots funding programme. Launched earlier this year, the fund will facilitate digital upskilling, safeguarding thousands of jobs from robots.
The Mayor said: "From my days at John Lewis, I know just how fast technology moves in business. Artificial Intelligence, self-driving vehicles and robotics are getting better, and, in reality, it is only a matter of time before real people will lose out to bots in the fight for jobs.
"That is why the West Midlands Combined Authority (WMCA) has launched the Beat the Bots fund, which is a chance for workers in the West Midlands to gain invaluable digital skills to prepare them for the jobs of the future.
"Our digital industry is booming, employing an estimated more than 100,000 people by 2030, and I want local people to have the skills they need to lead this thriving sector."
The region's booming digital industry remained the focal point of discussion throughout the event, whilst other themes discussed included 'growing tech outside of London' as part of a panel discussion led by KPMG's Tim Kay and 'harnessing the potential of 5G', led by WM5G's Robert Franks.
The Birmingham Enterprise Zone (EZ) was highlighted as a strategic city centre site with a number of benefits for tech and digital companies that include heightened connectivity and Grade A office prices less than half of London's (£33 and £68.50 respectively).
Birmingham Tech Week founder, Yiannis Maos, said: "Birmingham has the potential to be a world-leading tech city, and Birmingham Tech Week is about showcasing the region's cutting-edge capabilities, attracting investment and converting our existing talent into the leaders of tomorrow through invaluable networking and collaboration. Birmingham Tech Week will be a catalyst for change; reinforcing locally and nationally that this is a passionate region on the rise – this marks only the beginning of a fantastic growth journey for regional tech".
Mike Jackson, entrepreneur success director at Tech Nation, said: "The Midlands is quickly becoming a region of superb collaboration within the tech sector. We can see this with the launch of the inaugural Birmingham Tech Week and other initiatives to help grow the resources available to digital companies with the likes of Leicester Startups, Digital Northampton, My Clever Group in Staffordshire and now The Ark in Birmingham.
"The West Midlands' games sector accounts for more than 10% of the UK's total games workforce. Meanwhile, Birmingham's tech workforce is leading the way in diversity and inclusion with 26% of digital tech workers having BAME nationally, compared to the UK average of 15%. We at Tech Nation are pleased to be supporting the region's tech sector growth as we believe it is in a history-making era as barriers are breaking and collaboration is rising."
The Greater Birmingham and Solihull Local Enterprise Partnership (GBSLEP) has provided funding through its Strategic Economic Plan (SEP) Enabling Fund, to support the growth of The Ark as part of its commitment to the inclusive growth of business.
Pat Hanlon, director of access to finance, GBSLEP, said: "The Ark is an innovative new way of supporting the growth of local businesses. Birmingham Tech Week is a good time to highlight The Ark's work and urge local entrepreneurs in need of funding, to connect in with The Ark and take advantage of their expertise.
"GBSLEP is proud to have provided funding to support the establishment of this new platform via its Strategic Economic Plan (SEP) Enabling funding. This funding is part of the LEP's commitment to supporting the growth of a unique ecosystem that will attract and grow businesses in our regional economy, aligning with the Ark's vision to foster a spirit of cooperation between entrepreneurs, angels, business support professionals, LEPs and universities."
Birmingham Tech Week aims to highlight the city region's burgeoning tech scene, featuring a series of more than 50 events taking place from October 7 to13. For more information, visit the Birmingham Tech Week website.
Pictured: Rupert Lyle - co-founder of The Ark