Blazing a trail for Birmingham's apprentices
National Apprenticeship Week has been encouraging employers to 'Blaze a Trail' for apprentices in 2019. The NEC Group, based in Birmingham, is leading the charge with 30 apprentices already in post and more to be onboarded throughout 2019.
The Group has apprentices in place across its business, leisure, and entertainment venues, including the first ever ticketing apprentice working in its national ticketing agency, The Ticket Factory; the first ever arena electrician apprentices working in Resorts World Arena, and Arena Birmingham; as well as 11 apprentice chefs in the Group's award-winning catering business, Amadeus.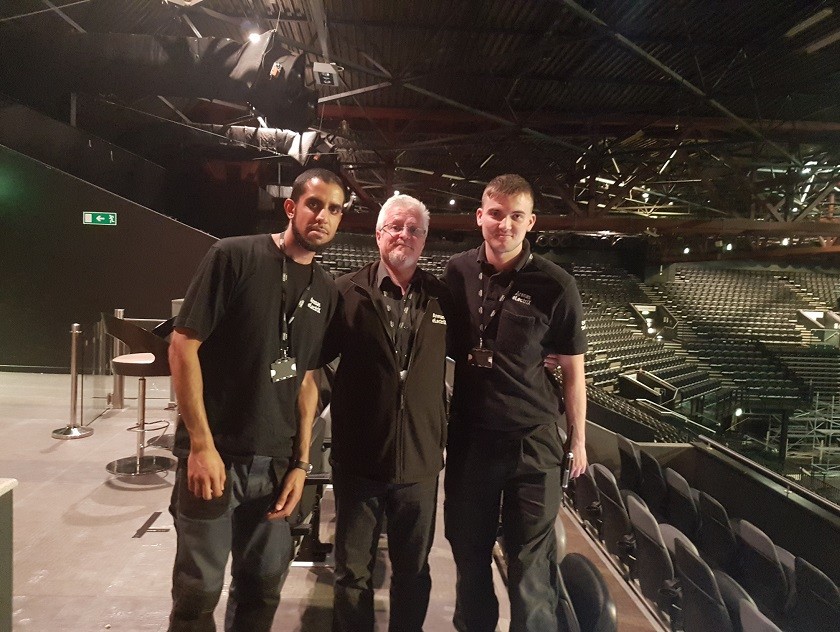 All the apprentices play a part in actively supporting the seven million people who come together to learn, do business and be entertained at over 750 events in NEC Group venues each year. This week apprentice electrician Liam Dyde, will be planning the power requirements for Nicki Minaj's gig at Arena Birmingham; apprentice rigger Luca Monaco, will be pre-rigging for Blue Planet 2 at Resorts World Arena; business systems apprentice Nicole Freeman, will be making sure that all the humans have enough food for Crufts at the NEC and Matt Morgan, IT apprentice will be making sure everything runs smoothly online.
Every apprentice works with an NEC Group mentor to develop the knowledge, skills and behaviours needed to perform their apprenticeship role, alongside learning about the future needs of the businesses. Over half of the 15 people that have already completed an apprenticeship are still working with the NEC Group or have gone on to a higher level apprenticeship. Last year the Group also appointed an apprentice coordinator who helped champion the first ever Live Event Rigging Apprentices and Arenas Electrical Apprentices in Resorts World Arena and the Arena Birmingham.
Speaking about his apprenticeship, Mohammad Waseem, electrical apprentice said: "I've had many jobs, in sales, leisure and retail but they never gave me much job satisfaction. I heard about this apprentice role coming up at the NEC Group, and the job description really appealed to me. It was also the career stability that the Group could provide which was another big seller – something I haven't had for many years.
"I really enjoy the all aspects of my apprenticeship role, working on different events and with different people. I like all the sporting events. The music concerts are more technical but with sports its far more engaging - it's something different to work on. I can see progression here and eventually I'd like to be a head of event services but I'll give myself a few years to get there!"
Apprentice chef at the ICC, Stacey Botwood, said: "I've been an apprentice chef for Amadeus for just over a year. I know that support is always on hand from my mentor and my tutors at University College Birmingham when needed, so I don't worry too much about the studying side of my apprenticeship. It has been tough at times but all the apprentices are in the same boat and that it makes me feel a lot better as I've made lasting friendships with them and the people I work with at the different venues.
"Everyone is so friendly and helpful even if you make a mistake they don't judge; they show you the way and help you to improve your skills and development. When I finish this apprenticeship I'm hoping to continue on with my education and complete my level 3 qualification with Amadeus. I'd definitely recommend an apprenticeship as where else can you earn while you learn?"
NEC Group senior learning and development consultant, Claire Hawker, said: "As a complex organisation, with multiple different businesses within our portfolio, we are immensely proud that we have been able to grow and nurture apprentices across the whole business. People are at the heart of the NEC Group and realising the potential of our people is definitely one of the keys to our success. The NEC Group benefits greatly from the new energy our apprentices are bringing to the businesses.
"Apprenticeship Week is a time not only to celebrate the success of our apprentices but to thank the teams that have embraced our apprentices, volunteering to be mentors, encouraging them to apply for new roles and treating them all as true friends and colleagues."
Keith Smith, apprenticeships director, Education and Skills Funding Agency, said: "The 12th annual National Apprenticeship Week, has seen industry stakeholders and employers like the NEC Group celebrate apprenticeships and their positive impact on organisations across England.
"My ambition, and the collective goal for The Week, is to shift awareness of apprenticeships into action, encouraging more employers to start their own apprenticeship programme, while enabling more individuals, of all ages and backgrounds, to consider an apprenticeship to reinvigorate or kick start their career."
Pictured: Electricians Mohammad Waseem, Pete Hammond and Liam Dyde at NEC Group Arenas