Airport unveils new airside food outlet
SSP and Birmingham Airport have opened an airside M&S Food to Go in the first ever concept of its kind.
Kate Swann, CEO of SSP Group, and Richard Gill, commercial director at Birmingham Airport, marked the opening of the first ever airside M&S Food to Go in a special ceremony.
M&S Food to Go, operated under franchise by SSP, is offering a selection of all-day food and drink products including wholesome wraps, freshly made baguettes, sushi, salads, freshly squeezed orange juice, beers and wines.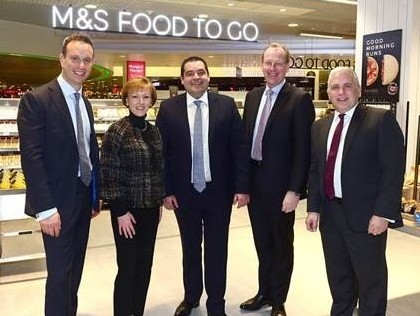 Hot food, such as bacon rolls, hot sandwiches and soups are also available as are freshly made pastries and cookies from the in-store bakery section. Customers can enjoy M&S coffee and other hot drinks from specially trained baristas.
Kate Swann, CEO of SSP Group, says: "We're extremely excited to have opened our first ever airside M&S. Bringing together M&S's food innovation and SSP's operational expertise, the new store has been exclusively tailored to our airport customers to offer a delicious range of food and drinks that will appeal to people flying through Birmingham Airport. Early trading is very promising, and we hope this will be the first of many more to come."
Richard Gill, commercial director at Birmingham Airport, added: "This new M&S Food to Go is a fantastic addition to our choice of food and beverage outlets in the departure lounge and we are delighted to welcome the first ever airside M&S food to Go concept. We are sure M&S and SSP will deliver a great customer experience for the 13 million passengers who currently travel through our airport each year."
Commenting on the partnership Sacha Berendji, retail, operations and property director at Marks & Spencer said: "We're delighted to have opened airside at Birmingham Airport. We believe there is a great opportunity to continue to grow in travel locations where we know customers love the convenience of our offer. From sushi to salads, to our famous Percy Pigs, our M&S Food to Go has a tailored range of quality products for customers to enjoy before they board or on their flight."