Tech firm leads wireless charging project
Birmingham-based technology company Sprint Power is leading a multi-million-pound UK Government-backed project that aims to demonstrate the suitability of wireless charging technology for fleet vehicles.
The company, which specialises in low carbon tech, including electrified propulsion systems, power electronics and battery systems, has developed a series of advanced wireless charging modules ahead of the trial which has begun on the streets of Leeds, Nottingham and Warwick.
Funding for the wireless charging project has been awarded by Innovate UK, a non-departmental public body funded by the UK Government and designed to drive research and development into new technologies.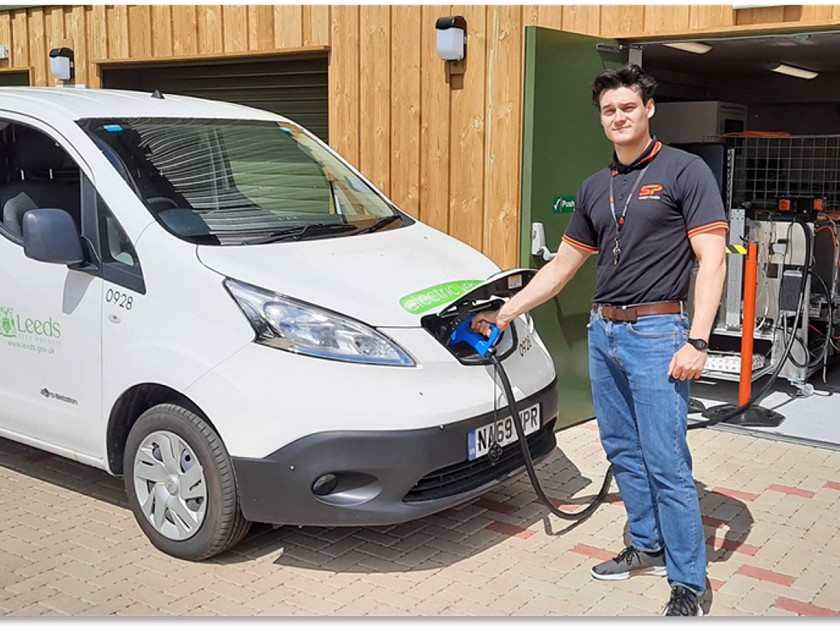 In addition to Sprint Power, the consortium includes the University of Warwick, the University of Nottingham, Loughborough University, Leeds City Council and MyEVS.
Sprint Power has developed an electrical distribution system (EDS), a power distribution module (PDM), and a high voltage harness assembly that will enable a fleet of vehicles to charge wirelessly via pads attached to the ground. The bespoke and high-tech design will automatically recognise which power source to draw current from, with each vehicle featuring both wireless and plug-in charging capability. A display screen inside the cabin of each vehicle will indicate to the user the status of each charge.
Project AMiCC (AMiCable Charging) will trial eight modified Nissan Leaf and Nissan ENV200 models to evaluate the benefits of using wireless charging systems for security, estate and pool car fleets. Many of these fleets have low downtime and high utilisation, where drivers have just a short window to recharge the vehicle battery. With a wired connection, this relies on the user having to plug and unplug the vehicle many times a day. This is seen as one of the biggest barriers to transitioning these types of fleets to electric mobility.
By utilising advanced wireless charging technology, fleet users will benefit from improved cable-free usability, plus easier access to charging when vehicle downtime is short and frequent recharging is required. An AI (artificial intelligence) machine learning algorithm will capture information such as vehicle movement and optimum charging behaviour, while drivers will report back on their experiences using the technology. Key success factors will include user acceptance, the readiness of the technology and its reliability. The results will be shared with the UK Government, and if successful, will become a code of best practice and could subsequently be implemented by industry.
Founder and CEO of Sprint Power, Richie Frost, said: "As we move steadily towards the UK's ban on pure ICE vehicles in 2030, more commercial operations will be switching their fleets to electric vehicles.
"We are delighted to be part of this pioneering trial that aims to make this transition easier through the development and implementation of wireless charging. I strongly believe these solutions will be key to this country's shift towards sustainable mobility."