Charity boost for city foundation
Birmingham law firm Clarke Willmott LLP has raised almost £3,000 at its annual charity quiz night for the city's Geoff Horsfield Foundation that helps to provide homes for people left behind by society or in need of outside help.
The quiz, organised by Clarke Willmott LLP and held at the Opus restaurant in Birmingham's business district, included teams from No5 Chambers, Dains, Biddle & Webb, Rider Levett Bucknall and Kings Chambers.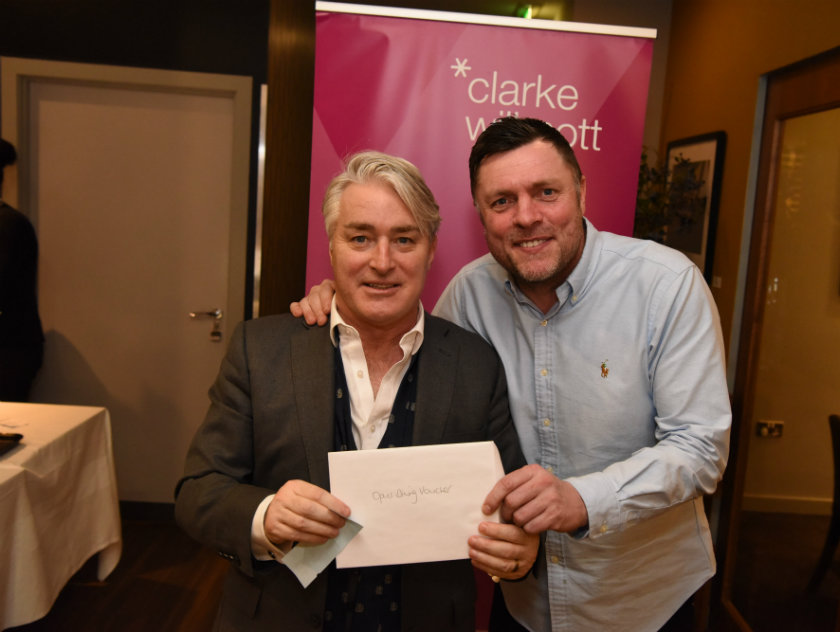 Head of the Birmingham office, Rayner Grice, said: "We were delighted to have raised nearly £3,000 at our quiz – a record for this event for us – and hopefully we can go on breaking our fundraising records as we go forward in partnership with the Foundation.
"We really would love to thank all our friends and colleagues in the local business community who came along to support the quiz night. It really does show how important the charity's work is, that so many gave up their money and time.
"This is the first event we have held for the Geoff Horsfield Foundation since it became our charity of the year, and we'll be having many more so we can raise as much money as possible for them to carry on their important work."
The winners of the quiz were the team from the Foundation itself which earned them a well -deserved biggest cheer of the night.
The charity's founder Geoff Horsfield, former professional footballer and football coach and one of the most respected sportsmen in the West Midlands, established the project because he felt that he had a debt of gratitude to the local community.
The Foundation opened its first project in 2016 and is now aiming to open a second housing project to help vulnerable adults who may have fallen through current support networks.
Other businesses who provided teams for the charity quiz night were: AJ Case Management, Mereway Kitchens, Clydesdale & Yorkshire Bank, Arkade Property, NPP Neuro Group, Harris Lamb and Mementos Memorabilia.
Local organisations also supported the event with donations for the raffle and auction prizes, including an England football shirt signed by Geoff Hurst, and signed shirts donated by Birmingham City FC and Wolverhampton Wanderers FC.
Picture: Geoff Horsfield with raffle winner, Tony McDaid, chief executive of No5 Chambers.