GBSLEP Growth Hub
With an aim to make businesses as successful as they can be, the Growth Hub is the home for impartial, no-cost advice and guidance for businesses and entrepreneurs across the Greater Birmingham & Solihull region.
Part of a network of 38 Growth Hubs across England, the GBSLEP Growth Hub is part-funded by the Department for Business, Energy & Industrial Strategy, the European Union Regional Development Fund and Greater Birmingham & Solihull Local Enterprise Partnership.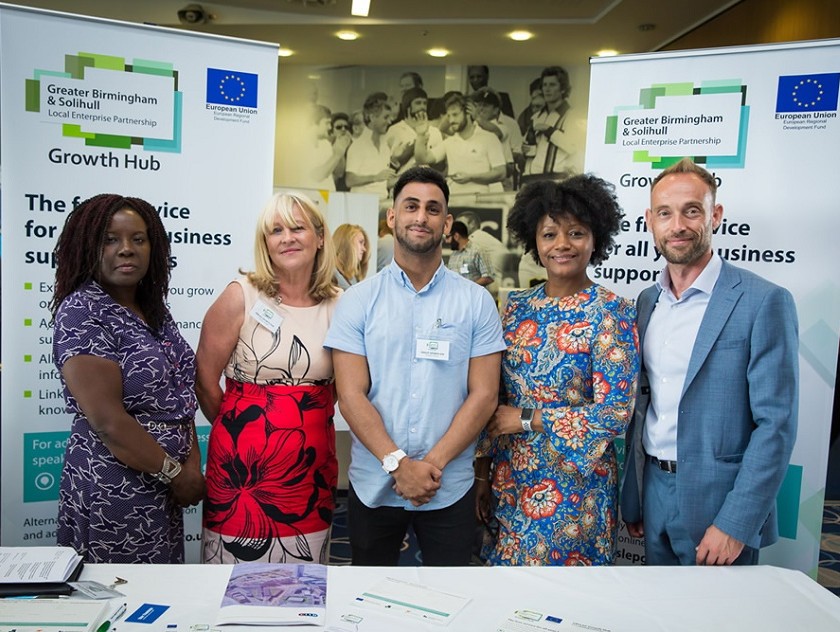 The Growth Hub team is a diverse group with a range of expertise and professional backgrounds. Trained to industry accredited standards, the advisers understand the finance and support landscape and can work with you to develop your business, your staff and realise your growth ambitions. In addition to the help that can be received from the team of advisers and account managers, the Growth Hub also have specialist partner organisations available to offer support and guidance.
Access to finance
The Growth Hub's team regularly advise businesses when it comes to funding and finance. The finance space is complex and often difficult to navigate. There are many options that suit different businesses, at different stages of growth. That is why the Access to Finance programme has been specially designed by the GBSLEP Growth Hub to help small to medium businesses find the funding they need.
Since the 2008 financial crash, banks have become increasingly reluctant to lend to SMEs without onerous terms and guarantees. To fill this gap, a range of small and niche financial solutions have been developed. Consequently, the market has now become so complex that it is difficult to know what funding solutions are available… and that is where the Growth Hub's Access to Finance comes in.
Access to Finance provides business owners with free advice from a team of experts to help them find a funding solution which meets their needs. The Growth Hub have an in-house Access to Finance specialist ready to support business leaders and entrepreneurs on their financial journeys.
Through 1-2-1 sessions, the Access to Finance specialist can:
Explain the different types of funding available
Help to prepare the required documentation
Assist with approaching relevant prospective funders and investors
Additionally, on the Growth Hub website there is an Access to Finance Portal to help reduce the amount of time spent looking for finance. The portal offers a place to refer clients who have access to finance needs – a one-stop-shop for finance-related support; offering free PR for successful referrals made.
COVID-19 support
The Growth Hub also provides Coronavirus support and assists with navigating through the funding, information and help available to businesses from the Growth Hub's partners, Government and the private sector.
General support to grow your business
As well as financial guidance and COVID-19 business support, the Growth Hub also offers tailored support for different industries, this assistance includes:
Looking into ways of increasing sales
Improving products and services by researching and testing changes
Using innovation thinking and models to develop new products and services
Preparing for international growth through exporting to global markets
Taking on staff or training current staff
Looking for additional sources of funding, such as bringing in new investors
Improving the digital capability of your business, or selling your products or services online
Furthermore, the Growth Hub offers mentoring opportunities as well as webinars and events for skills development and support for businesses going through industry changes or are looking to grow. With all these resources and more, the GBSLEP Growth Hub enables businesses to get the right advice at the right time so that they can be successful.
*This advertisement feature appears in the access to finance special report in the June/July 2020 issue of Birmingham Business