Dr Sophie Dale-Black
Dr Sophie Dale-Black is the UK Network Director for the Midlands and North of England at British Business Bank. Her team aims to gain a deeper understanding of regional small business finance markets, helping shape the Bank's support and inform Government policy. She started her job in June this year
HOW DID YOUR COMPANY RESPOND TO THE CORONAVIRUS CRISIS? The British Business Bank has been hugely supportive in helping smaller businesses survive during the pandemic and tackle some of the challenges they've faced. Through the Coronavirus Business Interruption Loan Scheme and the Bounce Back Loan Scheme administered by the Bank, over 238,000 businesses in the Midlands benefitted from over £10.5bn of funding. The sheer effort and work that colleagues undertook long before my appointment to support so many businesses at such speed is nothing short of admirable.
HAS THE FALLOUT FROM THE PANDEMIC PRESENTED ANY OPPORTUNITIES AS WELL AS CHALLENGES? Our team has always been out in the field, speaking with smaller businesses, the finance intermediary community, and stakeholders, but we've been able to adapt and push on with our work. Some elements have been easier, such as some meetings are now often virtual and getting in touch with people you need is more straightforward than it has ever been.
HOW DO YOU GET THE BEST OUT OF YOUR STAFF? I use the vision and mission of the Bank to align with what we want to plan to achieve as a team, and then we get to work together on delivering. I'm a big believer in collaboration and communication. Team members each have their own ideas and contributions, so it's important that everyone working around me knows their input is valued.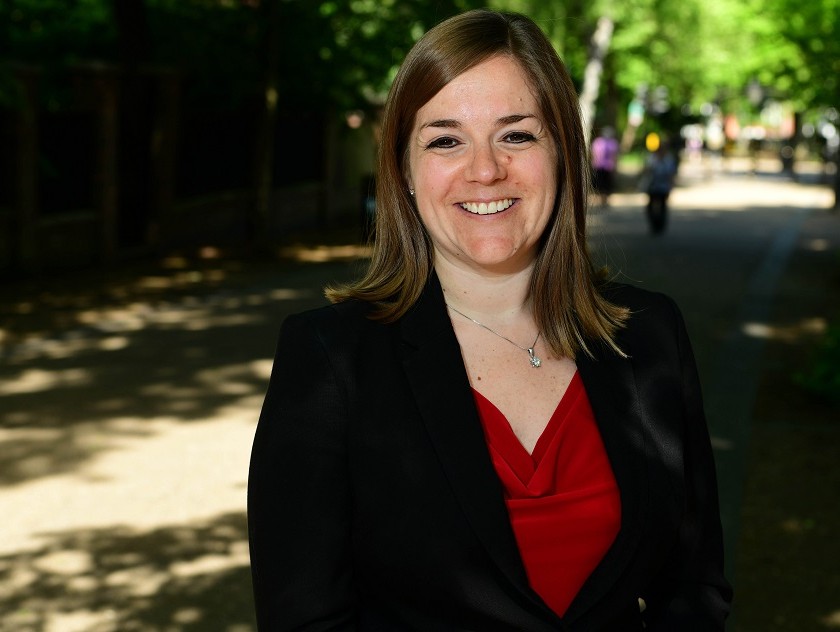 HOW MANY EMAILS DO YOU TEND TO GET IN A DAY, AND HOW MUCH TIME DO YOU HAVE TO READ THEM? Fewer than when I was a chief of staff and kept tabs on multiple inboxes, but enough emails now to certainly keep me busy!
HOW DO YOU HOPE YOUR COLLEAGUES WOULD DESCRIBE YOU? Efficient but respectful, there is no dust flying around but I would often attribute that to the collaborative team spirit I seek to create.
HIGHLIGHTS OF YOUR CAREER SO FAR? For me the all-around access my roles have given me, whether that be new developments, discoveries or technology across academia, business and healthcare settings. It has really been an honour to be able to observe and experience products or services before they hit the market, it's pretty special to me. It's inspiring to see how the British Business Bank and the wider business support ecosystem helps smaller businesses when they need it, whether it's entrepreneurs starting up, businesses scaling up or looking to stay ahead.
ANY PARTICULAR FAUX PAS OR EMBARRASSING MOMENTS IN YOUR CAREER YOU WOULD PREFER TO FORGET? Probably offending everyone in sight a few days after joining the Bank by including the more upbeat Glee version to Journey's Don't Stop Believin' in my Desert Island Discs selections as part of a virtual team away session!
PET HATES? Mushrooms and rudeness.
IF YOU COULD GO BACK AND GIVE YOUR YOUNGER SELF SOME WISE ADVICE, WHAT WOULD IT BE? It would be to definitely keep on the Science, Technology, Engineering and Mathematics (STEM) degree path, as my science background has opened such interesting doors, but to also study additional business modules alongside it. Business is so important and applies to all areas of the working world, even when it's a little less obvious.
HOW DO YOU RELAX AWAY FROM WORK? Cycling, as my husband works for a cycling company, so I have grown to love it and we go out together and as part of groups. Always a fan of all things tech, I get a little bit of help from the added power of an e-bike when I'm on particularly hilly rides.
WHAT DO YOU BELIEVE IS SPECIAL ABOUT THE BIRMINGHAM BUSINESS COMMUNITY? Diverse is the key word that comes to mind. I mean that in the broadest sense. Yes, it is diverse for race, gender, all kinds of backgrounds and that is great to see, but it is also diverse for business types, from manufacturing, life sciences, technology - giving it a buzz I don't think you'll find in most cities.
TELL US SOMETHING ABOUT YOU THAT MOST PEOPLE PROBABLY WOULDN'T KNOW: I used to teach tap dancing. I've been tap dancing since I was about two.
YOU CAN TAKE ONE BOOK, ONE FILM AND ONE CD ONTO A DESERT ISLAND – WHAT WOULD THEY BE? Book - I have a particular interest in Tudor historical fiction so anything in that vein; film - I know it's a bit cheesy, but Armageddon; CD - Queen - let's say the greatest hits, all killer no filler.
YOUR FIVE DREAM DINNER PARTY GUESTS, DEAD OR ALIVE? Rosalind Franklin (fellow PhD scientist and one of the most under-appreciated women of the last century for her work on DNA); Hillary Clinton (a fascinating figure that I would love to have a conversation with); Lewis Hamilton (an inspiration that continues to deliver at the top of his field); Tom Daley (topical but a public figure from such an early age and has managed it all so well); and Elon Musk (a true maverick, you really don't know where he will go next).
WHAT WOULD YOU CHOOSE TO EAT FOR YOUR LAST SUPPER? Steak (well done!) and chips – and a slice of banoffee pie.