Consultancy helps people, planet and profit
A Midlands-based sustainability consultancy is celebrating a successful year that has seen it hire several new consultants, form new partnerships and launch a suite of assets for companies of all sizes.
With increasing pressure on businesses to show evidence of their sustainability policies and in the drive to Net Zero, Wylde Connections has responded by developing two new courses to be launched in January.
The first is an online Introduction to Sustainability course designed to upskill teams of staff on their sustainability journey. The second is a six-week tutor-led workshop programme aimed at helping businesses to plan and implement their own sustainability strategies. These will complement a suite of online business courses already developed aimed at helping companies to grow, but with an ethical and responsible approach.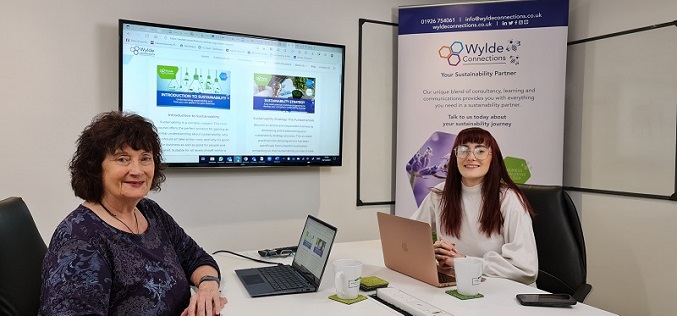 Another key service to be launched early in 2022 is the company's new Enveglas sustainability impact assessment app, designed to enable companies to review their current progress across the ESG (Environmental Social Governance) framework, including calculating their carbon emissions and establishing baseline data.
The sustainability and environmental consultancy has brought together a team of dedicated specialists, building on its sustainability credentials through a four stage approach of Assess, Develop, Implement and Communicate. This model has already attracted a range of high-profile clients and partners including Autodesk and Lloyds Bank, and Universities such as Aston, Birmingham and Nottingham.
Wylde Connections' managing director Dr Denise Taylor said: "Over the past year especially, we have seen more and more tier 2, 3 and 4 suppliers coming under pressure from their supply chains to report on their sustainability credentials and have strategies in place.
"They are also coming under pressure from the increase in regulation that is being driven by the race to net zero as well as consumer demands for more ethical products and services. It's no longer the case that companies can ignore this, but we are also finding that companies do want do their bit for the environment in particular but they just don't know where to start."
Only around a third of businesses in the UK already have an environmental or sustainability policy in place, according to research. A survey by recycling group Suez and the British Chambers of Commerce found that 64% of around 1,000 businesses surveyed said they had no such plan. By providing an holistic and bespoke support package, Wylde is helping break down barriers and deliver long-term benefits for businesses large and small.
Dr Taylor said: "Implementing a successful sustainability strategy goes beyond the narrow focus of green or environmental processes. That's why we take an holistic approach to sustainability, looking at every aspect of environment, social and governance as well as the leadership drive and ambitions to be more responsible and ethical. We are very excited about further developing our offer and working with clients to embrace better ways of doing business."