Laura Hanlon
Laura Hanlon is the founder and co-director of Pink Leopard - a results driven boutique agency specialising in paid advertising for e-commerce stores.
EXPLAIN A TYPICAL WEEK IN YOUR WORKING LIFE: As a brand-new mum my week involves a lot of coffee! Joking aside, things have changed quite a lot for me in the last year: we've grown rapidly as a team, from three to 15 people. This shift has meant that I've gone from doing a lot of the implementation and working 'in' the business, to now being able to work more 'on' the business, focusing on growth and taking us to the next level. This can be anything from client strategy reviews, to business forecasting to interviewing for new members of the team.
WHAT IS THE BIGGEST CHALLENGE FACING YOUR INDUSTRY RIGHT NOW? The biggest challenge is probably all of the issues around Apple/iOS. I've been in the industry for nearly ten years now and this is probably one of the most challenging things we've ever faced. Our business as a paid advertising agency is based on being able to laser target and track consumers, which is now getting harder to do. As a result, it is making it really difficult for smaller businesses to successfully advertise on platforms like Facebook and Instagram.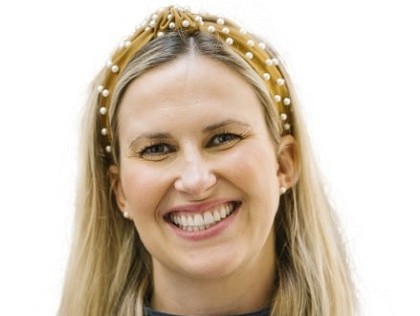 AND WHAT ARE THE BIG OPPORTUNITIES? I believe the biggest opportunities are new platforms such as TikTok, which are shaking up the advertising world. It's not often a new platform gives Facebook a run for its money but TikTok certainly is. It's something brands – especially if in the e-commerce space – should seriously consider if they aren't already on there.
HOW DO YOU GET THE BEST OUT OF YOUR STAFF? My mum always told me to treat people how I want to be treated and that's stuck with me through life. This is how I treat our team, respectfully and like the equals that we are. I truly believe this makes for the most productive working environment. We also hire smarter people than us, so we ensure that a lot of responsibility and free rein is given to the experts to allow us to get the best out of everyone.
WHAT WAS YOUR LAST MEETING ABOUT, HOW LONG DID IT LAST, AND WAS IT PRODUCTIVE? My last meeting was with our head of Paid Social for E-Commerce, our client success and operations manager and my business partner about implementing quarterly strategy meetings with all of our clients. These will see the entire team do a deep dive into all elements of the client's business and come up with a success road-map for them. While we specialise in paid advertising, there are so many other elements of a client's business that ensures their marketing is successful. Therefore, we'll audit their site conversion, their copy, testimonials, SEO, creatives, email marketing etc. Our goal is always to provide as much value to our clients as we can and be their true marketing partner.
HOW MANY EMAILS DO YOU GET IN A DAY, AND HOW MUCH TIME DO YOU HAVE TO READ THEM? I don't get an enormous amount. Most of mine would be internal emails and as we use Slack to communicate, it cuts out a lot of inbox traffic. Maybe 10-15 daily externally now and I do read them all. I'm one of those people who has to open an email and reply as soon as it comes through too – I know… it's a terrible habit that I really must stop.
DO YOU ANSWER WORK CALLS OR EMAILS AT HOME? WHAT'S THE RIGHT WORK-LIFE BALANCE? I do, although it is definitely going to be a 2022 New Year's Resolution of mine to have set times with my family where my phone is off. It's really hard to switch off as a business owner but I think it's so important now with a young family, and I want to be more present around them.
HOW DO YOU HOPE YOUR COLLEAGUES WOULD DESCRIBE YOU? I would like them to see me as someone who is motivated and driven, as well as hopefully someone who leads from the front. I also hope that they see me as caring and considerate and that they know that they can always come to me with anything they need.
HIGHLIGHTS OF YOUR CAREER SO FAR? First and foremost, I'm so proud of what my business partner, Adam, and I have grown with Pink Leopard, especially over the last 12 months with our incredible team. A huge highlight of mine has also been growing a successful e-commerce store from zero to £30k a month in revenue, alongside the agency; it shows our clients that we walk the walk, not just talk the talk.
ANY PARTICULAR FAUX PAS OR EMBARRASSING MOMENTS IN YOUR CAREER YOU WOULD PREFER TO FORGET? A member of my family walking in underpants behind me while I was on a business Zoom call when the camera was on! Funny nonetheless, and I can still see the look on the face of the lady I was speaking to – she didn't know whether to laugh or cry!
PET HATES? Rudeness!
IF YOU COULD GO BACK AND GIVE YOUR YOUNGER SELF SOME WISE ADVICE, WHAT WOULD IT BE?Always know your worth and always trust your gut instincts to guide you!
HOW DO YOU RELAX AWAY FROM WORK? I love a good soak in the bath after a hard day's work – it definitely helps me to switch off. I also love going for walks: getting those wellies on and getting lost in a forest.
WHAT DO YOU BELIEVE IS SPECIAL ABOUT THE BIRMINGHAM BUSINESS COMMUNITY? Despite being a large city, it has a real community vibe. We're also fortunate enough to have some of the best talent and opportunity right on our doorstep.
TELL US SOMETHING ABOUT YOU THAT MOST PEOPLE PROBABLY WOULDN'T KNOW: I despise coriander.
YOU CAN TAKE ONE BOOK, ONE FILM AND ONE CD ONTO A DESERT ISLAND – WHAT WOULD THEY BE? Book - Marching Powder; film - Man on Fire (actually, anything with Denzel in… ); and CD Queen - Bohemian Rhapsody.
YOUR FIVE DREAM DINNER PARTY GUESTS, DEAD OR ALIVE? Freddie Mercury, Denzel Washington, Cat Howell (business mentor and idol) Ricky Gervais and Britney!
WHAT WOULD YOU CHOOSE TO EAT FOR YOUR LAST SUPPER? Pizza - I might be biased but probably my husband's pizza from his restaurant Dough & Flow *shameless plug* but with a Domino's Garlic and Herb dip on the side!