Phil Innes
Phil Innes is the managing director of Loki Wines, which he founded in 2012. Loki is a fine wine merchant and wine bar located in Great Western Arcade, and Edgbaston in Birmingham. The aim of Loki, Phil says, is to demystify wine and make it more accessible to people through the ability to try wines through our wine machines, and either enjoy the wine on site in our bar or to take away from our shop.
EXPLAIN A TYPICAL WEEK IN YOUR WORKING LIFE
I would love to say it is mainly touring vineyards and drinking wine. However, the reality is slightly different (although there is a lot of drinking wine involved as well) I mainly spend my time between the two stores, and although the company has grown I still like to stay involved with the thing that got me in to this in the first place which is selling to customers. It is my favourite part of the job, as I love being able to recommend wines to people who are going to go out and enjoy the wines at a special meal, or occasion. The good thing about my job as well it involves a lot of getting out in the business district and socialising, and with that drinking wine as well.
WHAT IS THE BIGGEST CHALLENGE FACING YOUR INDUSTRY RIGHT NOW?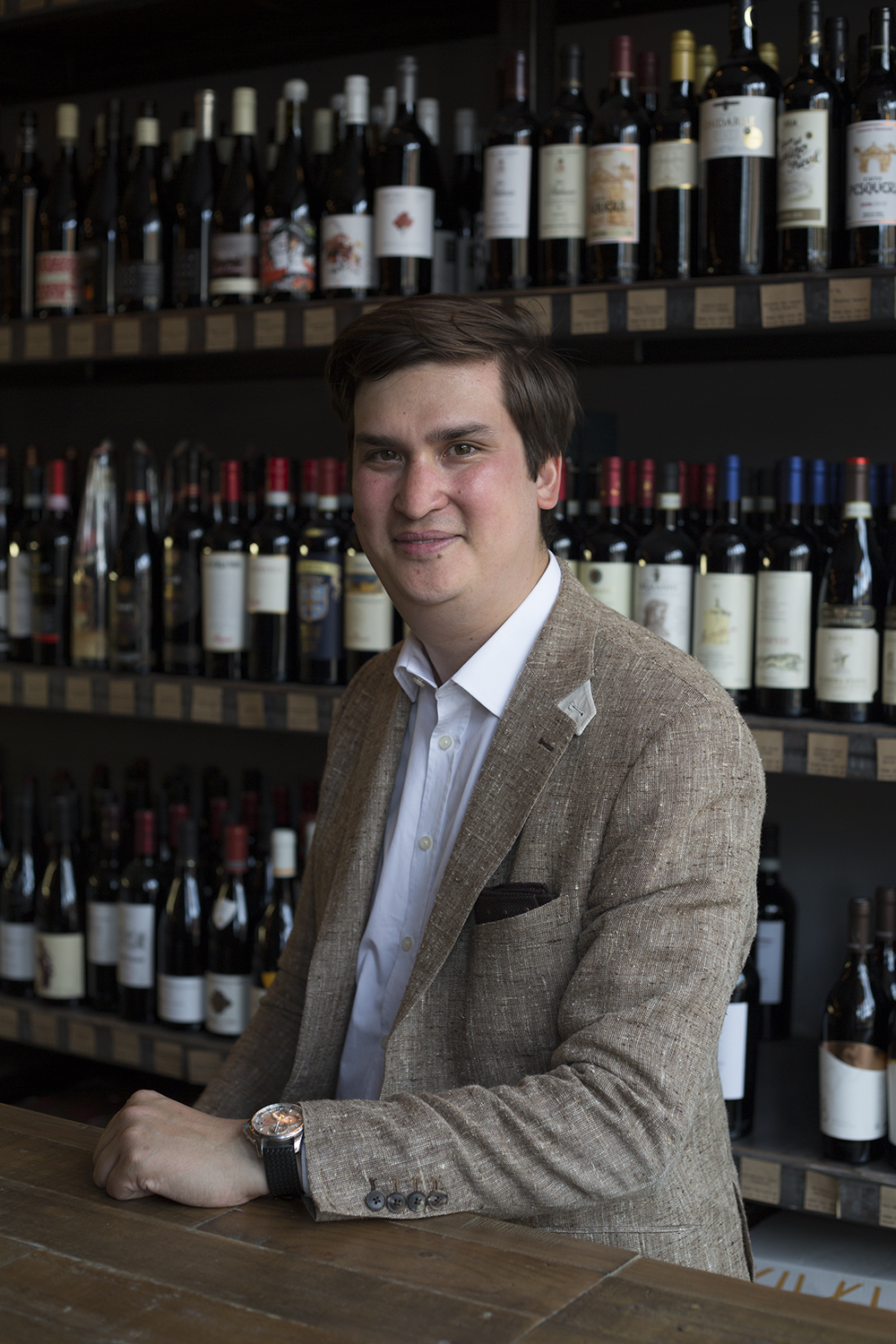 I think currently the Brexit uncertainty is the thing that is challenging us at the moment, especially as we import 99.9% of our products with no real opportunity to grow our range from UK-produced products. This has thrown up lots of challenges for the business, but so far any negative effects have been mitigated by stock controls, and purchasing currency, and hopefully whatever the eventual result from Brexit we should have safeguarded the business from most eventualities.
AND WHAT ARE THE BIG OPPORTUNITIES? The retail sector has had its well documented problems over the last few years, however this has actually in itself offered opportunities for our business to be dynamic and change the way we work to be more effective in the market. So whilst a lot of our competitors have fallen away over the last few months, we have managed to grow our business and attract customers who would usually shop at one of the national chains.
HOW DO YOU GET THE BEST OUT OF YOUR STAFF?
We try to be as flexible as possible. Most our full-time staff only work four days a week which gives a nice extended break, and we also offer attractive holiday packages as I think time away from work is as important as time in the business. We also have a number of wine trips, our manager at Great Western Arcade has just come back from 4 days in Italy, and we are taking a staff trip down to Nyetimber vineyards in May. Also cracking open a bottle of wine every now and again always helps!
WHAT WAS YOUR LAST MEETING ABOUT, HOW LONG DID IT LAST, AND WAS IT PRODUCTIVE?
My last meeting was to look at some wines that I thought could potentially be the next trend in wine. It is something that I try to get ahead of the trend on so spend a lot of time trying to get a feeling of where the next trend will come from. We are certainly due one as Kiwi Sauvignon seems to be waning in popularity. My big tip will certainly be Italian white, an outside bet maybe Pecorino, if you haven't heard of this variety it's definitely worth checking out.
HOW MANY EMAILS DO YOU GET IN A DAY, AND HOW MUCH TIME DO YOU HAVE TO READ THEM?
Oh god, too many. Probably around 100 on average, but I am usually quite good, I try to get most e-mails done first thing in the morning before my working day starts, it's threptic for me to go it with my breakfast.
DO YOU ANSWER WORK CALLS OR EMAILS AT HOME? WHAT'S THE RIGHT WORK-LIFE BALANCE?
It is difficult for me to switch off especially as it is by business, but I try as much as possible to only answer urgent things after work hours.
HOW DO YOU HOPE YOUR COLLEAGUES WOULD DESCRIBE YOU?
Haha, oh god I don't know! Hopefully relaxed and easy going, and not too drunk.
HIGHLIGHTS OF YOUR CAREER SO FAR?
Oh there are too many, probably the first time I won UK Wine Merchant of the year at International Wine Challenge as I genuinely thought I was there to make up the numbers and make sure they couldn't be accused of just shortlisting all the big London merchants.
ANY PARTICULAR FAUX PAS OR EMBARRASSING MOMENTS IN YOUR CAREER YOU WOULD PREFER TO FORGET?
When I first started off in wine I met Olivier Krug, owner of Krug Champagne, and in an attempt to be professional I "tasted the wine properly" which means drawing air over the wine when in your mouth. Unfortunately, I did this too enthusiastically and ended up having Champagne coming out of my nose. This would be fine if 10 years later I hadn't met Olivier again only for him to recall the embarrassing incident to a whole group of contemporaries.
PET HATES?
Corked wine – why can't we just use screw caps!
IF YOU COULD GO BACK AND GIVE YOUR YOUNGER SELF SOME WISE ADVICE, WHAT WOULD IT BE?
Never let people talk down your ideas.
HOW DO YOU RELAX AWAY FROM WORK?
Food and wine, though not in that particular order. I love travelling as well.
WHAT DO YOU BELIEVE IS SPECIAL ABOUT THE BIRMINGHAM BUSINESS COMMUNITY?
It is such a close-knit and generally very friendly community. I don't know of another city that has the same feel about the business community.
TELL US SOMETHING ABOUT YOU THAT MOST PEOPLE PROBABLY WOULDN'T KNOW.
After tasting wine all day I quite enjoy a lager, the cheaper the better, not this craft stuff. Something about the bubbles after trying wine all day just livens up the palate again.
YOU CAN TAKE ONE BOOK, ONE FILM AND ONE CD ONTO A DESERT ISLAND – WHAT WOULD THEY BE?
Oooh difficult one . . . the book would have to be George Orwell's 1984, the film probably would be Pulp Fiction, but there are so many to choose from. CD!! Can I take a vinyl of Pink Floyd's Dark Side of the Moon?
YOUR FIVE DREAM DINNER PARTY GUESTS, DEAD OR ALIVE?
Winston Churchill, Lilly Bollinger, Sir Alex Ferguson, Richard Branson, Jimi Hendrix.
WHAT WOULD YOU CHOOSE TO EAT FOR YOUR LAST SUPPER?
Something simple like steak and chips with a bottle of '82 Latour.